Ignacio Lopez
One random comedian, eight random questions; it's the ultimate test of funny person and fate. This week's dashing contestant is Ignacio Lopez, the Spanish/Welsh stand-up who's about to head up for an 11-date run at the Edinburgh Fringe, but we'll come back to that. First, this Sunday, he's living la vida Lichfield.
"I haven't compèred at the Spirit Works before, but I've gigged there loads," he says, of the Staffordshire night he's guest-hosting, Comedy 42. "I'm best mates with Chris Purchase, who runs the gig and usually hosts it. He's booked me to do all kinds of gigs there and it's always a great night: super intimate, the audience are friendly, the staff could not be nicer and the drinks are exceptional. I'm getting drunk just thinking about them."
"I often talk about what a shithole the town I'm performing in is, which is doubly enjoyable when the town is as resplendent as Lichfield."
That's one way to wind up the locals already, call their cathedral city a town. And speaking of sprawling conurbations, he's then in Edinburgh from August 1-11th, at Just the Tonic's Caves, performing the show EspañYOLO.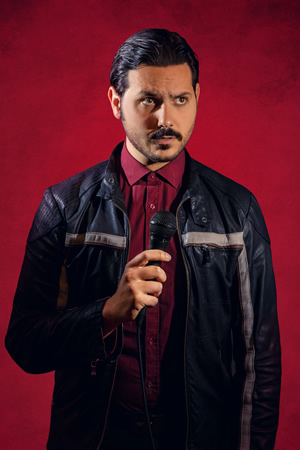 "I've taken the biggest venue they have, which is an absurd example of my overconfidence," says Lopez. "In typical fashion, the show rips into British and Spanish culture, but this time I also touch on history, invasions and tapas. There's something in it for everyone: one-liners, stories, observations, songs, I like to think of it as a one-man variety show."
"There's even some political stuff that wasn't even written about current politics, but over the year has become very topical. At the end, after a couple of songs I give away the two ultimate recipes for Sangria: a classic recipe and one of my own. It's worth coming just for that, and you get an hour of comedy as a bonus."
Sounds like quite a cocktail. Ignacio Lopez, your Random 8 await:
What was your childhood career dream?
I could not make up my mind! I used to draw, sing, write short stories. Mainly I wanted to make films. I shot a lot of stupid sketches when I was a kid, which will never see the light of day. Now I spend my time making stupid sketches for BBC Sesh instead.
Do you have a favourite device, ever?
Nostalgia aside (sorry Sega MegaDrive and my first camcorder!), my favourite ever device has to be my phone. I know people are sick of the obsession with smartphones, but I think that's more to do with social media. It's such a useful creative tool.
I film all my sketches on my phone, I shoot gigs. I write jokes, scripts and stories on it. Compose music, take loads of photos, edit them. I obviously travel a lot for comedy and thanks to my phone, every coach/train/flight/back-of-a-pickup-truck-with-some-chickens is an office. They can be annoying of course: your phone better not ring if I'm on stage.
Which historical figure should get more attention?
I mention one in my show and I don't want to give it away, but World War II was essentially won by a Spanish man. I can't believe there hasn't been a film of his story yet. After Edinburgh I might write a screenplay.
What's the best thing you ever bought a ticket for?
My solo show last year was called Nine Ig Fails, it was all about the worst gigs I've ever done in order to get the money together to see Nine Inch Nails in the states, back in 2009 (same year I started comedy). I can't describe how incredible Nine Inch Nails are live. Changed my life.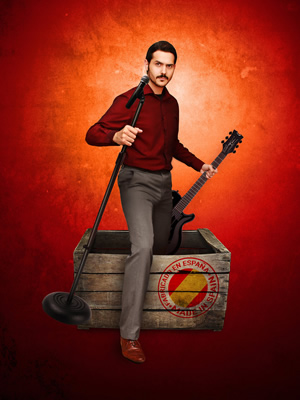 When were you most embarrassed?
Wow. Life is just a series of embarrassments, isn't it? I once dropped some coins in a charity bucket that a woman in a wheelchair had on her lap as I was leaving a supermarket, she looked rather angry and I realised she wasn't collecting for charity, she'd just bought a plant pot.
Who's the most interesting person you've ever met?
I once bothered [Rage Against the Machine's] Tom Morello in a bar in Hollywood for way too long. He's erudite, funny and cool as fuck.
Which unsung town or city should more people visit?
Neath in South Wales. It has a reputation for being a dive and a bit rough, but that's not strictly true. The people have a great sense of humour about themselves. It's eclectic and fun, they have a good music scene, an annual comedy festival, an ale and cider festival, and it's an old market town, so you can get anything you need there. Loads of independent businesses are flourishing too. It has Roman history, and obviously a castle too: it is a Welsh town after all.
What's the weirdest thing you ever ate?
Pete Dobbing had a show in Brighton a couple of years ago where he handed out insects to eat at the end. I don't think anything's topped that yet.