Felicity Ward
One random comedian, eight random questions: it's the ultimate test of funny person and fate. This week's fearless competitor is Felicity Ward, from New South Wales, which is definitely sneaking out from the mighty shadow of old South Wales nowadays, what with its Byron Bay and the Hunter Valley and Sydney Opera House and the Harbour Bridge. Still way behind on castles, though.
Ward has been building something seriously special, too, since making her solo-show debut a decade ago, and she's one of the best routine-writers across both hemispheres these days. Indeed, her current UK tour show, Busting a Nut, garnered stacks of gushing reviews at this year's Edinburgh Fringe, and a Best Show nomination to boot. But what's it about?
"This show is jokes, lined up, back to back," she says. "I wish I had something more impressive and complicated to give to you... but that's it, baby!"
Fair dinkum. Felicity Ward, your Random 8 await.
Did you have a childhood hero?
I always weirdly identified with cartoon animals. Garfield. Brain from Inspector Gadget. Ninja Turtles. Maybe I intuitively sensed how terrible people were going to be. Animals: safe bet.
What's the very best thing you ever saw?
Once I saw a seagull eating an avocado. I also saw a guy in my home town wearing a scarf, in Spring. I thought that was very fashion forward. When I got closer, I realised it was actually a python.
When were you most embarrassed?
One night I had an IBS attack when I was too far away from the venue I'd left, and not close enough to the place I was staying. I won't go into too much detail, but there is a public park in Adelaide that I owe an apology.
What's your favourite device, ever?
Really great question. Big fan of the potato peeler that has the blade running across, width-ways, like a normal shaving razor.
What's the most interesting thing you've been bitten by?
A coati, Brazil. It's like a racoon and a dog gave birth to an animal through a funnel. I was eating those French Fries crisps, and the little bastard ran up my legs, scratched me, and stole my crisps.
Actually it didn't bite me, but it scratched me. And I had to get a shot. Except the doctor didn't speak English, and I didn't speak Portuguese, so in our mutual broken Spanish we tried to come to a conclusion. And the conclusion was that he gave me a tetanus shot... which I'd already had three months before.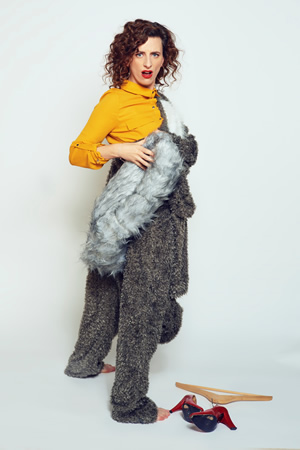 Is there a book or film that changed your life?
So many. Weirdly, a film called The Wackness helped me learn to get over heartbreak. Point Break changed my life simply because of how excellent it is. When Harry Met Sally just because it made me realise how good dialogue could be; and how much good dialogue can drive a film.
I stopped reading books for four years in high school and then when I changed schools I told my new English teacher. She said she'd bring something in for me to try. She brought in A Clockwork Orange. It was incredible and gave me a new thirst for reading again.
How To Be A Woman by Caitlin Moran gently introduced me to some feminist ideas as an adult. Matilda by Roald Dahl felt like it was written about me. And then for years to come I tried to move objects with my mind. Reader, I could not.
What was your most interesting injury?
I've broken my right forearm, both bones, three times. Once playing hide-and-go-seek where I jumped off a small balcony, once while walking backwards over a chair trying to impress a boy, and once doing a round off (a cartwheel using both hands at the same time) six months later.
Have you ever relieved yourself somewhere memorable?
Different from the one I mentioned earlier? The answer, sadly, is yes. On my first trip to the UK in 1999, I drunkenly stumbled back to my hostel from a house party at 6am and I couldn't figure out how to get back inside. So the garden next door kindly lent me its grass.