Faye Treacy
One random comedian, eight random questions: it's the ultimate test of funny person and fate. This week's brassy talent is Faye Treacy, yet another of those classically-trained trombonist-to-the-stars now gracing the stand-up scene. In fact, not content with all the comedy and music gigs, Treacy now has a new string to her bow (wrong instrument, but anyway).
"I'm the new weekend presenter on a new classical radio station called Scala Radio alongside Simon Mayo, Goldie and Anthea Turner to name a few. It's classical music for modern life (I also think I'm helping bring the average age down.)"
And what will she be doing there, exactly?
"I will be playing some of my favourite composers (plenty of brass) and giving what I believe to be relevant interesting facts about the music. I'm on 6-8pm Saturday and Sunday. I studied at the Royal Academy of Music so it's a great opportunity for me to merge my two passions - music and talking - together."
Classic merge. Faye Treacy, your Random 8 await.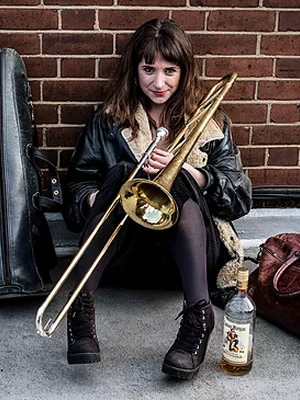 Is there a book or film that changed your life?
Hook. I love everything about that film, from the music to the imaginary food fight. I wanted to be a lost boy.
What was your childhood career dream?
Purple Power Ranger.
Your most interesting injury?
I fell out of a lot of trees as a kid but didn't break anything. I almost died though in Tobago when I was 19. I was sick from mosquito bites and went to the doctor for antibiotics but failed to tell the doc I was allergic to penicillin.
I went into anaphylactic shock and my sister had to rush me to a hospital. I couldn't breathe or speak to communicate what was wrong so I just pulled down my pants and pointed at my bare butt whilst my sister shrieked 'give her an adrenaline shot.' She's never gone on holiday with me ever again, and apparently I ruined the wedding.
What's the best thing you ever bought a ticket for?
Busch Gardens fast pass. I lived in Florida for a year which was terrible except the weather, but I saved up my teaching and gig money for six months out there so I could spend a day jumping the queues on the rides!
Who are you most envious of?
Envy's a bad emotion, but I guess Bette Midler, as I just wish I could be that fabulous.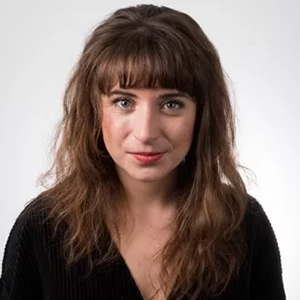 What's your favourite expression?
I don't know if it's my favourite, but I only found out this year it's not 'I put them on a pedal stall' but 'pedestal.' I like the idea of a high stall... like one of the ones orchestral double bass players use.
Do you have a signature dance move?
Hahaha no. I'm a terrible dancer, my Mum took me out of ballet as she said I danced like an elephant and sent me to Catechism (catholic school) instead.
I once performed with Rod Stewart on Strictly Come Dancing. They asked the horn section to copy the backing singers' moves. When I watched the show back I realised I just swayed the top half of my body whilst everyone else was doing side steps.
What's your favourite building?
The Royal Albert Hall is a beautiful building, but I also think the Swiss Family Robinson treehouse. I want a treehouse.