Daniel Muggleton
One random comedian, eight random questions, it's the ultimate test of funny person and fate. This week's guest is Daniel Muggleton, who's been doing some weird home guesting recently, back in Oz: we'll get to that. Right now, let's hear about his new special, Three Stripes, which he's stuck on YouTube, for free. And it's genuinely unique.
"I knew I was heading back to Australia and had all this material about the UK that just works better in Britain. Like, it's way more fun to call British people ugly on their home turf, you know?
"I've already recorded a special in Sydney that was very 'this is what a comedy special looks like'. So I wanted to do something different to that, because I'm sick of comedy specials that all look and feel the same."
That previous one, Let's Never Hang Out, was very good too, but this one is perfect lockdown viewing for those of us missing live comedy.
"Personally I prefer watching a bootleg video of a comedian doing an hour at some random club or theatre to their special, because it feels more like being at a comedy show. So with Three Stripes I recreated the intimacy of a bootleg but with 4K cameras. I was trying to capture how a comedy club feels for somebody who might've never been to one.
"To help achieve that, I also handed out an iPhone to any audience members I spoke to during the show so people at home would see that exchange from their perspective. This is all pretty nerdy, but basically I wanted it to feel like the comedy equivalent of an MTV Unplugged set."
Comedy nirvana. And how is he spending the lockdown sabbatical?
"I'm spending it in Sydney. I came back to do the Australian comedy festivals (which got cancelled), and get married (which now has a five person limit, including the celebrants). However, I think Australia is a good place to see out an apocalypse, or maybe that's just because Mad Max was filmed here?
"The highlight so far is me dressing up as other people to pretend like we have guests. So far I've done: a rap entourage member who got let go because of the restrictions on group sizes; a guy who's too positive about COVID-19; and a sex tourist who says the Coronavirus is 'salting his game.' So basically I'm as bored as everyone else."
We'd watch it. Daniel Muggleton, your Random 8 await.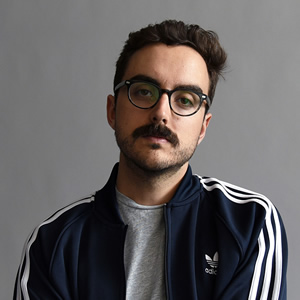 What's the most interesting thing you've been bitten by?
As an Australian, I feel like there's a lot of pressure for me to nail this answer, but unfortunately I've never been bitten by a snake, spider or shark. I have been punched by a kangaroo as a toddler if that helps? It was at the zoo, my mum held me up to look at one and he popped me in the jaw. But we eat kangaroo now so I'll call it square.
Which town or city should be abolished?
Blackpool. There are plenty of grim English towns but the fact that Blackpool used to be for the rich and famous makes it the saddest. Imagine having so little going on you try to rebrand streetlights as 'The Illuminations'? I remember painkillers there costing like £0.14 which felt like them saying 'if you're planning on staying - you're gonna need a lot of these.'
I'm also very publicly anti-Belgium but it's too difficult to narrow it down to only one city. They're all awful.
Favourite shop (pre-lockdown)?
I don't really buy things. If you look in my wardrobe it's plain grey t-shirts, a pair of jeans for formal occasions, Happy Socks and a bunch of Adidas tracksuits in different colours (though they're generally bought for me - am still pushing Adidas for a sponsorship).
That said I used to live around the corner from Sneakersnstuff in Shoreditch and browse regularly because I'm really fussy about trainers. I buy a pair, wear them everyday until they are destroyed and repeat.
What's the weirdest thing you ever saw?
My dad without a beard. He'd had one my entire life, my parents split and then one day when I was, like, six years old, he came to pick me up having gone clean-shaven. I genuinely didn't know who he was and was confused why my mum was ushering me into a stranger's car. I assume that's why my mum has had the same haircut since 1989, didn't want to risk it happening again.
Ever met a particularly great or awful celebrity?
I met Tom Green at Adelaide Fringe and he was the nicest dude ever. He bought me beers, we hung out, another day he yelled out to me on the street to ask how my show was going, which is just insane from a dude who was so famous he was married to Drew Barrymore. He was so nice I watched both Charlie's Angels films again (they were still pretty bad, sorry Tom).
Your greatest sporting moment?
I used to be a decent cricketer, no talent but my dad took it seriously enough that I played in some tournaments. I always bowled the last over, and when I was 12 I won us a game which meant we got to play on the Sydney Cricket Ground during the lunch break at a test match.
I bowled one over - not on the pitch, but it was still really cool - and got hit for three sixes by the same dude I'd held to no runs in the final over the week before. Except this time it was in front of roughly 30,000 more people.
Do you have a good hangover cure?
No. I thought having painkillers before bed worked but then I turned 30 and nope. Honestly these days I'll have KFC for dinner - no drinks at all - and still wake up with what feels like a hangover. If anything I've found the hangover symptoms expand, like now when I've had a big night it's not just a headache and an unsettled stomach, I also get a cramp in my right calf.
A comedian friend of mine, Brodi Snook, loses feeling in her pinky when she drinks red wine. It's nuts.
Who are you most envious of?
The PR person at Pornhub. Every other company sent an email like 'this is how we're handling COVID--19' detailing changes to policy, hygiene standards etc and we made fun of them for it. Pornhub gave Italians free access to their premium porn and got universally praised. I mean, even I could do that job and I'm professionally useless.