Dan Lees
One random comedian, eight random questions; it's the ultimate test of funny person and fate. This week's dapper Dan is Dan Lees - well, he owns at least one excellent uniform anyway, as we'll find out below.
Lees is a long-serving carrier of the many-coloured clowning flag, schooled by Philippe Gaulier back when popping to Paris was still a thing (sigh), and perhaps best known as one half of innovative showsmiths The Establishment.
But why is Dan here? Because on the Tuesday before Christmas he appears in the Wrap Party, a special Christmas edition of the monthly Big Wowie bash, in which viewers are invited to engage with surreal comedians in order to avoid having a minor nervous breakdown involving Sellotape.
"Big Wowie is a very fun and ridiculous night hosted by my good friend Nathan Lang," Lees elaborates. "For the Christmas Wrap Party I'm going to appear as a character of mine called The Jazz Prophet, a hip, scat-singing cool cat.
"He'll be giving his Christmas message to the world, or to those in the Zoom conference room at least."
Also on board are Andy Duncan, Rob Duncan and Julia Masli, all of who Dan directed in last year's Malcolm Hardee Award-winning show Legs, plus Annie Bashford, Neil Foster, Josh Glanc, and Lang himself. And, most importantly, yourselves.
And that's a wrap. Dan Lees, your Random 8 await.
What was your childhood career dream?
When I was a kid I had a best friend at school whose dad worked at the Rowntree's chocolate factory. I was very impressed, this seemed like the dream job, visions of a river of chocolate and Oompa Loompas singing and dancing. He told me how their family feasted on loads of free chocolate every night.
Then I met his dad. All his teeth were missing. This put a dampener on this career option.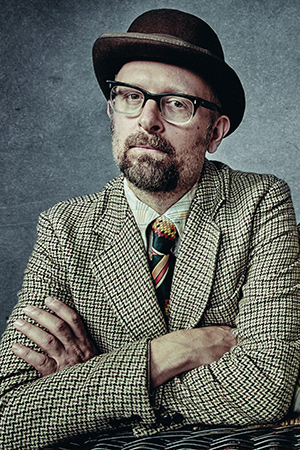 Which low-key law would you introduce?
I would make it illegal to eat KFC in front of me on the tube. In front of anyone else; fine, just not me. I accept it might be difficult to enforce.
Ever walked out of a film or show?
I walked out of Harry Potter And The Chamber Of Secrets. I'm sorry, those children cannot act, it's simply offensive and life is too short.
What's your favourite building?
I love Hornsey Town Hall, a beautiful art deco building where I was involved in organising the London Clown Festival in 2018, a wonderful venue. Last I heard it was being made in to a hotel. Sad.
Who's the most underrated talent you can think of?
I once saw a guy drink an entire pint of urine at the Edinburgh Fringe. Not a talent so much as a very strong stomach.
What can you recite from memory?
I'd love to refer to a sonnet or a passage by the Shakespeare. But the best I can come up with is the theme from The Muppet Show. Ingrained permanently in my head.
Your most interesting injury?
I once broke my arm in the tuck shop queue at secondary school. It seems chocolate and sweets are dangerous for many reasons, not just dental.
What's the best thing in your wardrobe?
I've got a 1960s original Post Office uniform that I bought in a charity shop. It fits me perfectly so I just had to buy it. Unfortunately I've never had an opportunity to wear it. Sadly no invites to Post Office themed parties have come my way... yet, but I am ready! So ready.