Anthony Jeannot
One random comedian, eight random questions; it's the ultimate test of funny person and fate. This week we go live to Australia, and the home of Anthony Jeannot, who's got an exciting new thing out. Well we think he's in Oz anyway; could be Sweden. It's a bit hard to work out where anyone is right now.
Anyway, Anthony, give us the back-story.
"I've been performing for the last eight years," he begins. "In my first year of comedy, I won a local competition in Melbourne. It actually ended up being a pretty amazing pool of new comics: some of them went on to perform on Conan, others went on to star in Hollywood movies and feature on The Daily Show."
"I, on the other hand, am self-releasing my first special."
Still, that's one more special than most of us have done. The sensibly-titled Stand-Up Comedy Album is available now, and streaming on Spotify.
And there's an entertaining video clip online, in which he dates someone with an annihilation fixation. Which seems quite appropriate, currently.
"It's a recording of the first show I took to Edinburgh, which has got great reviews and reception wherever I've taken it, so happy to be recording it and sharing it with more people."
Consider it more shared. Anthony Jeannot, your Random 8 await.
What's the best thing you've ever bought a ticket for?
Don't know if it is the best. But I don't think I've ever been happier than when 13 year-old me bought tickets to Blink-182. They influenced my early impressions of comedy more than I'd care to admit, too.
Who is - or was - your most interesting relative?
My grandparents for sure. They're beautiful people who've been married for 60 years, and fight in a way that only people who have been together that long can fight.
My grandfather once stopped a nurse at the hospital giving him a blood test to say "please, take all the blood you want, but leave the beer in there", which I thought was brilliant.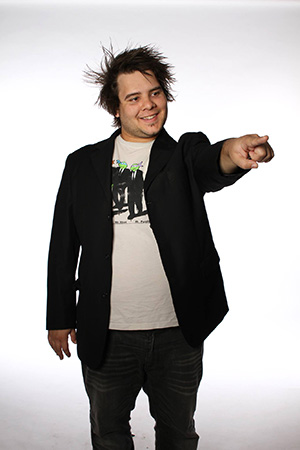 What's the weirdest thing you ever ate?
I went to a fancy restaurant for my birthday where a dish was served with 'crisp avocado skin'. We didn't want to look like philistines who couldn't appreciate a good avocado skin, so we ate it. To this day, I'm not sure if it was a garnish or not.
Which unsung town or city should more people visit?
Get down to Visby. It's a treat. It's in Sweden so you could fly there tomorrow, no worries, seeing as they're not doing any lockdown thing. It's a tiny city inside an old viking wall. Cobbled streets, on the coast and outside of summer it's pretty much empty. So you have all these ruins and stuff to yourself. Really peaceful, pretty stuff.
What's the greatest word most of us have never heard?
The Swedish word for turtle literally translates to 'shield toad' which I think is bloody amazing.
When were you most embarrassed?
I once accidentally slapped a girl in the face with my man boob while getting undressed. Gotta be honest, it was a hard one to turn around. There is no foreplay precedent for being like "that's right gurl, we getting freaky with these man titties".
What's the coolest non-comedy room you've ever visited?
Non-specific, but I love any nerdy person's bedroom. The weirder the fandom the better. I just love anyone who goes "this is the thing that I love, and I am going to use my physical spaces as a filtering system to make sure anyone I spend time with loves it too".
Ever relieved yourself somewhere memorable?
Uber's office in Melbourne. As a location, probably not the most memorable. But I did it as what I thought in my drunken state was a heroic act of defiance. I probably ended up calling an Uber home that night though.