Alistair Barrie
You may not yet be aware, what with everything, but December is upon us. We'd usually be awash with posters for pantos and Christmas shows now, but thankfully some annual institutions are still happening. For example, Alistair Barrie's Hertford Theatre Charity Gala, on the 16th, boasts a notable bill for a noble cause. As Alistair explains:
"In 2015 my wife was diagnosed with breast cancer. Thankfully, as there was no pandemic at the time, Hertfordshire's amazing NHS staff were able to concentrate their efforts solely on saving her. Well. That's what it felt like.
"To say thank you, I MCed a benefit at Hertford Theatre because they still need equipment and the government doesn't seem terribly keen to pay for it. The Hertfordshire Breast Unit Appeal is desperately trying to raise funds for a local radiotherapy unit because at the moment patients have to travel to Rickmansworth, which I'm sure is very nice if you live there but lots of us don't."
Even Rickmansworthers barely know where Rickmansworth is. So who's appearing this year? "We have the hysterical physical comedy of Edinburgh Award nominee Spencer Jones, Taskmaster's Richard Herring (obviously he's done nothing else in his career), the impeccable Ivo Graham, and a man probably best known for The Chase, who has been an award-winning, quite brilliant comedian for many years as well as a great friend - Paul Sinha."
Jess Fostekew is also on the poster, but something cropped up, so a popular mystery guest appears instead. As for other changes, Hertford Theatre are running a children's show this year (The Very Hungry Caterpillar At Christmas!) rather than a full-on panto; so less prop-dodging?
"I don't think there's a panto set, but I suppose one of us could dress up as covid 19 and everyone could boo. It will be slightly quieter than normal as a socially distanced Hertford Theatre fits 130, but I'm sure the boo would make up for in feeling what it might lack in volume."
And we can all shout "it's behind you" about 2020. Nearly there, everyone. Meanwhile, Alistair Barrie, your Random 8 await.
Who was your childhood hero - real or fictional?
I think it was probably Adam Ant, whose real name is Stuart, so I'm not sure if he counts as real or fictional. Turns out my three year-old is a big fan too - I'm inordinately proud of the fact one of her favourite songs is Beat My Guest, which was the B-side of the first single I ever bought (Stand And Deliver).
In other news I have now listened to Prince Charming almost as many times as I have watched Frozen.
What's the most interesting thing you ever ate?
I used to write a food blog back in the old days when restaurants were a thing, and the one that got the most views was when I accidentally purposely ordered tête de veau [a dish including a calf's head] in Brussels. You can read about how awful it was here.
Last year I fulfilled a long-held ambition and tried andouillette in France, which was good because it means I never have to do so again. If you don't know what it is, I think the phrase 'poo sausage' just about covers it. My wife is even coming round to the idea of Brexit merely on the basis that she won't have to go to European restaurants with me any more.
When were you most embarrassed?
Probably when my wife caught a whiff of my andouillette.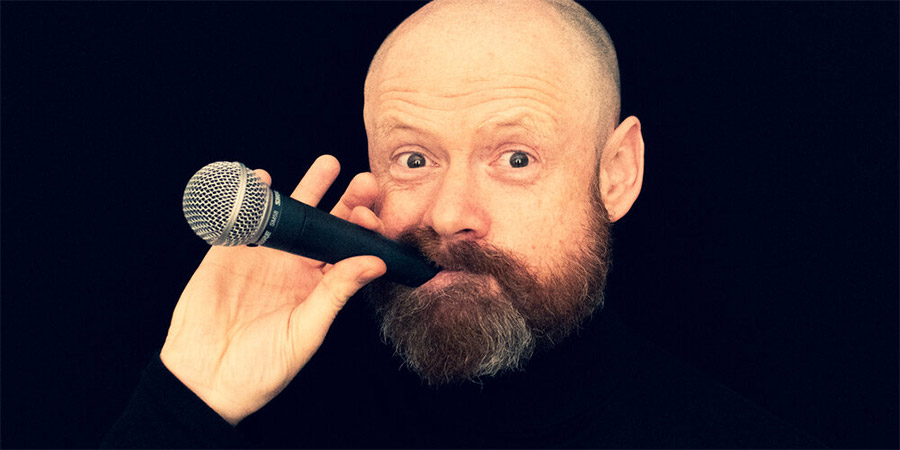 Ever met a particularly great or awful famous person?
John Hurt. I'd met him in a bar in Soho when we were introduced fairly awfully by a mutual, er, acquaintance - he was with friends and I was mortified to be interrupting, but he was grace personified.
I then did Loose Ends on Radio 4 with him a few years later, and we got chatting. When he found out what I did he simply said 'You are a stand-up? I am in awe of you!' which coming from John bloody Hurt was probably the nicest thing anyone has ever said to me. And yes it did go on that year's poster, because I am that cheap.
What's your favourite phrase or expression?
I've noticed I say 'y'know?' too much, especially on stage. It usually means I'm not quite confident of where I'm going with a bit, so it's not a favourite, but I use it a lot if I'm not careful. I'm working to eradicate it, but that's been pretty difficult this year thanks to all the gigs having dried up y'know?
Which book should we all read, to make life a bit better?
Cannery Row by John Steinbeck. It's also got a sequel (Sweet Thursday), which is almost exactly as good, so you've even got something to look forward to when you finish it.
What's the most regrettable thing you've ever bought?
I'm sure there have been worse purchases, but a kind of fabric cardigan with a blue body and white arms that could not have screamed 1980s any harder if it had appeared on Miami Vice comes to mind.
I was a young teen shopping with my mum, tried it on and asked her to buy it. She refused, which led to me behaving like a complete prick in a shopping centre in Portsmouth for a couple of hours because you've got to stand up for the important things in life haven't you? She eventually relented, poor woman, just to stop me being so utterly poisonous. I wore it once. #winning
Ever walked out of a film?
Yeah. A Star Trek one. I can't even remember which one, but it can't have been Wrath Of Khan cos that's quite good. I'm pretty sure it was The Search For Spock, so I still have absolutely no idea if they found him.