Ahir Shah
One random comedian, eight random questions: it's the ultimate test of funny person and fate. This week's idea merchant is Ahir Shah, one of our finest funny thinkers. Funkers? Sounds good. He's one of the suitably cerebral acts performing at HowTheLightGetsIn in Hay on Wye later this month, "the world's largest philosophy and music festival." Comedy is presumably under 'philosophy' there then, and the line-up is pretty impressive.
Also on board are Lou Sanders, who you may have spotted in the new season of Taskmaster, and Phil Wang, who you won't have spotted in last week's Have I Got News For You because the BBC pulled it. Plus there's Tony Law, Stuart Laws, Glenn Moore, and lots of other acts who don't fit into a rhyming sentence.
Also swanning along will be the likes of Anna Calvi, Donovan and British Sea Power, on a musical tip, as well as a whole bunch of lovely little thinkers, as Monty Python put it. So are comedy stages important platforms for ideas, too?
"Comedy stages can be a platform for some lofty Weltanschauung or a bunch of naff puns, as long as it's making an audience laugh with acceptable frequency," says Shah.
And what's he currently working on?
"I am working on a lofty Weltanschauung and a bunch of naff puns."
Splendid. Ahir Shah, your Random 8 await.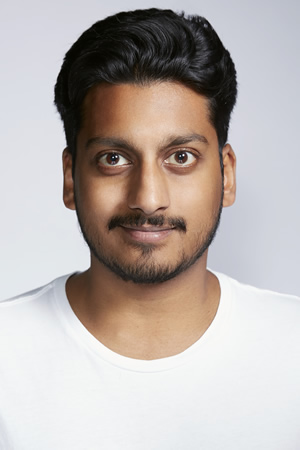 Who is - or was - your most interesting relative?
Mitochondrial Eve, though I guess she's everyone's.
What's the best thing you ever bought a ticket for?
I'm reminded of one particular train journey when, waiting at a platform for a connecting train, I felt happier than I thought it possible for a human being to feel. So either that train journey or, like, Avengers.
Do you have a favourite device?
Electronic cigarette, wireless headphones, metaphor, hyperbole.
Which British town should be abolished?
Reading. It's a travesty that it is a town, when it should clearly have city status.
What's your favourite fact?
Whatever the most recent fact someone has said on the No Such Thing As A Fish podcast, which is properly a highlight of the week.
Which book should we all read, to make life a bit better?
I can't remember the last book I read that made life a bit better. They tend at best to make the horror feel more manageable.
Ever walked out of a film?
No. I inevitably invest in too many snacks to move.
Which historical figure should get more attention?
The British Empire.