Objectively Funny Festival
A new comedy festival is launching in London this September. Objectively Funny Festival is marketing itself as "all of the fun of the Fringe for a fraction of the price."
The brainchild of Martin Willis from grassroots comedy company Objectively Funny, the nine-day festival will run at The Albany venue on Great Portland Street. Between the 16th and 26th September 2017 a total of 42 comedy shows are set to be staged as part of the festival.
The two weekends will feature back-to-back shows from established live comedy performers. The line-up includes the Edinburgh Comedy Award nominated shows from Elf Lyons, Jordan Brookes and Lucy Pearman, and also hour long shows from other favourites including Ali Brice, Matt Winning, Harriet Kemsley, Tom Ward, Sindhu Vee, Alfie Brown and Sleeping Trees.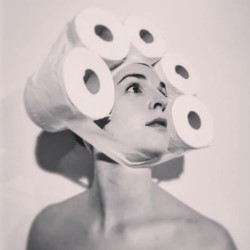 The line-up also includes Kat Bond (pictured), Michael Brunström, Joz Norris and Luke McQueen who will likely add an anarchic and surreal flavour to the mix of shows on offer.
The festival's weeknight double-bills also feature some of the best-received shows from the Edinburgh Festival. Tez Ilyas, Tiff Stevenson, Joseph Morpurgo, Fin Taylor, Gein's Family Giftshop and Fern Brady are amongst those booked in.
Talking to British Comedy Guide, Martin Willis says: "I'm so stoked to be launching the festival and playing a part in this thrilling year for live comedy. There's tonnes of exciting prospects on this bill - some that I've been amazed by in preview, plenty whose previous shows have blown me away, and many I've seen sparkle on the circuit for years.
"There's something for everyone too, with sparkling storytellers like Harriet Kemsley, political incision from the likes of Tez Ilyas, rug-pulling innovators such as Jordan Brookes and out-of-this-world weirdness like Lucy Pearman."
Objectively Funny is very affordably priced. Comedy fans can enter the venue for just £1 on the weekends and see shows on a Pay What You Want basis. Meanwhile paying £12 on the weeknights will allow you to watch two top hour long shows. The organisers explain: "With no corporate sponsors or big marketing campaigns, Objectively Funny aims to build its audience purely on the credentials of its impressive line up. As such, it is affordable for everyone. Simply to cover costs, entry at the weekend is capped at £1 for an all-day pass, with the opportunity to pay the act what you want at the end of each show or pay £5 to reserve a seat. Weeknights are only £12 for two shows."
To see the full line-up and book tickets visit www.objectivelyfunny.com