Free comedy festival in London - April 2013
Barry Ferns introduces the idea behind London's new free comedy festival...
I've been running Angel Comedy for two and a half years now, and it's a wonderful gig to run. We have a queue around the block every Saturday for the club, it's so popular now. Why is it so popular though when there's so much comedy everywhere these days? Well it's free.
We like to say it's London's only free professional comedy club. The club is by poor people for poor people.
How can we be free and professional? Well it is run professionally with attention to detail, and the audience often say that it is better than some of the paid clubs they go to. While we book the odd high profile act (we've had Tony Law, Isy Suttie, Simon Munnery, Adam Bloom, among many others...) we generally book the best of the open mic circuit. Acts who we believe are every part as good as their paid-up counterparts on the paid circuit... just ask our audience members, they agree!
But we decided to put on this week of comedy to extend the idea that free can be good - and to give something to the capital. Not the big bold hugeness of the O2 Arena and Live At The Apollo, but a comedy club festival. An intimate, fun, but professional gig that anyone can come to - regardless of how much money they have. Most comedy clubs charge at least £12 on the door, and to see something at the O2 can be hundreds - and that's before drinks etc. It's difficult to see good comedy in London for free (you can see as much bad comedy as you like)...
So, yes. Professional - but free! Something new. We are losing money putting on the festival as we're paying the acts (of course), but we think it's worth it. Maybe it will work, or maybe it won't. But it's worth a try to see whether people like the idea of a free festival in London. Edinburgh and Brighton have their free festivals - but London doesn't!
On Monday it's going to be Arthur Smith - a comedy legend who has always championed the underdog and been funny to boot! From QI to his own Radio 4 shows to Loose Ends he's a legend. It'll be great to host him again.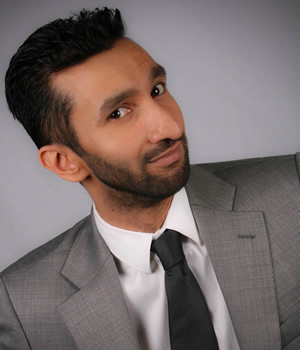 On Wednesday we host Imran Yusuf (pictured), one of the fastest rising stars in the comedy scene, playing TV on Michael McIntyre's Comedy Roadshow, playing international festivals, and The Comedy Store. Having Imran was a great coup - and we feel really lucky to have him. He's one of the best new comedians out there - he has his own voice and a really unique energy.
We also wanted to book some acts that were different - like the explosive Abandoman on Monday. Plus we've got a few sketch groups - like Jigsaw, Two Episodes of Mash, Gemma Whelan and Ben Target, because comedy isn't all about stand-up, it's a lot wider and broader than that...
So yes. By the poor, for the poor - what better motto in Austerity Britain, with a group of affluent, rich Etonians in power? The people running the club are poor - we're comedians! The people invited are poor - it's a free festival!
The Angel Comedy Festival takes place nightly Monday 22nd April to Sunday 28th April 28th at The Camden Head (Angel, North London). No need for a ticket, just turn up (but get there early, as it's going to be popular!). Find out more at www.angelcomedy.co.uk