Lee Mack announces 2014 live stand-up tour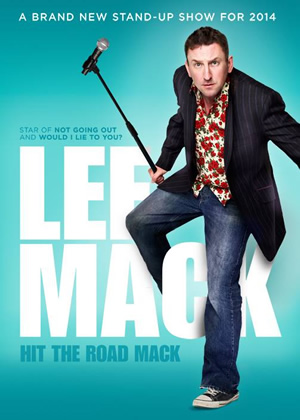 Lee Mack has been busy on the television the last few years. This year he's been making hit BBC One sitcom Not Going Out (another series has been hinted at); acting as team captain on the always-funny panel show Would I Lie To You?; and formulating new pilot The Smiths, co-starring alongside Catherine Tate (it's essentially a remake of US sitcom Everybody Loves Raymond).
He's also filmed new Sky1 comedy Duck Quacks Don't Echo; and appeared on various other people's programmes. It's a workload that helped see him be named Best Male Television Comic at last year's British Comedy Awards. In amongst everything, he also somehow found the time to pen his entertaining autobiography: Mack The Life.
However, despite all the TV commitments, Mack has announced that next year he is to return to the variant of comedy that made him famous, and the genre he still loves - stand-up comedy.
His live stand-up tour, titled Hit The Road Mack, will be arriving at some of the biggest theatres in the country in the autumn of 2014 (but notably avoiding arenas). It'll be the comedian's first live show in four years. His last - the critically acclaimed Lee Mack: Going Out - was twice-extended due to its popularity.
Lee Mack says: "Once again I'm very excited about the prospect of being able to eat Ginsters pasties alone and cold, in some empty service station, at three in the morning."
The tour stops off on locations including Birmingham, Bournemouth, Glasgow, Liverpool and London. Below are the dates announced so far, but further dates are likely to be arranged nearer the time.
Birmingham Symphony Hall: 8th - 10th September 2014
Sheffield City Hall: 15th - 16th September 2014
Leicester De Montfort Hall: 21st - 22nd September 2014
Bournemouth Windsor Hall: 24th - 25th September 2014
Brighton Center: 28th September 2014
Cardiff St. Davids Hall: 29th - 10th September 2014
Bristol Colston Hall: 2nd - 3rd October 2014
Plymouth Pavillions: 8th - 9th October 2014
Portsmouth Guildhall: 12th - 13th October 2014
London Hammersmith Apollo: 23rd - 25th October 2014
Glasgow Kings Theatre: 29th - 30th October 2014
Newcastle City Hall: 5th - 6th November 2014
Edinburgh Playhouse: 12th November 2014
York Barbican: 13th - 14th November 2014
Northampton Derngate: 18th - 19th November 2014
Liverpool Philharmonic: 25th - 26th November 2014
Nottingham Royal Concert Hall: 30th Nov & 1st December 2014
Southend Cliffs Pavillion: 4th - 5th December 2014
Manchester Apollo: 9th - 11th December 2014
Despite the tour being 14 months away, tickets are being put on sale now, available from Thursday morning from sites including Ticketmaster