Tickets on sale for Harry Hill tour, plus win tickets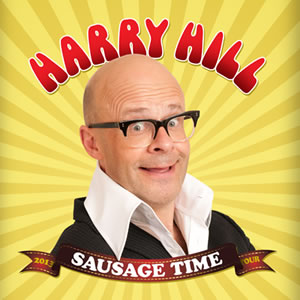 Harry Hill is back live with a banger! He's announced a 40 date tour of the UK for spring 2013 called Sausage Time!
Kicking off in Canterbury on 7th February 2013, Hill's tour bus will call at Oxford, Liverpool, York, Coventry, Tunbridge Wells, Nottingham, Derby, Southend, Milton Keynes, Birmingham, Leicester, Bournemouth, Sheffield, Watford, Northampton, Guildford, Ipswich, Brighton, Cambridge, Newcastle, Bristol, Salford, Glasgow, London and Leeds before finishing up in Edinburgh on 30 March 2013.
Joined by showband The Harry's, there's going to be a section exclusively for Tongans, a chance to catch up on Harry's Nan's latest ailments, the legendary Stouffer the Cat and a debut solo stand-up spot by Gary, Harry's son from his first marriage and recognisable for his role as Alan Sugar in TV Burp. There'll also be a spot for expert-whistler-of-chart-hits grandson Sam and an all-singing, all-dancing finale. Oh, and a giant sausage.
Tickets are now on sale from www.HarryHillLive.com
Alternatively, you can try your chance at winning some tickets. Head over to the Harry Hill Live Facebook page and submit your contact details into the Sausage Time competition app. Then, upload a picture of your best Harry Hill smile and you could be one of 5 lucky winners to receive 4 tickets to Sausage Time!. The competition closes on the 16th September 2012.
Harry's people say: "Make it original, make it different and most importantly make it funny!"