Harry Hill announces new live show
This feature refers to an event, offer or opportunity that has now ended.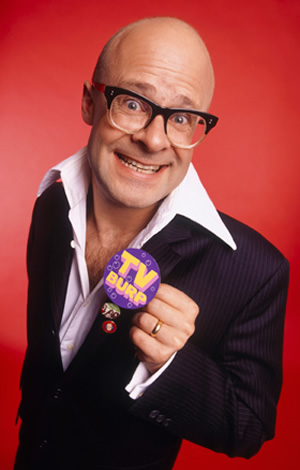 Harry Hill has announced he is indeed returning to the live stage for a new touring stand-up show, putting an end to the speculation. Rumours have been rife that the comedian has been planning to return the medium in which he first started out ever since he made the announcement earlier this year that he did not want to make any more series of hit ITV show TV Burp (pictured). To add to the speculation, the big-collared comic has been spotted a few times this month trying out material in London clubs (Review).
Hill will officially return to the stage in Edinburgh, the city that bestowed him the prestigious Perrier Newcomer's Award at the start of his career. The surreal comic will perform two shows a day for four days at The Stand Comedy Club between the 1st and 4th August... i.e. just as the Edinburgh Festival is starting up.
Despite being 'work-in-progress' shows, tickets are expected to be in high demand and follow the sales pattern set by Daniel Kitson, whose entire 16 night festival run at The Stand sold out earlier this month in just 43 minutes.
The press release for Hill's show says: "Fans will have a rare opportunity to get up close to the madcap comic and showband The Caterers as he tries out new material in preparation for his first live tour in six years."
Earlier in the week, Michael McIntyre was criticised by The List for scheduling 'work-in-progress' gigs during the Fringe, with writer Brian Donaldson saying that his TV-star status was likely to monopolise much of the audience thus "depriving those struggling comedians crawling up and down the Royal Mile just about mustering the strength to force a rain-soaked flyer into a Belgian's hand."
One difference, however, is that McIntyre is appearing at the Edinburgh Playhouse, whist Hill is in the smaller Stand 3 venue.
Tickets for Hill's August dates - titled Experiments in Entertainment - will go on sale on Wednesday 4th July. Priced £15 each, they will be limited to strictly four tickets per person. All sales will be online, via www.thestand.co.uk
For those unable to get to Scotland, Harry will also be warming-up in London. He'll be appearing at The Battersea Arts Centre on the 18th, 26th and 30th July.
The dates for Hill's tour are expected to be announced later in the year.
It should be noted the big-collared comic isn't leaving TV totally behind though, he's created a show for Channel 4 called Harry Hill: The Reunion which will be screened on the channel this August.