Nearly 100 comedians are set to take part in a 10 hour comedy show in Manchester to raise funds for charity.
On Sunday 13th May, stand-ups, improv and sketch acts from all over the North West and beyond will be lined up and ready to go for the second annual 'Great Mirth Run', in a bid to raise even more money for charity than last year's debut event.
The "laugh-a-minute bonanza" will host nearly a hundred of the best up-and-coming comedians along with top industry professionals, who will each have five minutes to make the audience laugh.
Acts already confirmed for slots include Paul 'Silky' White, Harriet Dyer, Callum Oakley, Simon Lomas and sketch duo The Delightful Sausage.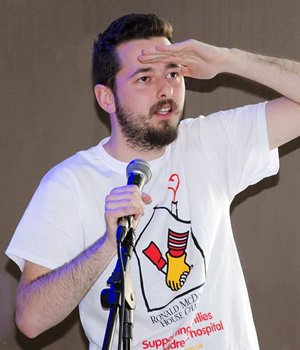 "We've got everything from high velocity punsters to madcap characters to improv, so there's something for everybody," says event organiser and compere Lukas Kirkby (pictured). "Every hour, 9 acts will do 5 minutes each before the running total is announced."
Based on last year's event, not everyone stays for the full duration, although some 'stalwarts' do sit through all 10 hours of gags. The MC explains: "You don't have to stay for the whole thing; a fiver gets you a wristband meaning you can stay for as little or as long as you want. You can even go and come back later!"
All proceeds from this year's event will be going towards Saying Goodbye, a charity which supports families who have lost babies during pregnancy, at birth or during infancy. The decision to choose this charity was in the support of comedian Lou Conran, who has set herself the epic task of raising £50,000 for the organisation in just twelve months, after tragically losing her baby during pregnancy last year. Conran will be taking one of the Great Mirth Run slots this year to perform too.
The first annual Great Mirth Run last year raised £1200 for St Mary's Hospital and the Ronald McDonald House in Manchester, and this year Kirkby is confident they can top that number. "Last year we raised so much money for a cause close to my heart; my niece was born at just 23 weeks and it's all thanks to the wonderful people at St Mary's and the Ronald McDonald House that she is still with us and is as cheeky as ever! We're hoping that we can surpass last year in every aspect and that we can continue to grow the event for years to come."
The mammoth 10 hour spectacular will take place at TriBeCa Bar in Manchester, with doors opening at 12:30pm in the afternoon and acts crossing the finishing line at 11pm. Wristbands can be purchased on the door for £5.