Comedian to tour the UK without money
Stand-up comic Damian Kingsley is set to travel from Lands End to Edinburgh on a 120 gig comedy tour. There's nothing new about a comedian touring, however this is a notable endevour as he will be travelling the country penniless, and without using public transport.
Kingsley is undertaking this tough challenge to raise money for the homeless charity Shelter.
His tour - titled Knock Knock - starts this Thursday (24th March 2016) and finishes at the Edinburgh Festival in August. As Damian won't be able to use any money or public transport, he is hoping to be given shelter, food "and maybe a few lifts on the road to Edinburgh." In return "for the basic necessities that so many people have to do without every day", he says he's willing to "tell jokes to anyone anywhere, from the Nags Head to Granny's front room."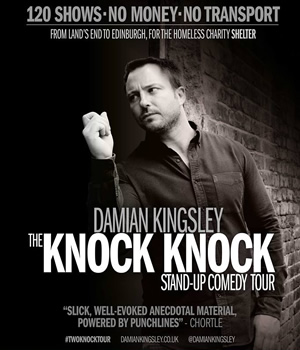 Damian has support from over 50 venues now, but with over half his slots still to be confirmed, he says he is likely to end up "performing on the street and mowing lawns in exchange for the use of a washing machine or somewhere to lay my sleeping bag."
He will be holding at least one gig every day whilst on tour, with travel between gigs of up 12 miles at a time. Any money he raises from the gigs will go to Shelter.
Damian explains: "It so important we raise money and awareness for Shelter, and I feel privileged to have the opportunity to do this. I am as worried as I am excited about the Knock Knock tour, but my experience will obviously be no more than a small insight into what homeless people go through every day of their lives. The gigs are free entry but the whole point is to raise money for Shelter, so there will be a collection at the end of each gig."
How does he predict it'll go? "Out of 120 gigs, lots of which don't normally host comedy, I'm sure there will be some tough nights. I keep having these recurring visions of me dying onstage in a village in the middle of nowhere, trying and failing to sleep in a tent, worried that the farmer who owns the field I'm in will appear with a shotgun, then having to lug all my stuff 14 miles to the next gig like an unfunny wandering minstrel."
Julie Bolt from Shelter comments: "We're hugely thankful to Damian for undertaking such an extraordinary challenge to raise funds for Shelter. All of the money he raises will go directly towards making sure no one has to fight bad housing or homelessness on their own. We wish him the best of luck on the tour and encourage everyone to go along if they get the opportunity. You'll not only help Shelter to continue be there for everyone who needs them, you'll get to have a brilliant night out at the same time."
You can follow Damian's progress, and support him, via www.damiankingsley.co.uk and on Twitter
@DamianKingsley If you can't attend a gig yourself but would like to support the tour, there is a Virgin Money Giving Page