Foster's adds Edinburgh new act competition to sponsorship portfolio
Foster's adds Edinburgh new act competition to sponsorship portfolio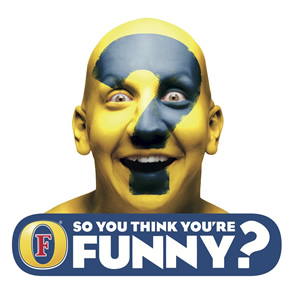 Foster's and Edinburgh Fringe Festival venue The Gilded Balloon have announced a new three-year partnership that will install the lager brand as the title sponsor of the venue's prestigious amateur stand-up competition, So You Think You're Funny?
Foster's is building itself a strong portfolio of comedy connections. It already sponsors the festival's main awards, The Edinburgh Comedy Awards (previously known as the Perrier Awards); The British Comedy Awards, the highly sought after awards recognising TV excellence; all home-grown comedy broadcasts on Channel 4; the live stand-up nights at comedy chain 'highlight'; and also funds new web series from the likes of Vic & Bob and The Fast Show.
So You Think You're Funny? - aka SYTYF? - is one of the UK's leading amateur comedy competitions. It has been running since 1988, with the list of previous finalists including Lee Mack, Sarah Millican, Johnny Vegas and Jack Whitehall. Last year's competition, which was sponsored by The Sims 3 computer game, was won by Welsh newcomer Tommy Rowson.
Foster's brand manager Niall McKee says: "Foster's and So You Think You're Funny? is a great fit and we are very excited about the new partnership. We share the same values of developing the best up and coming talent in the comedy industry and we believe our latest comedy collaboration will provide the perfect foundations for a wider talent support network in the future."
Karen Koren, the director of The Gilded Balloon, which hosts the So You Think You're Funny? competition, adds: "We are particularly excited in this our 25th year of the competition and believe that Foster's and Gilded Balloon together can discover and nurture the comedy greats of tomorrow!"
The search for the winner of So You Think You're Funny? 2012 will begin on the 21st May with the first regional heat in London, and will culminate at the end of August, with the final taking place at The Gilded Balloon during the venue's Edinburgh Festival programme.
In other news, the second series of Alan Partridge's Mid Morning Matters, the hit web series created by Foster's, is likely to debut online in early autumn.
Share this page