The Pin in The Comeback
The Pin to make West End stage debut
Sketch duo The Pin are to perform their first play, The Comeback, about rival double acts
The farce will run at London's Noel Coward Theatre from 8th December
Producer Sonia Friedman says of the play: "After the year we've had, it feels like the perfect tonic"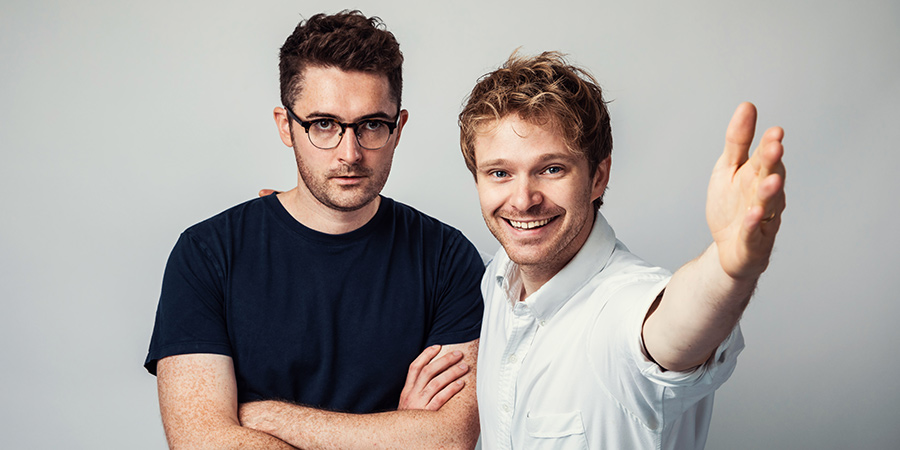 Sketch duo The Pin are to make their West End debut this Christmas with their first play, the pair have confirmed.
Depicting the behind-the-curtain squabbling of two rival comedy duos, The Comeback is based upon Ben Ashenden and Alex Owen's 2018 critically acclaimed Edinburgh Fringe show Backstage, with the pair playing four characters, a beloved but fading comedy double act and their ambitious younger warm-ups.
Ashenden and Owen have won acclaim for their Zoom parodies during lockdown. And they announced The Comeback with their latest clip, featuring James Corden, Nish Kumar, Mae Martin and Fleabag's Andrew Scott.
A different celebrity guest will also be joining them each night in the farce, described as tonally between "Noises Off and Morecambe and Wise's old-school charm", as upcoming comics Alex and Ben find themselves underwhelmed to be playing to a sparse crowd in a sleepy, seaside town.
That is until they learn that a Hollywood director is in the audience, offering both double acts a chance at their big break, inciting sabotage, mayhem and mistaken identity as the performance descends into a desperate battle for the limelight.
The Comeback, which Ashenden and Owen also wrote, runs from December 8th to January 3rd at the Noel Coward Theatre in London and is being produced by Sonia Friedman Productions (Baby Reindeer by Richard Gadd, Book Of Mormon). It is directed by Emily Burns, who previously worked on Backstage and Liam Williams' play Travesty.
Ashenden and Owen said: "After eight years of lugging props between tiny venues, and eight months of watching those props gather dust, we feel ridiculously excited and fortunate to be bringing a play to the West End. For it to have been developed with and presented by a producer of Sonia Friedman's immense standing makes us very proud, and provides ample material for anxiety dreams in which hidden cameras are revealed and words like 'prank' shouted. We hope to provide 90 minutes of silliness, escapism, and extremely well dusted props."
Seating in the theatre will be adjusted to ensure social distancing. Speaking to British Comedy Guide last month, Ashenden and Owen ventured that the coronavirus-enforced layout changes would not inhibit them, but rather play to their advantage.
"We realised that with audiences sat in strange positions, it'll be the big elephant in the room" Ashenden suggested. "But that works really well for our show. Because basically, the main joke is that this is a weird environment, a strange situation.
"The arc of the story leads to a celebration of those who have, despite everything, stayed around in the audience to support live comedy. And that will be what's happening in real life.
"We hope it'll be a testament to live comedy and theatre carrying on, even in very difficult circumstances."
Attracting four star notices in The Times, The Guardian and The Telegraph, the 2018 Edinburgh incarnation of Backstage put an emphasis on "funny, funny, funny" Owen explained.
Now though, "in terms of the spectacle and technical ambition, as well as the ambition of the storytelling, we've found ourselves approaching it the other way, writing it to make people come back after the interval. So we're trying to maintain that while further developing the core comedic charm of it."
Producer Sonia Friedman said: "I am absolutely thrilled to be announcing The Comeback as SFP's return to the West End. I was excited about The Pin's debut play long before lockdown, but after the year we've had, it feels like the perfect tonic. More than ever, we need the laughter and emotional connection of communal experience - and frankly, nothing provides that like live theatre. The Comeback delivers all that and much more.
"It's so heartening to see artists and audiences in theatres once again this Christmas. As theatre makers - performers and producers alike - we have a duty to do our bit to lift the nation's spirits and nourish its soul. Theatre plays a critical role in maintaining our collective mental health. That's why, even while theatres were forced to close, artists looked at other outlets to make and share work, on and offline. It's why now, despite the ultra-tight financial pressures social distancing entails and against all the odds, we're doing all we can to get shows back on stages. Audiences need live entertainment as much as we need them.
"Make no mistake, though: theatre is not back in business. Having shuttered 18 productions worldwide seven months ago, all of which remain suspended, I cannot fully - let alone profitably - re-open my shows. As well as government go-ahead (even just a date), we're still waiting for an insurance scheme to protect our profession in the months ahead. Producing shows this Christmas is a tightrope act, but The Comeback will go ahead - following approved Performing Arts working guidelines - and so long as government restrictions allow.
"Changed circumstances offer new opportunities - to introduce adventurous audiences to the most brilliant and inspiring new talent. That's one of the best parts of my job, and The Pin are up there with the very best.
"Following in the footsteps of Britain's comedy greats - Morecambe & Wise, Fry & Laurie, French & Saunders - they are going to light up the West End with a combination of laugh-out-loud slapstick, self-aware silliness and witty wordplay in the most heart-warming story of two friends following their dreams. This genius comedy shows just how precious live performance is and, as British theatre begins to build itself back up, becoming a frontline of the national recovery, The Comeback couldn't be more timely. Theatre isn't just for Christmas. This is just the start."
The Pin, who have recorded four series of their eponymous Radio 4 show, recently released the mockumentary series The Special Relationship on Audible, about a hapless double act trying to break America, co-starring a US-UK cast that includes Fred Armisen, Cecily Strong, Lolly Adefope, Jamie Demetriou, Sally Phillips, Janine Harouni and Charly Clive.
---
Tickets for The Comeback are available now from: www.thecomebackcomedy.co.uk
Read BCG's interview with The Pin
Share this page