Virtual Edinburgh Fringe
Virtual Edinburgh Fringe plans revealed
A series of online shows and events have been revealed to replace the cancelled Edinburgh Fringe 2020
Activity will include a variety show each Friday night in August to showcase fringe performers
An audiobook will also be released, and Comedy Central are filming an online series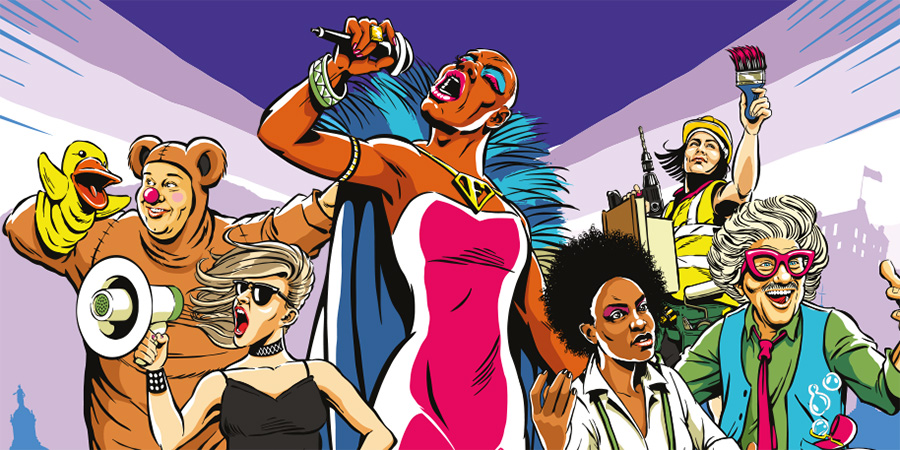 The Edinburgh Festival Fringe has unveiled digital plans to replace this August's festival, which has been cancelled due to coronavirus safety concerns.
The Fringe Society explains: "Under hugely difficult circumstances, creatives from across the fringe landscape will be bringing versions of their work to life digitally, many for the very first time. From live streamed performances to nostalgic throwbacks and community-focused events and support sessions, the spirit of the Fringe will live on in the work of thousands of fringe artists and venues, and the Fringe Society will help audiences navigate them through a central listings service on edfringe.com.
"Alongside this, the Fringe Society will be running a series of digital activities, including virtual shows, a festival-wide crowdfunding campaign, artist-facing workshops, a new online arts industry platform and a virtual Fringe Central, so there are still plenty of ways to #MakeYourFringe in 2020."
Activity will include:
Virtual shows
The festival explains: "The Fringe - usually staged across a whole city - will instead be staged in living rooms across the world this August as we invite artists and audiences to capture the spirit of the Fringe in miniature. Repurposing technology from last year's Inspiration Machine, artists can upload 60-second films of themselves in action - from snippets of what would have been 2020 shows to snappy set pieces staged in the shed - just like the Fringe, anything goes, and anyone can take part."
Additionally, Fringe On A Friday will run in August. A 60-minute Fringe variety show produced and curated by an independent production company will be streamed every Friday evening during the Fringe (7th, 14th, 21st and 28th August). This will showcase the best of the festival across a range of genres, including comedy. Venues and acts will all be given the opportunity to sell tickets to the broadcast and will keep 100% of the money they raise from these sales.
Comedy Central series
Comedy Central is to make Comedy Central At The Edinburgh Fringe, a series of virtual shows which will be published through its social media platforms, with highlights then appearing in a TV special. More details
Edinburgh Unlocked audiobook
New audiobook Edinburgh Unlocked, released on 6th August, will feature stand-up, sketch, character, musical comedy, cabaret, storytelling and more. More details
Events and support for comedians
The festival explains: "Fringe Central is a home from home for the Fringe community during August and hosts an unparalleled programme of creative and professional development events for artists. Although a physical space is impossible this year, we are recreating this important gathering point in a virtual space. Our online hub will allow artists to come together to connect and collaborate with each other, or simply drop by and talk to a member of the Fringe Society team in real time, replicating the welcoming, open-door environment that is Fringe Central in August.
"In partnership with industry experts, we'll deliver a series of over 30 digital events including panel discussions, workshops and networking sessions, exploring pertinent topics such as digital skills development and touring post-pandemic, and wider industry themes such as the under-representation of creators of colour and how to make performances more accessible. The events and resources are open and completely free to all artists."
The festival is also launching FringeMakers, a crowdfunding platform for performers.
Additionally, the Fringe Society is launching the digital Fringe Marketplace, a dedicated showcase platform to connect arts industry delegates all over the world with tour-ready artists who were programmed as part of this year's Fringe.
---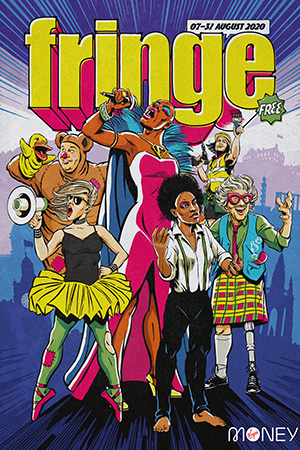 Commenting on the launch of this year's digital Fringe activity, Shona McCarthy says: "It's hard to imagine a summer without the Fringe. The explosion of creativity and community that the festival brings every year is unparalleled, and whilst we may not be able to provide a stage in Edinburgh in quite the same way this year, it feels hugely important that the spirit of this brilliant festival is kept alive."
The Society has also unveiled the artwork for the Fringe Programme cover that never was. Designed by celebrated contemporary artist Butcher Billy, the campaign is based on the theme of 'the heroes of the Fringe'.
McCarthy comments: "Little did we know way back in autumn, when we first started talking about this year's programme artwork, how prescient the superhero theme would be today. We're happy to be able to shine a spotlight on some of our Fringe heroes now, as we rally round to support the people that make your Fringe. On the other side of this, we'll need them more than ever.
"The impact of Covid-19 has been devastating for the countless artists, audiences, venues, workers and small businesses that make this festival happen every year. The FringeMakers crowdfunding campaign is designed to support them, while the Fringe on a Friday live show and the Fringe Pick n Mix website aim to bring some much-needed joy to our devoted audiences both here in Scotland and all over the world."
To access the virtual Edinburgh Festival, visit edfringe.com
Share this page