Harry Hill caveman show
Harry Hill developing caveman show
Harry Hill is developing a wordless touring stage show about cavemen actors
"A play with no words and lots of noise", Harry Hill: Caveman! was in the try-out phase when lockdown kicked in
Hill has also spoken about how "careerist" television executives can interfere in creative processes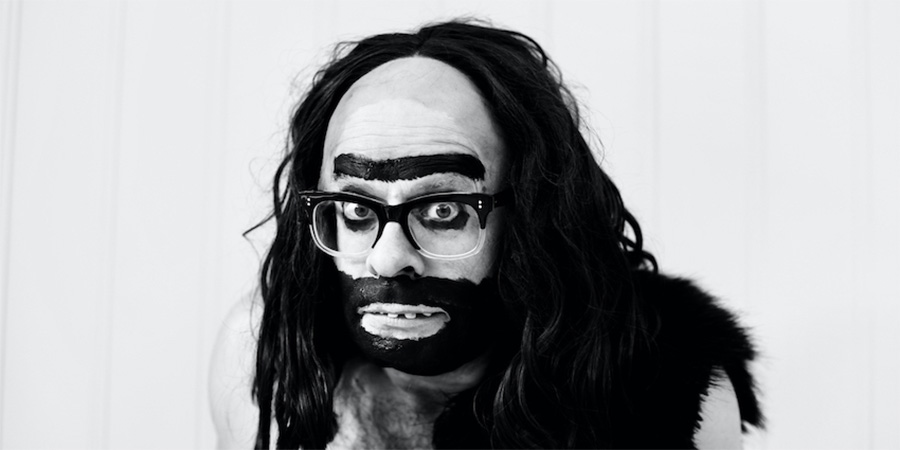 Harry Hill has shared his plans for a wordless, internationally touring stage show, while slamming meddling television bosses.
The comic, who was yesterday announced as returning to BBC Two with Harry Hill's World Of TV, an archive show mocking various genres of programming, has disclosed that the show's hugely popular long-running forerunner, TV Burp, was under constant threat of cancellation. And he was ready to quit around the time of the sixth series, because the then ITV director of television, Simon Shaps, wanted to "change the name".
Lamenting "careerist" television executives' interference in his creative process, even to an extent on his upcoming BBC series, Hill, whose real name is Matthew Hall, confirmed his preference for live performance. And that he had been trying out a new, dialogue-free show in which he played a caveman, that he envisioned becoming a global franchise, right before the coronavirus lockdown halted all theatre production.
Without any words, he envisioned Harry Hill: Caveman! playing multiple international venues concurrently, in a manner similar to Tape Face's shows, which provoked controversy when it emerged creator Sam Wills was using a stand-in for some performances.
Hill hadn't anticipated starring in Caveman! until he shopped the idea around West End producers. But he was persuaded that he needed to be in it to sell tickets.
Co-starring fellow comics Holly Burn as a cavewoman and Paul F Taylor as a dinosaur, a clutch of intimate, work-in-progress shows were performed at the Battersea Arts Centre and at the cornerHOUSE in Surbiton before the pandemic struck and left the project in limbo.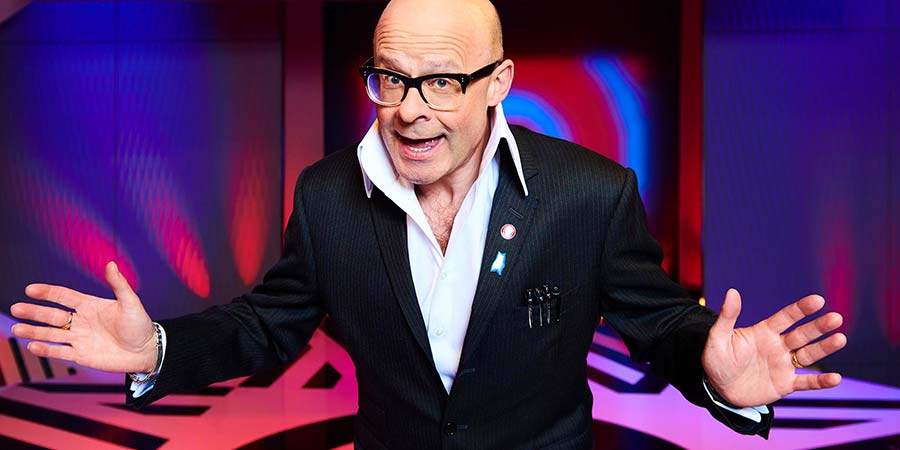 Described as "a play with no words and lots of noise", with audience participation, Caveman! takes place in early 2020, on a holiday to an unspecified country where Hill discovers a group of primitive cave people frozen in a glacier. When they thaw out and warm up, it becomes apparent they are a group of actors, working on mankind's very first show.
After some audience reticence in the earliest try-outs, the last performance "couldn't have gone better ... it was really, really exciting" Hill told fellow comics Nick Helm and Nathaniel Metcalfe on their Fan Club radio show for Fubar. Ultimately, it would be "a big show, it involves flying me in, big props, all kinds of stuff.
"Because there were no words in it, it could open in every major city in the world" he semi-joked. "It would be playing simultaneously all around the world.
"The lights go down and I appear from behind a rock, in that wig. I have like a painted beard, a monobrow and a caveman fur dress. With a club. Obviously, I'm not speaking [and the audience] is just looking at me like, 'what is this?'"
He revealed that a performance had already been recorded. And with uncertainty over theatres re-opening, Caveman! may now have to appear in another format. "So now I've written it up as a little film" he said.
Elsewhere in the interview, the 55-year-old spoke of changes he's witnessed over the course of his television career, reflecting upon the slashing of budgets and rehearsal time and growing interference from channel executives since he made Harry Hill's Fruit Fancies for BBC Two in 1994.
On the forthcoming Harry Hill's World Of TV, "so far they've been as good as gold" he said. "But I just got all these notes through on this one particular episode. I just felt like crying.
"It's a big problem. It never bothered me before. I never used to get any notes. It's only since I got the hang of it that people started to wade in. It's been a change in the people who are in charge... It might be that expectations [of me] are different.
"But my feeling is that the people giving the notes are a different type of person. What it used to be, or I found in the past is, that people would leave you alone. If it didn't work, you'd just get cancelled. Which I think we can all live with.
"I don't know where the people in charge now have come from. I think they're kind of career TV executives, they've always slightly got their eye on the next project... they're slightly trying to manage their career as much as the show. No-one takes a risk, everyone's so risk-averse."
Acknowledging the compromises that are inherent in broadcasting, he ventured that "TV is a bit of a game and you have to be prepared to give them a little bit and allow a little bit of you to die each time. A big part of it is to make them think they're getting what they want."
Mocking all genres of television, with sketch inserts and running gags, TV Burp first aired in 2001 and swelled its audience to become one of ITV's primetime mainstays until it finished in 2012.
However, "when we did the first few series of TV Burp, every series they would say 'we're going to cancel it'" Hill recalled.
"At the start of each series, and this is no exaggeration, my then [management] Avalon would say to me 'they don't like it, they're going to cancel it'. Which is really good for morale, right?"
Initially, the channel also wanted TV Burp to feature celebrity faces from its most popular programming, such as Lorraine Kelly, sharing some of the show's punchlines.
"Of course, they would kill the joke, couldn't deliver it, and of course it was at odds with the whole [ethos], the whole feel of the show was me being anti [the source material clips]" Hill recalled. "We did it a couple of times and quietly dropped it."
When he was summoned in 2007 to meet Simon Shaps, ITV's director of television, the interference was reaching a point where he was ready to quit.
He was told Shaps wanted to change the show's name and "by then I'm just sick of it, I was quite ready to say 'forget it'.
"I said to my manager 'what I'm going to say [is] we can't change the name. We'll lose the few fans we've got and we're not going to win anymore because it's the same show."
His manager recommended that they should suggest changing the name to "Harry Hill's TV Burp".
"And I said, 'I thought it was already called that'.
"And he says: 'Is it?'"
According to Hill, Shaps did indeed want the name change, based on the fact that his PA wouldn't watch TV Burp because of it.
Market research was commissioned, then three months later the show won the Bafta for best entertainment show. At the awards, Shaps told Hill that the research indicated no-one liked the name. But it was too late to change.
Qualifying his remarks, Hill added that "there are some really good commissioners, channel controllers ... and I have worked with some really good ones. But the whole thing's changed. Even when I started budgets were being cut.
On his Channel 4 sketch show, simply titled Harry Hill, which ran for three series between 1997 and 2000, "we used to rehearse for a week. But no-one rehearses at all now."
---
For updates, click the button below.
Share this page