Rob Brydon singing tour
Rob Brydon to tour with his band in 2020
Rob Brydon - Songs & Stories will tour the UK from February to April 2020
Brydon will sing in the show. He says: "I hope this show is a very pleasant surprise for audiences"
Tickets are on sale from www.robbrydon.live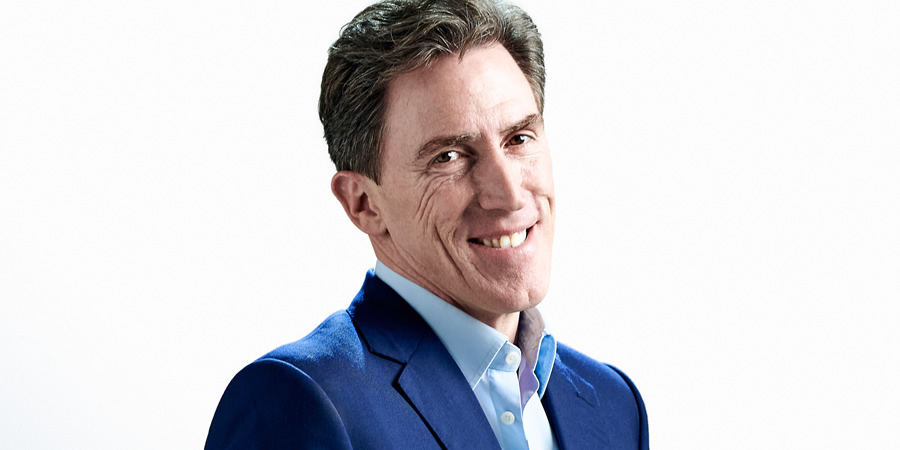 Rob Brydon is to tour a new show titled Songs and Stories in 2020. It will see him singing, as well as performing stand-up.
His promoters confirm: "This is the first time that Brydon has created a show that includes songs and music as well as his acclaimed wit and comedy."
The tour begins in February 2020 and will travel to almost 30 venues across the country beginning in Colchester on 26 February 2020 and going on to Bexhill-on-Sea, the Alexandra Palace in London, High Wycombe, Weymouth, Swansea, Aberystwyth, Folkestone, Salisbury, Stevenage, Guildford, Warrington, Hull, Huddersfield, Aylesbury, Woking, Watford, Cheltenham, St Albans, Worthing, Buxton, Rhyl, Inverness, Perth, and finishing in Aberdeen on 30 April.
A full list of dates and ticket links can be found at robbrydon.live
His promoters say: "With songs from Sondheim to Rodgers and Hammerstein, from Paul Simon to Tom Waits and almost everything in between, audiences can expect Rob's usual warmth and humour as well as some of his famed gallery of voices."
Brydon said of his new show: "It will take some people by surprise. There are so many media outlets nowadays that some people might only know me from Gavin & Stacey or Would I Lie To You?. Those people often say to me, 'I didn't know you could sing', and yet I have sung a lot. I hope this show is a very pleasant surprise for audiences."
Before the show begins its Spring tour, Rob Brydon - Songs & Stories will be performed in December 2019 with pianist and musical director Paul Herbert in the intimate surroundings of Crazy Coqs in London (2-4 & 7 December at 7pm and 5 & 6 December at 9.15pm).
In 2009 - alongside Ruth Jones, Robin Gibb and Sir Tom Jones - Brydon reached number one in the UK charts with the single Islands in The Stream, in aid of Comic Relief. He also embarked on an 87 date tour of the UK with his stand-up show Rob Brydon Live.
Recently he has been filming the new Gavin & Stacey special and performing alongside his Would I Lie To You? co-stars David Mitchell and Lee Mack on a sold-out tour. He has also been working on The Trip To Greece, a fourth series of his TV comedy show with Steve Coogan. This Christmas he'll voice the BBC One animated special The Snail And The Whale.
Tickets for Rob Brydon - Songs & Stories are now on general sale. www.robbrydon.live
---
For updates, click the button below.
Share this page