David Baddiel tour tickets
David Baddiel to tour in 2020
David Baddiel will tour the UK with his new show between January and May 2020
Trolls: Not The Dolls focuses on people who behave anti-socially online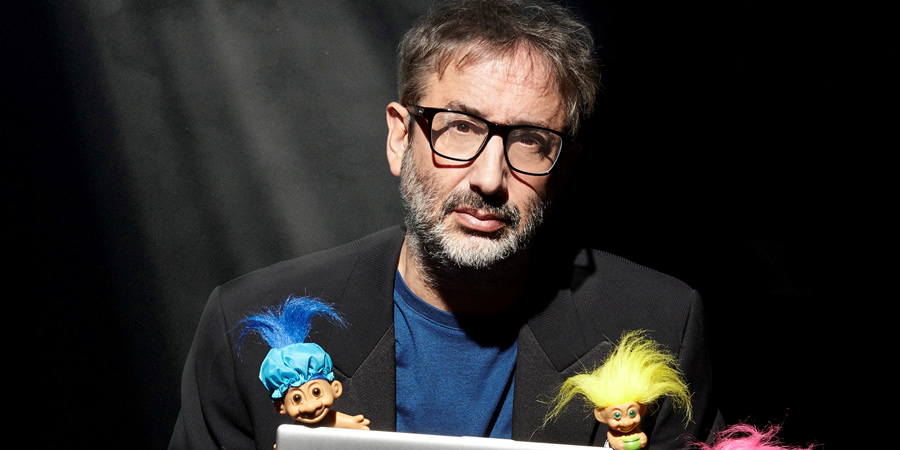 David Baddiel will tour the UK his new show Trolls: Not The Dolls between January and May 2020.
Venue details for the 50+ date tour are listed below, with tickets available now from Ticketmaster
The theme of his next show is described as follows: "Trolls - the terrible people who spend all day insulting and abusing strangers for no other reason than to fill the huge gaps in their souls. There is a common wisdom about how to deal with trolls: don't, for goodness sake, encourage these people by replying to them.
"It's a good law. And it's one that David Baddiel has consistently broken. Because David has always seen trolls as hecklers, and if a comedian gets heckled, it is their duty not to ignore the heckler, but to wittily put them down. Over the years, David has spent a lot of time doing this, which has led him to think that there might be a show in it: a show that would say something about how we live now.
"David has stories to tell, of the dark, terrible and hysterically absurd cyber-paths that interacting with trolls has led him down. Come with him on this comedy journey into our culture's most dank virtual underground. You will come back safe, more able to deflect your own trolls, and only a little bit soiled."
Speaking to BCG in a 2018 interview ahead of work-in-progress dates, Baddiel said: "I wanted to do a show that's slightly less personal than the last two, just a bit less family secrets and whatever, and more about how we live now. I think you can say quite a lot about that if you look at trolls, the way that they fail to empathise with people; anger and all the rest of it."
Trolls: Not The Dolls is the third in a series of shows from Baddiel. It follows on from the critically acclaimed 2016 hit My Family: Not The Sitcom, and 2013's Fame: Not the Musical, which saw Baddiel return to live comedy after 15 years.
2020 Tour Dates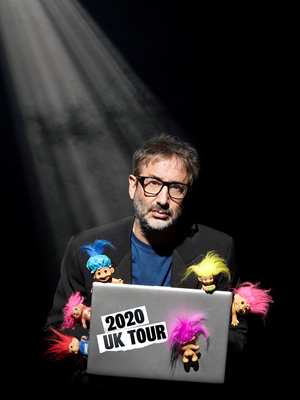 24 January: SWANSEA Grand Theatre
25 January: CARDIFF St David's Hall
26 January: SALFORD The Lowry
31 January: DORKING Dorking Halls
02 February: BUXTON Opera House
05 February: CAMBRIDGE Corn Exchange
06 February: WORCESTER Huntingdon Hall
07 February: WORTHING Assembly Hall
08 February: FOLKESTONE Leas Cliff Hall
09 February: STRATFORD UPON AVON RSC
12 February: DONCASTER Cast
13 February: BLACKBURN Windsor Hall
14 February: HULL City Hall
15 February: HARROGATE Harrogate Theatre
16 February: NEWCASTLE Theatre Royal
20 February: SOUTHEND Cliffs Pavilion
21 February: BASINGSTOKE The Anvil
22 February: PORTSMOUTH Guildhall
23 February: WOKING New Victoria Theatre
27 February: CREWE Lyceum
28 February: SHEFFIELD City Hall
29 February: DUDLEY Town Hall
01 March: NOTTINGHAM Playhouse
05 March: ABERDEEN Music Hall
07 March: MOTHERWELL Concert Hall
08 March: GLASGOW King's Theatre
12 March: HAYES Beck Theatre
13 March: AYELSBURY Waterside Theatre
14 March: LEAMINGTON SPA Royal Spa Centre
15 March: CHELTENHAM Everyman
19 March: BIRMINGHAM Symphony Hall
20 March: GUILDFORD G Live
21 March: READING Hexagon
22 March: BRIGHTON Theatre Royal
26 March: NORTHAMPTON Royal & Derngate
29 March: HIGH WYCOMBE Swan
03 April: ALDERSHOT Princes Hall
04 April: SWINDON Wyvern
05 April: YORK Grand Opera House
09 April: ST ALBANS Alban Arena
16 April: ISLE OF WIGHT Shanklin Theatre
17 April: TORQUAY Babbacombe Theatre
18 April: EXETER Northcott Theatre
22 April: DARTFORD Orchard Theatre
24 April: LEICESTER De Montfort Hall
26 April: STAFFORD Gatehouse
30 April: PETERBOROUGH Cresset
01 May: JERSEY Opera House
02 May: WATFORD Colosseum
03 May: KINGSTON Rose Theatre
---
For updates, click the button below.
Share this page