Magic Goes Wrong show
Mischief Theatre to launch Magic Goes Wrong stage show
Mischief Theatre, the team behind shows like The Play That Goes Wrong, are working on a new show
Magic Goes Wrong will be focused around a hapless gang of magicians presenting a charity event
The group have collaborated with Penn & Teller to make the show. It launches in London in December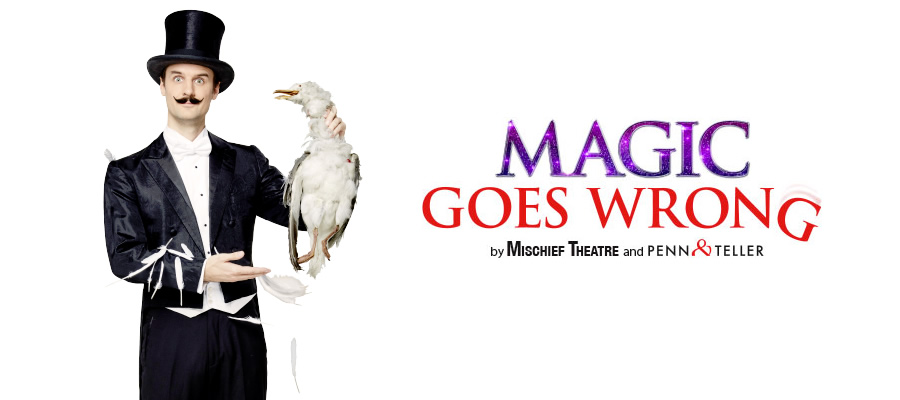 Mischief Theatre, the producers behind hit shows including The Play That Goes Wrong and The Comedy About A Bank Robbery, are due to launch a new stage show called Magic Goes Wrong.
The comedy group have teamed up with famous illusionists Penn & Teller to create the new show, which will launch in London's West End in December.
Talking about the plot, the producers tease: "Created with magic legends Penn & Teller, Mischief Theatre conjure up an evening of grand illusion. In the next Goes Wrong comedy to hit the West End, the original Mischief company play a hapless gang of magicians presenting a charity event. As the accidents spiral out of control, so does their fundraising target."
Henry Lewis, Mischief Theatre's artistic director, explained how the collaboration with Penn & Teller came to be. "About 18 months ago, Penn and Teller came to London to do a few shows at the Hammersmith Apollo, and while they were here they went to see The Play That Goes Wrong, and they really enjoyed it and got in touch. We were performing in New York at the time and they said, 'Well when you finish your run, come and spend a few days with us in Vegas, meet us and see our show'."
The result will be Magic Goes Wrong, which will run at the Vaudeville Theatre from 14th December.
Teller says: "When our own magic has gone wrong, we were miserable, but when it's somebody else, it's hilarious, so this seems like the perfect project for Mischief and us. We're huge fans of theirs, so collaborating with them was a privilege and an astonishment. Any idea we'd pitch them, right on the spot they'd turn it around and make us double over laughing. We're very proud of the results and hope you enjoy the show."
The new show will be produced by Kenny Wax as part of Mischief's Season at the Vaudeville Theatre. It will play from the 14th December 2019 and will follow their other new offering Groan Ups, a play about "unruly classroom of kids, anarchic high school teenager and the aches and pains of adulthood."
Mischief Theatre are set to debut a scene from Magic Goes Wrong as part of the BBC's Comic Relief programming on the 15th March.
The Play That Goes Wrong started life at the Edinburgh Festival, before launching in London in 2012. Winning an Olivier Award, it is still running in the West End, with Broadway and tour versions now existing too. Mischief Theatre have also since launched the successful slapstick plays The Comedy About a Bank Robbery and Peter Pan Goes Wrong.
Last month it was revealed that, following their Christmas specials Peter Pan Goes Wrong and A Christmas Carol Goes Wrong, the group are now also making a sitcom series for BBC One, called The Goes Wrong Show.
---
Tickets for Magic Goes Wrong are now available
Share this page