Mark Watson's 26 hour gig
Mark Watson to host 26 hour live show
To tie in with the London Marathon, Mark Watson is organising a 26.2 hour live show
Raising money for charity, guests joining him will include Rufus Hound, Sara Pascoe, Angela Barnes
The gig will also mark the launch of a new podcast on Audible called Mark Watson's Comedy Marathon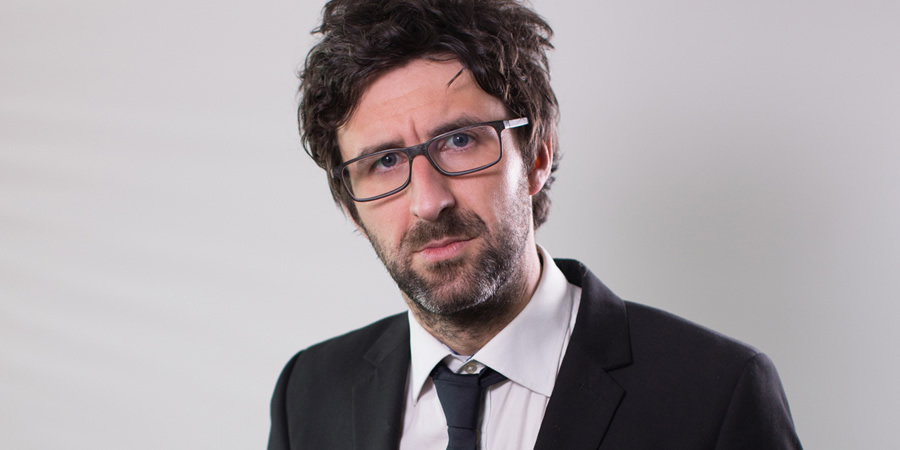 To tie in with the London Marathon, Mark Watson is organising a 26.2 hour live show featuring Rufus Hound, Sara Pascoe, Angela Barnes and many more.
Mark Watson's Comedy Marathon - which will take place at the Pleasance Theatre on London on 27th February - has been co-organised with Audible, as part of the company's audio sponsorship of The Virgin Money London Marathon.
Tickets are on sale now - priced £26.20, with all ticket proceeds going to the Dementia Revolution, a joint campaign run by Alzheimer's Society and Alzheimer's Research UK, which is the Charity of the Year for the 2019 London Marathon. Guests can attend for the full 26.2 hours, or dip out if they can't survive a full day.
The gig will also mark the launch of a new Audible podcast hosted by Watson.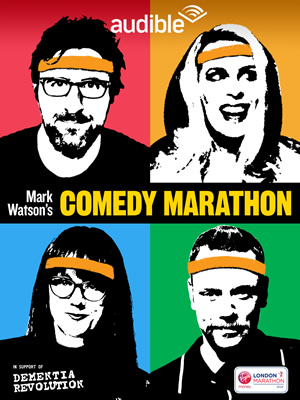 Audible say: "Hosted at the Pleasance Theatre on 27th February, the night will be packed with laughs and special appearances from Mark Watson's Comedy Marathon contributors, including: Rufus Hound, Sara Pascoe and Angela Barnes all helping Mark get to the 26.2 hour finish line. Expect a marathon's worth of Mark's 'belly laugh brilliant' (TimeOut) jokes as well as a series of hilarious challenges for the audience and Mark's famous friends."
Mark Watson has hosted a number of previous 24 hour and longer gigs for charity, including shows for Comic Relief. The gigs tend to be noted for their anarchic nature, with previous notable moments including Russell Brand and Miranda Hart driving an ice-cream van into the venue and treating the audience and all the challengers to refreshments.
The podcast - also titled Mark Watson's Comedy Marathon - will be available to download from 28th February from audible.co.uk/run. It is free to Audible subscribers, and those who opt to take out a free trial of Audible.
The episodes, which have already been recorded, each involve a comedy guest and a marathon-inspired comedy sketch. Audible explains: "Amongst others, listeners will hear from a Tower of London ghost as they meddle mercilessly with a group of racers, a runner who gets stuck in a portaloo mid race, and a fancy dress Rhino 'lad' who quickly comes to regret those pints he downed before the starting air horn."
Mark Watson says: "26.2 miles is a pretty ambitious distance to run, and 26.2 hours is definitely a pretty ambitious amount of time to spend on stage. But everyone knows I'm an ambitious guy, and by that I mean: stupid. Last year I put myself through the Berlin Marathon and now, to mark the release of this Audible series, I'm going to perform for just over a day non-stop in front of an increasingly delirious audience. The Audible series is jam-packed with some of the best comedy names in the country, and the 26-hour show will be too... although it remains to be seen what state they're in by the end. Pretty much anything can happen in a marathon, and the same is true of both the series and the insanely long show. But you can expect huge names, a lot of laughs, a considerable amount of improvised chaos, and for everyone to be very, very tired by the end."
Hugh Brasher, Event Director for the Virgin Money London Marathon, comments: "Mark is taking on an extraordinary marathon challenge which will raise funds for a cause that touches us all and I'm sure it will be an unforgettable experience for everyone there on 27th February. Our partnership with Audible continues to produce innovative content which will inspire runners everywhere and I'm looking forward to running listening to Mark's Comedy Marathon."
Steve Carsey, Senior Director of Original Programming for Audible, notes: "After a truly inspirational year sponsoring the Virgin Money London Marathon in 2018, we are delighted to be their official audio partner again this year. Mark Watson - and a sensational line-up of guests - will ensure that every mile of training and the race to the finish line itself will be fun filled for everyone. Good luck to all of the performers and listeners. We will be rooting for you all."
Nina Ziaullah, Campaign Manager for Dementia Revolution, adds: "It's fantastic that Mark and his friends have chosen to support the Dementia Revolution through their comedy marathon. Dementia affects almost a million people in the UK and through this special campaign for the 2019 Virgin Money London Marathon, Alzheimer's Society and Alzheimer's Research UK are raising vital funds for research towards a cure. Humour can be a welcome comfort for those families living with dementia, as well as a necessary antidote to the pain of marathon training, and we hope the event will be a huge success."
---
Share this page