Simon Lomas wins at Petfringe
Simon Lomas wins £10,001 in Petfringe 2018 competition
Simon Lomas has won the Petfringe Comedian Of The Year 2018 competition
He was given a cheque for £10,001 - the biggest prize in UK comedy
Nick Page was second and Alistair Williams was third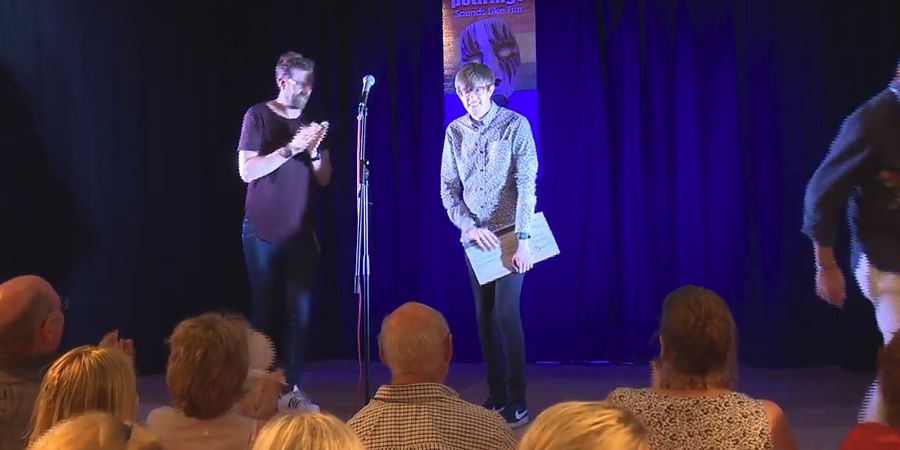 Simon Lomas has won the Petfringe Comedian Of The Year 2018 competition.
The new competition has been setup as part of the festival in the West Sussex town of Petworth. An anonymous benefactor to the festival is putting up £10,001 in prize money - £1 more than the Edinburgh Comedy Award - each year, to help raise the profile of the festival and attract top stand-up talent to the festival.
Lomas was one of nine acts competing in the final, which took place in Petworth tonight (Sunday 8th July). Cultivating an odd style, much of his deadpan act consists of him telling jokes whilst staring off to the side of the stage. Lomas has previously been a finalist in the Leicester Mercury Comedian of the Year 2018 competition, and English Comedian of the Year 2017. On accepting the cheque, he said it was "a pleasure" to have been part of the competition.
Over 800 comedians sent in entry videos to competition, with judges selecting the best acts to go through to six heats around the country. The judging panel at the final was lead by experienced comic Mike Gunn.
Nick Page, who recently appeared Britain's Got Talent was named runner-up, with Alistair Williams taking third place. The other finalists were Charmian Hughes, Karen Bayley, Luke Toulson, Mark Simmons, Tim Clark and Tom Glover.
Andy Stedman, who hosted the final and helped organise the competition, previously posted a blog article in which he explained what the competition was looking for. "In order to be authentic, a great comedy performance does not necessarily need to be making a deep political statement, or be inspired by a family death, or plot the painful journey of the comedian's personal suffering. This competition should be about making people laugh, in comedy clubs. Normal people on a night out, looking to be entertained and go home with their faces aching from laughing."
The competition was streamed live on Facebook. Watch Part 1 & Part 2
---
For updates, click the button below.
Share this page