Mark Watson 2019 tickets
Mark Watson announces 2019 tour
Mark Watson is to tour a stand-up show in 2019
The Infinite Show is themed around the topic of empathy
Tickets are on sale now from See Tickets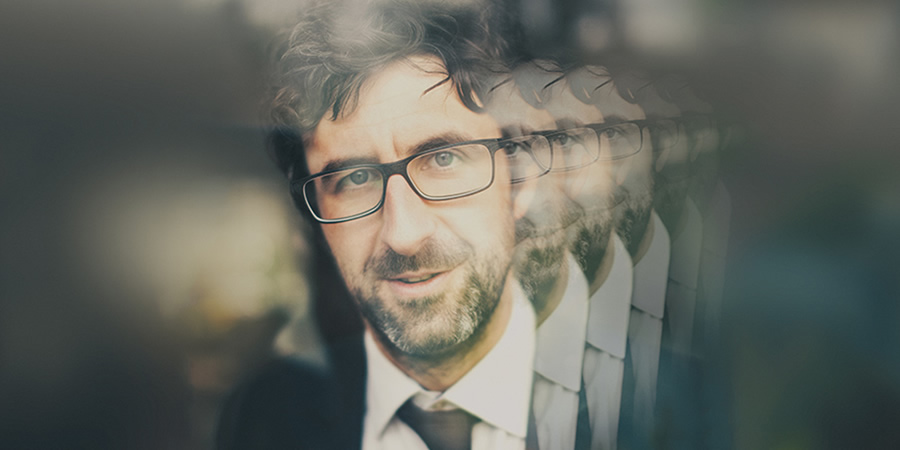 Mark Watson is to tour in 2019.
The Infinite Show launches in February in his birth city of Bristol, and runs through to October 2019.
The promoters say: "After spending last year being cluster-bombed with yoghurt on Taskmaster and half-killed by Bear Grylls, multi award-winning Mark Watson returns with a UK National Tour doing what he's best at: being indoors.
"Inspired by the basically shocking state of the world his children are growing up in, and a genuine, urgent desire to do something about it, Watson's new show is about empathy. 99 percent of the world's population is made up of other people: why can't we understand them?
"As scrawny and impassioned as ever, Mark tears into his topic with his notoriously high joke and rant-per-minute rate. And as the title suggests, in this show he takes his unusually collaborative approach one step further, aiming for an evening which will last longer in the mind than the hour the audience spend with him..."
Watson, who has so far written seven books, is also currently working on a film adaptation of his graphic novel Dan and Sam. The project is being developed by Steven Spielberg's Amblin Entertainment.
Tickets for The Infinite Show are on sale now
Full list of dates
Jersey (Opera House): Friday 7th December 2018
Bristol (Old Vic Theatre): Sunday 3rd February 2019
Bromsgrove (Artrix): Wednesday 6th and Thursday 7th February
Wimborne (Tivoli Theatre): Saturday 9th February
Leicester (Little Theatre): Friday 15th February
Salford (The Lowry): Sunday 17th February
Colchester (Arts Centre): Friday 22nd February
Pocklington (Arts Centre): Thursday 28th February
Leeds (City Varieties): Friday 1st March
Northallerton (The Forum): Saturday 2nd March
Liverpool (Epstein Theatre): Sunday 3rd March
Berwick Upon Tweed (The Maltings): Friday 8th March
Aberdeen (Lemon Tree): Saturday 9th March
Glasgow (The Stand): Sunday 10th March
Bath (Komedia): Thursday 14th March
Worcester (Huntingdon Hall): Friday 15th March
Tring (Court Theatre): Friday 26th & Saturday 27th April
Aldershot (West End Centre): Thursday 2nd May
Birmingham (Old Rep Theatre): Sunday 5th May
Hertford (Theatre): Friday 10th May
Loughborough (Town Hall): Saturday 11th May
Kendal (Brewery Arts Centre): Thursday 16th May
Stockton (ARC): Friday 17th May
Sheffield (Leadmill): Saturday 18th May
Brighton (Komedia): Thursday 23rd May
Reading (Town Hall): Friday 24th May
Cambridge (Corn Exchange): Saturday 25th May
Wells (Cedars Hall): Sunday 26th May
Swindon (Wyvern Theatre): Friday 31st May
Bridgwater (McMillan Theatre): Saturday 1st June
Coventry (Warwick Arts Centre): Sunday 2nd June
Maidenhead (Norden Farm): Thursday 6th June
St Albans (Alban Arena): Friday 7th June
Canterbury (Gulbenkian): Saturday 15th June
Ivybridge (Watermark): Friday 21st June
Falmouth (Trebah Amphitheatre): Saturday 22nd June
Exeter (Corn Exchange): Sunday 23rd June
New Milton (Forest Arts): Thursday 27th June
Isle of Wight (Medina Theatre): Friday 28th June
Andover (Lights): Saturday 29th June
Carlisle (Old Fire Station): Friday 5th July
Crawley (The Hawth): Friday 19th July
London (Bloomsbury Theatre): Saturday 7th September
Chorley (Little Theatre): Thursday 12th September
Selby (Town Hall): Friday 13th September
Barnard Castle (The Witham): Saturday 14th September
Winchester (Theatre Royal): Sunday 6th October
Pontardawe (Arts Centre): Friday 11th October
Farnham (Maltings): Friday 18th October
Newcastle (The Stand): Saturday 26th October
Tickets from See Tickets
---
For updates, click the button below.
Share this page