Komedia Bath ownership plan
Comedians support Komedia Bath's Community Ownership plan
The Komedia venue in Bath is attempting to secure its future via a Community Ownership campaign
Comedians including Nick Helm, Katherine Ryan and Mel Giedroyc have filmed videos in support
13th December update: The funding target has been reached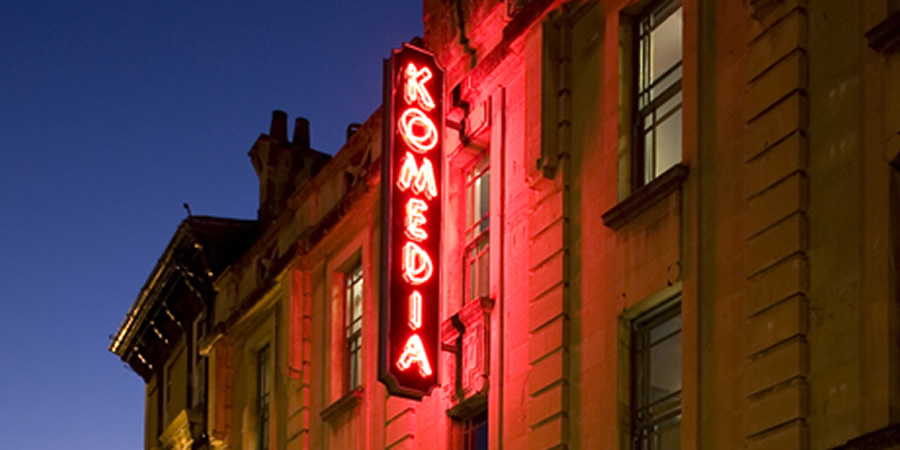 The Komedia venue in Bath is attempting to secure its future by raising funding via a Community Ownership campaign.
With the plan entering its final stages - they have until Wednesday, 13th December 2017 to meet the £350,000 target - various comedians have filmed videos in support of the venue.
Komedia's ground-breaking "and potentially industry-shaping" campaign has gathered both national and local support. The plan is to recapitalise the existing business and invest in its future by allowing comedy fans and local residents to buy a stake in the business. A pledge of £250 is expected to result in a 3% return on investment. The venue has already raised over £240,000 of the needed £350,000 via crowdfunder.co.uk
Giving an update on progress, the venue says: "Komedia Bath's Community Ownership campaign has been notching up the support of the comedy industry. With a string of comics already invested in the crowdfunding project, which comes to a close next week, many more have taken to social media to support the Bath based venue."
In the below video, comedy performers Lucy Porter, Nick Helm, Paul McCaffrey, Sally Ann Hayward, Katherine Ryan, Alex Boardman, Phil Nichol, Daliso Chaponda, Suzi Ruffell and regular MC Mark Olver explain what Bath Komedia means to them.
Plus, today Mel Giedroyc added her backing to the campaign, describing it as a "bold, canny and 21st century step" in a video that also explains how Komedia has been the launch pad for many artists, including Mel & Sue.
The campaign ends at 10pm on 13th December 2017. You can find out more about Community Ownership and invest via crowdfunder.co.uk/komediabath
13th December update: Funding reached
The campaign has reached its funding target. With 24 hours to spare, 273 new owners provided the backing required to fund the venue's future.
The venue says: "The team at Komedia Bath would like to thank all their new members and supporters for enabling them to step into the future as a Community Benefit Society 100% owned by their members."
Eleanor Household, Head of Development, comments: "This confirms what we thought we already knew; that there is a real appetite in our city and the surrounding area for a strong creative offer. We thought it was worth fighting to keep and it seems our community agrees. We are all over the moon with the outcome."
The organisation will now convert the business from an independent venture to a Community Benefit Society.
Richard Daws from Komedia comments: "Our aim with the Komedia brand has always been to provide a platform to nurture, enhance and protect live entertainment in this country. This remarkable show of support demonstrates a new way to build permanence into the arts."
Komedia Bath say they hope the success of their groundbreaking campaign "offers encouragement to other small and mid-scale venues faced with similar challenges and that the rapid closure of these important venues nationally can be halted."
Share this page