Ross Noble tour tickets
Ross Noble announces 2018 tour
Ross Noble has announced a September to December 2018 live tour, El Hablador
Many dates are now on sale through Ticketmaster
He says: "Expect the unexpected"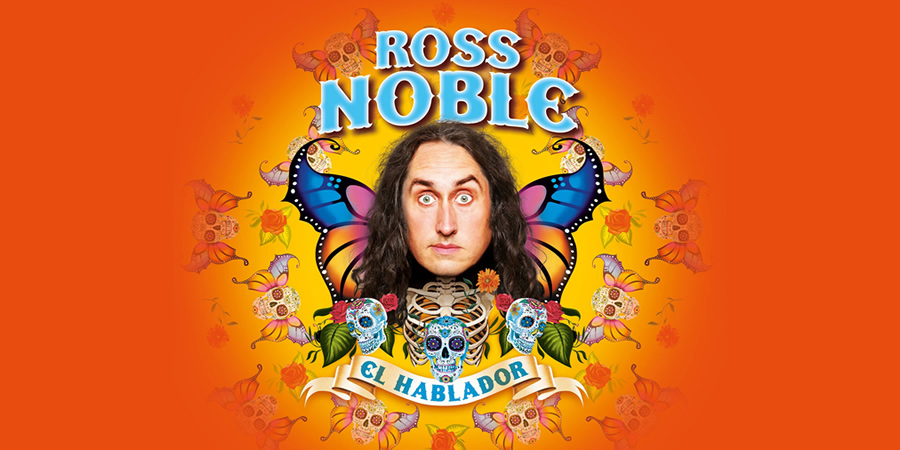 Ross Noble will tour the UK between September and December 2018 with new stand-up show El Hablador.
This will be the comedian's 16th touring show. It follows on from the extended sell-out Australian, UK and European tours of his critically acclaimed 2016/17 show, Brain Dump.
So far 67 dates have been scheduled for El Hablador. The tour will start on the 9th September 2018 in Glasgow and conclude on the 14th December 2018 in Leeds. The schedule includes four nights in the comedian's "home turf" of Newcastle, and two nights at the London Palladium. A full list of dates is at the bottom of this story.
To prepare for the new show, Noble will tour across Australia in early 2018. The comedian is currently starring in the critically acclaimed new West End production of Young Frankenstein, based on the hit Mel Brooks film. He has also recently filmed Ross Noble: Off Road, a three part motorcycle series for channel Dave, which is expected to be broadcast in December.
Talking about his new live show, Ross Noble says: "Expect the unexpected. Unless you've seen me before. Then you know what to expect. But I might not do that. But then again, I might. I expect it will be one of those two options."
El Hablador tickets for many venues are now available through a Ticketmaster pre-sale, before going on general sale on Friday.
Noble explains more in the below video:
El Hablador 2018 dates
Glasgow - Sunday 9th September
Exeter - Wednesday 12th September
Yeovil - Thursday 13th September
Salisbury - Friday 14th September
Shanklin, Iow - Saturday 15th September
Bournemouth - Sunday 16th September
Swansea - Tuesday 18th September
Barnstaple - Wednesday 19th September
Shrewsbury - Thursday 20th September
Shrewsbury - Friday 21st September
Cheltenham - Saturday 22nd September
Norwich - Monday 24th September
Swindon - Tuesday 25th September
Swindon - Wednesday 26th September
Belfast - Friday 28th September
Dublin - Saturday 29th September
Crawley - Tuesday 2nd October
Cardiff - Wednesday 3rd October
Basingstoke - Thursday 4th October
Oxford - Saturday 6th October
Stafford - Sunday 7th October
Buxton - Wednesday 10th October
Hull - Thursday 11th
Lincoln - Friday 12th October
Loughborough - Saturday 13th October
Bristol - Tuesday 16th October
High Wycombe - Wednesday 17th October
Northampton - Thursday 18th October
Harrogate - Friday 19th October
Sheffield - Saturday 20th October
York - Sunday 21st October
Doncaster - Tuesday 23rd October
Halifax - Wednesday 24th October
Coventry - Thursday 25th October
Coventry - Friday 26th October
Coventry - Saturday 27th October
Derby - Sunday 28th October
St Albans - Tuesday 30th October
St Albans - Wednesday 31st October
Carlisle - Friday 2nd November
Edinburgh - Saturday 3rd November
Portsmouth - Tuesday 6th November
Tunbridge Wells - Wednesday 7th November
London - Friday 9th November
London - Saturday 10th November
Kings Lynn - Tuesday 13th November
Ipswich - Wednesday 14th November
Leicester - Thursday 15th November
Cambridge - Friday 16th November
Southend - Saturday 17th November
Brighton - Sunday 18th November
Newcastle - Wednesday 21st November
Newcastle - Thursday 22nd November
Newcastle - Friday 23rd November
Newcastle - Saturday 24th November
Barrow In Furness - Sunday 25th November
Crewe - Wednesday 28th November
Crewe - Thursday 29th November
Manchester - Friday 30th November
Nottingham - Saturday 1st December
Scarborough - Sunday 2nd December
Guildford - Wednesday 5th December
Liverpool - Friday 7th December
Middlesbrough - Saturday 8th December
Llandudno - Tuesday 11th December
Leeds - Thursday 13th December
Leeds - Friday 14th December
Tickets via Ticketmaster
---
For updates, click the button below.
Share this page