Hoopla Impro marathon
Hoopla! to launch dedicated London improv venue with 50-hour marathon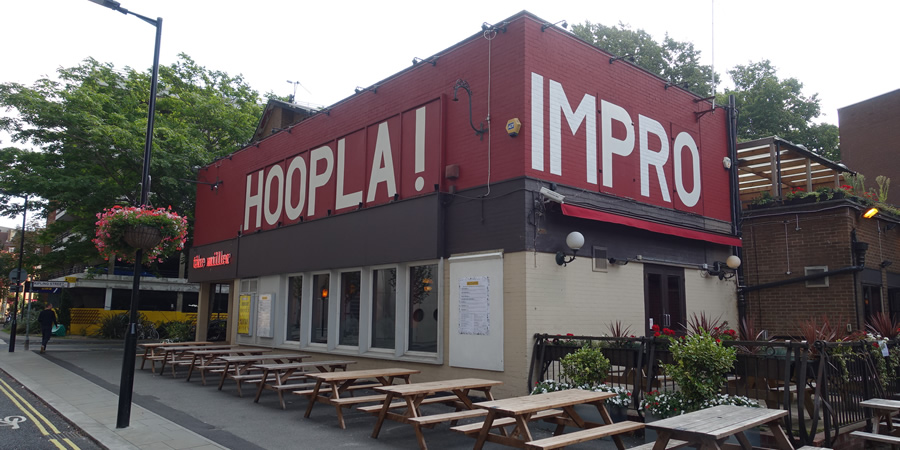 The comedy collective Hoopla Impro are launching a dedicated venue for improvised comedy in London.
Situated at The Miller Pub near London Bridge, the venue will now stage improv shows every night, Monday to Saturday. The venue will join Bristol's The Bit as one of the country's only venues dedicated entirely to the art of unscripted and spontaneous comedy.
The upstairs of The Miller Pub has newly been painted with 'Hoopla! Impro' branding. The group aims for the venue to be "the UK's answer to the legendary improv houses of North America including The Second City, IO and Upright Citizens Brigade whose training centres and theatres launched the careers of comedy giants Tina Fey, Amy Poehler, Bill Murray, Steve Carell, Donald Glover, Kristen Wiig and more."
Steve Roe, the founder of Hoopla, says: "Interest in improv comedy is really taking off across the UK, with larger audiences and lots of fantastic new acts. Having this full-time improv venue at The Miller will be a massive step forward for us."
Hoopla Impro, which was founded 10 years ago as the first club dedicated to the programming and nurturing of improvised comedy, will officially launch their venue this October with a 50 hour marathon show for charity.
Billed as "the biggest gathering of improv performers and groups the UK has ever seen", The Hoopla Improv Marathon has been inspired by New York City's Del Close Marathon.
Taking place across 50 consecutive hours from 7pm on Friday 20th October to Sunday 22nd October, the event is expected to involve over 200 improvisers coming together from across the UK. Shows contained within the marathon will include an improvised Arnold Schwarzenegeger film, a show called Ghost Couple, a spoof of The Crystal Maze, and Suki Webster's Guest Speaker format.
The Hoopla Improv Marathon will be helping to raise awareness of Team Margot, an organisation that campaigns for people to register as potential bone marrow/stem cell donors. All profits from the marathon will go to the charity and Hoopla and The Miller aim to register 200+ new donors over the course of the marathon. In exchange for signing up to the register, participants will receive a free drink courtesy of The Miller.
For further details about attending or participating in The Hoopla Improv Marathon visit hooplaimpro.com
Share this page