Marc Wootton to bring back Shirley Ghostman for live shows
Marc Wootton to bring back Shirley Ghostman for live shows
---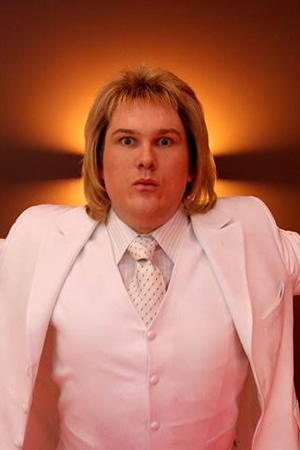 Marc Wootton is bringing back his psychic character Shirley Ghostman.
The comic actor has announced that he will be performing two live shows this October in character as the psychic.
This will be the first time the comedian has performed the character for a number of years, and the first time ever in a live show environment. A spokesperson confirmed: "Psychic superstar Shirley Ghostman has today announced that he will be demonstrating his paranormal gift LIVE to audiences for the very first time this October.
"One of Britain's leading psychics, Shirley along with his canine spirit guide, Sheba, have been passing on messages from dead famous friends and normal deads throughout the years. These very special live shows will give the audience the chance to enter into the mysterious ghostly world of Shirley Ghostman at the sacred Manchester Monastery on Friday 23rd October and London St James Piccadilly on HALLOWEEN where you can expect even more spirits to attend."
Shirley himself said: "I'm well excited about my live Spooktacular - on ice! Because of the special powers what I've got, I already know it'll be a huge critical success and everybody end's up loving it. But don't take my word for it, Lady Di what died has made amends with all the shi**y journalists what killed her and they've given it 6 star reviews across the board on spirit side. Not bad is it? Get your tickets now, just in case anything nasty happens to you. Or your family."
Tickets to the Manchester show on the 23rd October and London show on the 31st October 2015 go on sale on Friday via gigsandtours.com and ticketmaster.co.uk
The promoters warn: "The first two rows may fall in the ectoplasm splash zone."
Wootton has been performing the character for a number of years, including creating the series High Spirits With Shirley Ghostman for BBC Three in 2005.
The BBC was forced to apologise that year after hundreds of viewers complained about the "string of jokes referring to Jews, cancer patients and Hitler" that Ghostman made on Friday Night With Jonathan Ross, an appearance that wasn't made clear to viewers was a spoof character (Full Story).
Wootton has been working on various comedy projects over the last 12 months, from voicing CBeebies cartoon Wussywat The Clumsy Cat to filming a role in the forthcoming Bad Education Movie. In recent years he has also become known to a young audience as Mr Poppy, having appeared in all three Nativity movies as the cheerful teacher.
Edit: A total of 5 dates have now been announced across Edinburgh, Bristol, London and Manchester. See www.gigsandtours.com and www.ticketmaster.co.uk for details.
To promote the new live shows Wootton has filmed the below video, using a camera in an electrical store without the shop's permission:
Share this page