Jack Carroll comes 2nd in Britain's Got Talent 2013
Jack Carroll comes 2nd in Britain's Got Talent 2013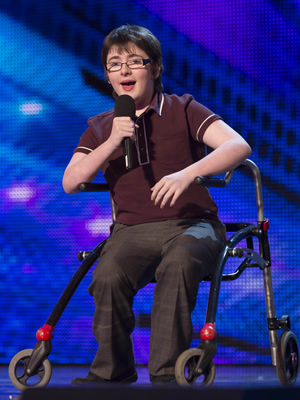 Young stand-up comedian Jack Carroll has come runner up in the 2013 Britain's Got Talent grand final.
The 14 year-old, who was born 11 weeks prematurely and suffers from cerebral palsy, came second in the audience vote, with the 'shadow dance' group Attraction named the winners.
The young comic, who supports himself with a frame, joked immediately after hearing the result: "Runner up? A little bit insensitive, is it not?"
He then went on to comment: "Yeah, but I've had a great time". Presenters Ant & Dec commented the comedian had done brilliantly to make it into second place, to which Carroll replied "I've tried my best, and yeah, fair enough. Cheers to everyone who voted."
The comedian's act has been widely praised on the microblogging website Twitter by established stand-up comics watching at home. Carroll started his set with an ad-libbed gag about egg throwing, after a stage invasion took place during the preceding act's set. Comedy writer Daniel Maier noted on Twitter: "Many experienced comics, in a live final, would have had neither the presence of mind nor courage to open with that egg ad lib."
Carroll, who lives with his parents in Bradford, also included jokes about his experiences of being involved in the competition and the horse meat scandal in his three minute set.
Amongst the famous supporters of Carroll are BGT judge David Walliams, who said on the programme he wanted Carroll to win and would be voting for him, and Jason Manford, who has supported Carroll since he met him several years ago for a feature on The One Show (video below).
Writing on Facebook this evening, Manford commented: "Well done Jack Carroll, good lad. If he is to become a 'proper' comedian it's best that he didn't win! Comedy is for us losers!"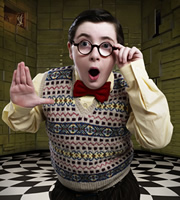 Last year, Jack Carroll was presented with a Teenager of ­Courage award by Jimmy Carr as part of the Pride of Britain Awards. The young comedian is already familiar with television work to a degree, having played the regular part of Mr Frazernagle (pictured) in two series of the Vic Reeves CBBC comedy series The Ministry Of Curious Stuff.
However, there are now predictions that Carroll will quickly become a comedy sensation. A source has told The Sunday People that Simon Cowell is interested in signing the comic, saying: "Simon's very excited about Jack. He thinks he is absolutely amazing and going to be massive. He doesn't have anyone like Jack in his stable yet but fell for him straight away and now regards him as part of the Syco family. He's already got him a deal for a book, which he thinks will sell very well."
The other comic performers in the 11-act final were impressionist Francine Lewis and ventriloquist Steve Hewlett.
Below is a video of Carroll performing in the final:
And here is footage of him performing at his first gig at his parents' wedding ­anniversary:
Plus, below is the video from a November 2010 episode of The One Show in which Jason Manford meets Jack Carroll:
Share this page