Tom Stade
You know Tom Stade, right? Charismatic Canadian comedian, got a nice US development deal, then somehow ended up in Wolverhampton? Well, if you've only ever seen those brief TV routines that catapulted him to stardom over here, you're missing out on a stand-up who loves to toy gently with the long-form medium, like an experienced comedy gigolo.
He's done whole hour-long sets strumming a guitar before, wrote one show that was largely about anecdotal exploits with a different-each-night audience member he'd never met, and now? Now he's trying that rare thing these days: honesty.
"Well, first I'm very excited for the new I Swear tour: always a pleasure going on tour with new material to electrify the Tom Stade diehard crew," he says. "The older I get the more I don't give a fuck and I like that honesty. That's what this show is about for me: being yourself. And it ain't easy in these times. One wrong idea and society can come down on you hard. With freedom of speech and personal creativity I Swear will create a beautiful unsafe space where you never know what idea or opinion will challenge your moral conditioning."
And what else is he up to? "I went skiing in Austria. It was cool."
Tom takes I Swear to the Edinburgh Fringe throughout August, then everywhere from Cleethorpes to Ilkley on tour: living the dream, baby. But now let's take him back to the early gigs (not all of them, admittedly, his own).
First gig?
I remember coming off thinking finally I'm good at something... and seven audience members confirmed it. I never really got to thank them personally.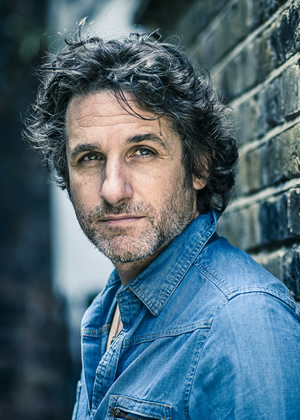 Favourite gig, ever?
When I saw Metallica with my buddy Dave on LSD at 17. Nothing has ever topped that.
Worst Gig?
Are you serious, British Comedy Guide? I've never had a horrendous gig. Is someone in your office new?
The weirdest gig experience?
I was on the alien space freighter Zuelag performing a corporate gig for the business leaders in the Namor galaxy and the way they showed their appreciation was by licking my forehead with their tongue fingers. I'm still not sure that wasn't a dream but if it wasn't it got real weird.
Who's the most disagreeable person you've come across in the business?
Richard Pryor, hands down - because he's so good and he inspires me to be the best I can be and I don't need that shit in my life. Inspiration is so exhausting.
Is there one routine/gag you loved, that audiences inexplicably didn't?
'There are over 50,000 characters in the Chinese alphabet. I can't even imagine how many numbers they have.'
What's your best insider travel tip, for gigging comedians?
Always make sure when you're travelling to foreign countries that you carry illegal drugs with you, because they might not have them where you're going. Most particularly when you head to the Emirates: they rarely have anything there.
The most memorable review, heckle or post-gig reaction?
When one of the reviewers said 'if comedy is the new rock and roll' then I'm the Keith Richards. I was blown away. No pressure. So now I assume if rock and roll is the new comedy, Keith Richards is Tom Stade. But personally I think we're both pretty good at what we do.
How do you feel about where your career is at, right now?
I feel like my dad right now: if you asked him that question I know he would say 'could be worse, could be better', but I'm definitely going to enjoy whichever way it goes. If I may quote Beyoncé - "I'm a Survivor."