Thanyia Moore
Anyone entering the entertainment business probably has a vague premonition about who their stuff will appeal to, from niche art-centre audiences to a massive, packed 02. As Thanyia Moore recently admitted though, her most ardent fans might currently be a bit younger than expected.
That's because the actor/comedian/presenter is a regular on the popular CBBC soccer series Jamie Johnson, and often gets "asked for video messages & to speak on the phone," she tweeted. "What I'm saying is, my current audience age group is 7-12. Which means, I won't be famous to adults for about 6-12 years."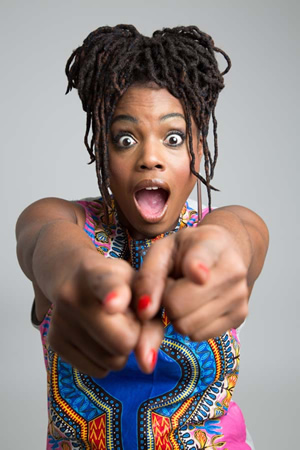 Aha, but actually the multi-skilled South Londoner is playing the long game when it comes to stand-up, and preparing for a full-on bash at the Edinburgh Fringe when the set is good and ready. At this year's Fringe "I'll be splitting an hour with Sian Davies," says Moore, whose work-in-progress show Bully takes on an interesting topic. "It's a taster to my debut in 2020: I discuss and highlight the problems with bullies, and why we need to figure out a different approach to how we deal with them."
Rest assured, she'll be finding the funny in it too. Indeed, while in town Moore will also be hosting the Edinburgh semi-final of this year's Funny Women Awards on August 24th, an event she knows a fair bit about, having won the whole thing in 2017. Which probably seemed a long way off, after some of her early shows, a few years back...
First Gig?
My first was at Up the Creek in Greenwich, as part of a showcase after completing a comedy course. It was a great gig, that set me up for a big fall on my second attempt at comedy.
Favourite show, ever?
I don't have one gig that sticks out over any others - a great gig comes with so many elements that are different each time - my fave moment after such gigs is having the audience congratulate you and tell you how funny you are.
Worst gig?
My sixth gig - I was in South East London where I was raised and the audience were full of people who I grew up with - not to be confused as friends. I died. So badly. Literally so badly that the host came on stage and told everyone that it was my first gig!
Which one person influenced your comedy life most significantly?
I am lucky enough not to have one person - between Mr Cee and Kojo Anim, I was heavily supported during the first three years of my career.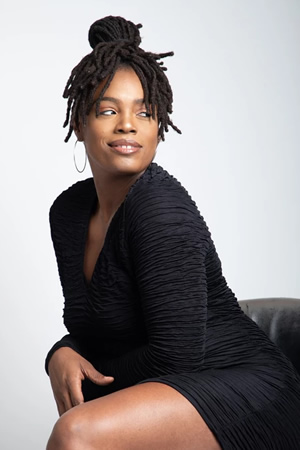 And who's the most disagreeable person you've come across in the business?
I'm not a fan of any man who runs a gig and treats ladies different to men. There is a man who runs a really good gig in Covent Garden who does this to women OFTEN. He has, at the last minute, cancelled gigs that we had planned, to offer the job to a man. He has also paid women far less than he pays the men. That is the most disagreeable person on the scene to me.
Is there one routine/gag you loved, that audiences inexplicably didn't?
Hahahahaha, mate, I could give you a one-woman show on gags that didn't land when I thought they were HILARE! Off the top of my head, I have a joke about my dad being like Jesus - 'cause he left one day, said he was coming back and didn't. I told that joke in Tunbridge and they all sighed. I had to let them know I knew my dad, he hadn't left AND that I could swim. Ignorant fucks!
The most memorable review, heckle or post-gig reaction?
It's always the same "you're funny for a woman" rubbish that audiences think we want to hear. Mostly men. The irony is, as shocked as they are that I am funny, I'm shocked they can multi-task by complimenting and offending at the same time
How do you feel about where your career is at, right now?
My career is on the upwards path, which is good, albeit a little slow in pace. I think, once you have the right team, you can do anything. And I believe that God will provide me with that. I'm very optimistic about the future.