Suzi Ruffell
The Fringe is nearly over, so Edinburgh resounds with the sobbing of distraught, destitute comedians - but not Suzi Ruffell! The Portsmouth-raised comic is having a lovely time with her thoroughly enjoyable show, Common. She says. "It's about my working class roots, my colourful family, and resilience. It's also really funny!"
She's not wrong. Right now, though, let's delve back into the not-so-distant past.
First gig?
My first gig was at the Exhibit in Balham, it would have been January 2010. I think that night I met Nish Kumar, Luisa Omielan, Tania Edwards and Joel Dommett.
Favourite show, ever?
Mine or someone else's? In 2011 I was in The Lunchtime Club with John Kearns, Fin Taylor, Joe Wells and Max Dickens. I loved it. I was working full time at a clothes shop then so it was amazing to have a month just doing stand-up. It felt very exciting! If we are talking about someone else's show that's even harder, Bridget [Christie]'s show A Bic For Her was wonderful and very inspiring to a new female comedian.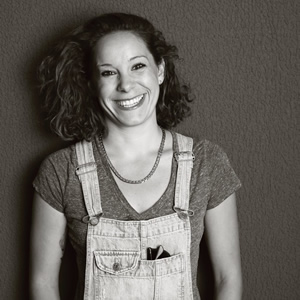 Worst gig?
I talk about it in this year's show... I was a mess. I will leave it there.
Who's the most disagreeable person you've come across in the business?
This will remain anonymous, as my mum brought me up right! A comedy promoter and apparent promoter of women told me I would do better at stand-up if I pretended to be straight. That made me cry quite a lot. I was really new and young and only just out of the closet. It's of course complete rubbish, no one cares if I am gay, people care if I'm funny.
The weirdest gig?
I once did a gig in the front room of a shop, in south London, in front of about 12 people, the girl before me read a poem then got her vagina out. It was quite odd.
Is there one routine/gag you loved, that audiences inexplicably didn't?
I tried to write a routine where I was having a conversation with my cat and she had a French accent. I thought the idea was so funny. No one else did.
What's your best insider travel tip, for touring comics?
Breakfast bars in your glove box. And podcasts.
The most memorable review, heckle or post-gig reaction?
During my first solo hour a reviewer from The Guardian said I was 'a welcome throwback to the old days of confessional comedy'. I love that. I didn't realise it until the reviewer said it, but that's exactly the comedy I wanted to do!
How do you feel about where your career is at, right now?
I love being a comic. It's the only job I have ever liked. I feel very lucky to make a living doing something I enjoy!
Suzi Ruffell's show 'Common' is on at Just the Tonic at The Mash House at 8.20pm until August 28th. Visit suziruffell.co.uk for everything else.