Susan Murray
One of those unsung performer/promoters without whom the industry would grind to a shuddering halt, Susan Murray is a busy stand-up and actress while also running one of the capital's best indie comedy nights, the Red Imp in Walthamstow, where you can find the likes of Stewart Lee and Omid Djalili getting gig-fit.
It's usually monthly, but also hosts "ad-hoc nights for the bigger acts doing warm up," she says. "Our July Preview Season is looking ace: Arthur Smith, Bridget Christie to name a few. But I mix it up so it's not all previews. Some acts like Sean Meo just want to do an hour in a great club, Richard Herring is doing a Best Of show and Mark Thomas is doing a work in progress. I'm very excited to have him back."
On May 18th they've got the double whammy of Stewart Lee and Kevin Eldon, then on June 2nd it's the mighty Bob Mills. Actually, it turns out that May 18th is a pretty significant date for Murray's own stand-up career...
First gig?
It was May 18th 1986 at Jackson's Lane Community Centre and was the showcase to the course I'd done, along with Darrell Martin who runs Just The Tonic.
Paul Foot did one week of that course but never came back as he was already gigging. Dave Thompson taught two weeks of it. Then it was Rob Hitchmough who now teaches at City Lit, where I'm his stand-in stand-up teacher. Darrell used to give me lifts home on his way back up to Nottingham because I didn't have enough bus fare.
I actually played guitar at my first gig and did a song called Sex and Drugs and Sausage Rolls. My musician friend helped with the music, he came along to tune it for me cos I was so nervous and freaked out but he was so drunk he fell over one of the rows of seats. Anyway, the gig went well, but I've never played the guitar since.
Favourite show, ever?
Phew that's a tricky one: possibly the first one that I MC'd like a boss by just dicking around and bantering with the audience in Hereford all night. I'd always been a bit fearful of MC'ing up until that point. It was a bit of an epiphany. Also I love MC'ing my own gig cos I'm the boss; it's when I'm most relaxed.
There was a memorable night at the Hyena in Newcastle (now sadly gone, but it was notorious) when an incredibly drunk punter climbed onto the stage clutching a bottle of champagne then fell back down the stairs to the dressing room. He didn't spill a drop. It was a bit like that famous Only Fools And Horses moment but unscripted.
Worst gig?
There's been a few. I did an army decompression gig where I had 200 testosterone-fuelled infantry fuckwits stood up all chanting "Tuna, tuna, tuna". Presumably the women they end up with never wash.
Who's the most disagreeable person you've come across in the business?
There's a prick in Bristol who runs gigs at venues in Bristol, rips them off, leaves owing loads of money, doesn't pay his acts, fires his loyal staff after not paying them for months pleading poverty, but buying himself a new BMW. Goes into partnership with people, they lose thousands. Possibly the most unscrupulous person in the industry to date. When we found out he'd bred and had a baby, someone said "Well, I suppose someone's got to go to his funeral".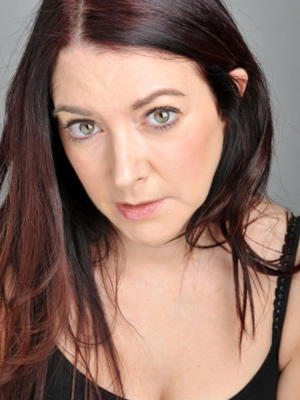 Weirdest gig?
My last total once-in-a-decade death at a gig in Nottingham. Been having a run of great gigs, new material, feeling very confident, then went on stage and was basically ignored. I honestly can't remember the last time that happened. I tried every trick in the book, speeding up, slowing down, louder, quieter, banter, editing down jokes to get to the punchline quicker and just got stared at.
I actually felt amused by it because it was so ridiculously bad and I know it was them and not me. But of course as I was driving back to London I got THAT text: "they've thrown loads of groups out now and the gig is great and everyone is doing really well now." Hashtag: standard.
Actually doing gigs on crutches for the last three months [Susan snapped two tendons, but soldiered on] has been pretty weird. I've had to address it and open with brand new material and been doing them whilst sat on a tall stool.
Is there one routine/gag you loved, that audiences inexplicably didn't?
Oh yeah, we all have these. They invariably end up as Dressing Room Gags cos only comics will laugh at them. Mine is:
It was Woody Allen who said that 'Tragedy + Time= Comedy' so let's give it a go shall we? Ok, concentration camps, I don't know why they call them that, all that hard work and lack of food, I wouldn't be able to think straight.
Well there you go, proof that you should never listen to a man who married his own daughter.
Woody voice: "but, but she's adopted".
Yeah, just cos you own her, doesn't mean you can fuck her.
Looking at this objectively now, I can see that it probably needs work.
What's your best insider travel tip, for touring comics?
Don't drive up the M1/M6 when heading to the Northwest from London - take the M1 and go left on the A50 at Uttoxeter. The A50 is the greatest road and it cuts out all the Birmingham bullshit.
Always leave at least one hour earlier than you need to if it's a long haul, and 90mins earlier if it's a Friday. Plus put in £10 extra petrol for those goddam late night road closures. Diversion signs that run out are the bane of every comedian's life right now.
Book your train tickets early.
The most memorable review, heckle or post-gig reaction?
I once got a double round of applause on a gag, an applause break that died down then started up again. Odd, but nice.
How do you feel about where your career is at, right now?
Oh probably the same as hundreds of other also-ran club comics. On the downside, overlooked for the big time, ignored by the big agents and TV, never got the big lucky break but on the plus side doing a job I'm in love with and lucky enough to be good at to earn a living from it.
Working hard at writing new stuff, constantly trying to improve my act, getting lots of gigs, running a successful gig of my own and giving mates work, writing a few things that may or may not be a break for me.
Happy that I've done radio stand-up (on Stephen K Amos' Life: An Idiot's Guide) and radio acting (Jeremy Hardy Speaks To The Nation) and also my TV acting debut last year on The Job Lot. Oh and I am now a published author too - I wrote a chapter on the Changing Landscape Of Comedy in a book called Counter Culture UK.
But right now I'm very busy plotting to kill Olivia Colman as she gets ALL the comedy parts. C'mon love, spread it around a bit.
To find out more about Susan visit www.susan-murray.co.uk. The website for her stand-up night is www.redimpcomedy.com