Susan Calman
Regular British Comedy Guide-dwellers should be keenly aware who Susan Calman is already, right? So we can skip the lengthy intro, although even keen fans may not know quite how many plates she's currently spinning. Plates everywhere!
A couple of radio shows, books, kids TV... again, we needn't list them here as she does that for us in the 'how's your career going' question below, while also issuing a blatant come-and-get-me plea to a couple of big BBC institutions, both of which we could totally see happening, one day.
What we will mention here are a couple of Calman live runs: she's at London's Soho Theatre from November 8th, then her national tour starts in Norwich on December 2nd.
Right, now let's head back to Gig One.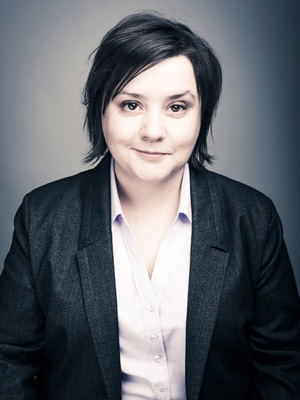 First gig?
My first gig was in 2006. I can't remember the exact date but I know it was at The Stand Comedy Club in Glasgow at their Red Raw night. I'd been trying to pluck up the courage to perform for years and shortly after my 30th birthday thought I'd better stop annoying my friends by constantly talking about it and actually do it. I was on after the first interval, it was completely sold out and I think the compere was the lovely Will Andrews. He seemed very experienced and was expertly controlling the room which made my lack of experience even more horrific.
I was terrified mainly because, and I wouldn't recommend this, I'd never been to a comedy club or even seen live comedy before I performed. So when I was told to "do a five" I had only a vague idea of what that meant. I clearly remember the techie at the gig telling me to do five and after that the mic would be cut. I was sick a few times after that. It was during the time when you could smoke in clubs and I demolished at least twenty cigarettes before I went on. That made me feel even worse.
I'm sure the material was awful, I can't remember if anyone laughed, but I loved it. Ten years later I still do.
Favourite show, ever?
My first ever proper Fringe show was a sketch show called The Ugly Kid. I felt like a proper comedian, performing every day at The Gilded Balloon with Will Andrews, Greg McHugh and Leah MacRae. I loved it and still think it was one of the best things I've ever been a part of. In fact, if I could do anything right now, it would be some more sketches or acting. As a stand-up life can be slightly lonely at times and being part of a group was really special.
Worst gig?
I opened for Russell Brand once. I think it's fair to say that the audience weren't expecting me. But the most horrendous is probably the one where I was on before a Robbie Williams tribute act. The hall was half empty, I was meant to do 40 minutes when I didn't have 40 minutes of anything. It was a silent gig, a sweaty gig and a disaster. My wife was waiting in the car park for me, so I ran offstage, out the back door and into the car.
Who's the most disagreeable person you've come across in the business?
I prefer to think positively about people. I may not get on with everyone but I certainly don't spend my life thinking about them. I prefer to focus on what I can do rather than what others are doing. I often think if comedians spent as much time writing jokes as they do bitching about others, the comedy scene would be in a far better place.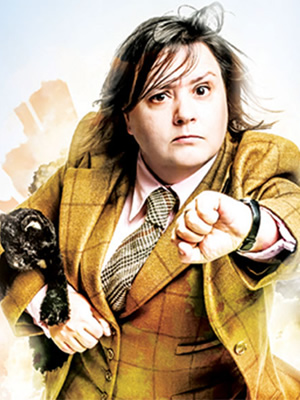 The weirdest gig?
All gigs are a bit weird. That makes them better. Being truthful, I far prefer the strange ones to the clean corporate ones. Things that are different are brilliant.
Is there one routine/gag you loved, that audiences inexplicably didn't?
Lots. As I've got more experienced I've realised that they should stay in my shows no matter what anyone thinks. There has to be a bit in the show that's just for me, and maybe one other person who understand what I'm talking about. For my show in 2012, I spent days cutting different parts of dialogue from several series of Prime Suspect into a recorded conversation between me and Helen Mirren. No one liked it. But I did. Which is why it stayed in the show.
What's your best insider travel tip, for touring comics?
I take nice coffee with me and lovely shower gel. Then, wherever I stay, I feel slightly better about myself. I also listen to hundreds of podcasts, none comedy-related to be honest. On long train journeys they are tremendously useful for giving me something to think about other than whether or not anyone is turning up to my gigs.
The most memorable review, heckle or post-gig reaction?
I don't get heckled that much anymore. Someone did shout at me "I like your shoes" which was lovely. I did have nice shoes on and I was glad someone noticed.
How do you feel about where your career is at, right now?
I'm enjoying where I am just now. I'm writing the second series of my Radio 4 sitcom, I have a fourth series of my solo show to write and record in the spring. My first book is doing really well and I'll start writing my second next year. I'm hosting shows on CBBC and appearing on some of my favourite TV shows. The News Quiz is going from strength to strength just now and it's a joy to be part of it.
The only thing that could make my life better would be Strictly. I really want to be on Strictly. Not as a joke, I'm deadly serious. Or Doctor Who. If I could be The Doctor or on Strictly I'd be happy. Thanks.
Susan Calman's show 'The Calman Before The Storm' is at the Soho Theatre, London, from November 8th, then the national tour kicks off in Norwich on December 2nd. Visit www.susancalman.com for details.