Steve Day
Like those occasional two-parters they spring on you in otherwise random sitcoms, this week we're featuring another fine comic who'll be performing at the Joke For Scope charity show at London's Up the Creek on Monday night, after last week's cliff-hanger opener. Would you kindly introduce yourself, Steve Day, for those unfortunate enough not to have previously enjoyed you?
"I'm a 53 year-old comedian and writer, who happens to be severe/profoundly deaf," Day explains. "I'm currently writing a show based on my dad, who has dementia, which I will be premiering at The Leicester Comedy Festival on February 8th."
And the early versions of that show have being going down very well indeed, apparently. You may have heard Steve on a good few Radio 4 shows over the years, actually, including dramas alongside the likes of Bill Nighy, Caroline Quentin and Patricia Routledge.
It's stand-up he'll be doing on the 20th though, with another quality cast. Joke for Scope is headlined by Adam Hills, with Last Leg writer Rosie Jones also on the bill, along with Dane Baptiste and Kelly Convey. Nice. Now, back to the late nineties.
First gig?
11th of July 1998, I did my first proper circuit gig at The Oval Comedy Club, in South London. I remember there were eight people there and I didn't die, though I hardly stormed it. Brian Damage was MC, I still see him around the circuit quite often.
Favourite show, ever?
In a care home for people with Dementia. [Steve has written about it on Facebook)
Worst gig?
I was asked to do 'A Presentation for a Rugby Club' which I thought meant like a business style presentation with slides and so on, on a motivational theme. Turned out it was a load of drunk lads at their awards do. They didn't like the slides.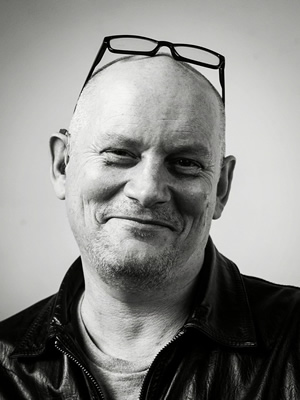 The weirdest live experience?
Oh god this is too hard. I was asked to do a party at a stately home in Norfolk. When I arrived nobody knew about it, I think they were some sort of cult or something, finally one guy turned up who sort of knew I was going to be on, gathered the 'guests' into the drawing room, and I did my comedy routine to a load of smiling but not laughing people who must've thought it was a sympathy appeal or something.
Not a single laugh, more just interested looks. I got paid in cash and just drove away as fast as I could, stopping in a layby to change out of my gig clothes. Still don't properly understand what was going on.
How do you approach benefit shows - do you ever do material relating to the charity itself?
I will try to support the cause as much as possible, but it is also fair game to rib it a little, gently. Got to be careful though as people might take something to heart.
Is there one routine/gag you loved, that audiences inexplicably didn't?
Not really, if they don't work after a few goes, get rid, or change them. Self-indulgence gets you nowhere. That's not to say pander to the crowd. Never do that, but change the words till what you want to say also gets laughs. Getting laughs is the job really.
What's your best insider travel tip, for gigging comics?
Long drives home can be tough if you're tired. If you get paid in cash fold it up to the maximum number of folds you can then put it in your back pocket - if you have one. On the drive home the annoying lump in your pocket will keep you awake, but you can only smile about it because it's the money.
The most memorable review, heckle or post-gig reaction?
A woman in Bromley followed me offstage and burst into the dressing room to say it was the most brilliant thing she had ever seen and my wife must be so proud. She was very intense, despite neither of her statements being true. I think she was Australian though.
How do you feel about where your career is at, right now?
I'm doing the best work I have ever done. I'm enjoying every gig. The circuit is tougher than ever in terms of getting gigs and making a living, but I'm the best I've ever been.