Steve Hughes
It's hard to imagine Steve Hughes not gigging. During the lockdown months you'd be concerned that the self-styled Heavy Metal Comic might internally combust, but actually he turned to... apocalyptic rock 'n' roll. With suitably heavy-but-classy videos. More on that below.
But now the dark lord has re-risen, and is back touring with his distinctive brand of dystopian comedy. This show, Are You Serious, "is simply stand-up the way I've always done it," he says.
"Straightforward, sometimes regarded as controversial (I don't think it's controversial, but some do). Some of the show explores the breakdown I suffered in 2014 and subsequent dark night of the soul which had me vanish from the UK for seven years.
"Other parts of it are about what I view as the psychological war we now live under constantly. And some of it is just about dick pics..."
It swings "from the deep to the trivial," affirms the philosophical Aussie, who has switched from under-sung circuit stalwart to theatre-rocking theorist, in recent years. Is there a bit that gets particularly strong reactions?
"Well, I haven't done a lot of this material in the UK yet as I've only been doing the clubs. A comedy club on a Saturday night doing 20 minutes in front of a bunch of people having a night out is not really the right environment for thinking comedy. Especially in London. The programming runs deep in that place."
We'll come back to that, as we head into the deep recesses of Hughes's mindhole.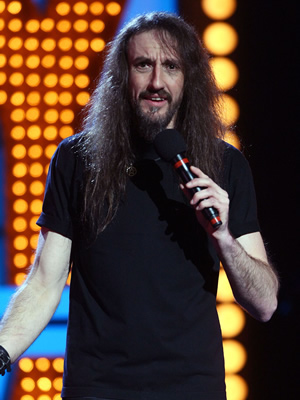 First gig?
My first ever gig was around 1995 at the original Comedy Store in Sydney. It went pretty good. Good enough to have me go back and do it again. But I have a personal theory. That being, the comedy gods grant you the grace of having your first show go ok and not be a complete disaster as a gift for having the courage to do it.
But then the second or third show you will be given a complete and utter death. Showing you what that feels like which then tests the ones who will keep going... as I said, it's a personal theory.
Favourite show, ever?
None stand out particularly. Any show where you connect deeply with the audience and their sense of humour are always the best. You can almost become one and you can go deep, surf the energy and they will come along for the ride wherever you take them. A great audience always makes the show for me.
It's the same for performing music. If the audience are good, it's just better and more fun for everyone. They say you can't blame your audience - that's rubbish. Some of them suck...
Worst gig?
The most horrendous gigs in the sense of complete and utter deaths vary. I did one on TV in Montreal once to the French / Canadians which was hell on earth. My first gigs for the Dutch were rough, and these days anything in South London. The brainwashing seems to run deep down there.
Which one person influenced your comedy life most significantly?
Bill Hicks. Simple as that. Woody Allen taught me how to write jokes and Bill Hicks was like seeing someone do exactly what I wanted to do in comedy. To me he was a mixture of heavy metal attitude, spoken word like Henry Rollins all wrapped up with killer jokes and a stellar performance. Bill Burr is that now. It seems guys named Bill from America is where it's at for me.
And who's the most disagreeable person you've come across in the business?
What kind of question is that? Hahahaha...but ok. I really don't take any notice of what anyone else is doing. I'm from the underground. I will admit I don't like the mainstream and I'm not interested in pandering to it. But I treat all with respect equally. If they want to be manipulative or deceitful then so be it. It's their karma.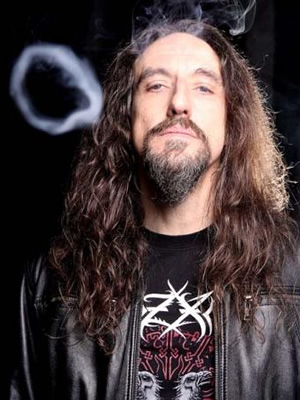 Is there one routine/gag you loved, that audiences inexplicably didn't?
Not really. I have jokes that I seem to like or see the merit in more than audiences. Maybe they just don't get my sense of humour sometimes. The way a lot of people are programmed these days it's easier to have material that they judge you on and feel they're not allowed to laugh at. I find it quite pathetic really. Or is that not PC enough to say? I bet it will be soon. Agree with the mob or die seems to be the way we're heading.
How were your lockdowns? Did you find them useful at all, or just a drag?
I also make music and I have a solo album coming out soon, Alone but for the Breath of Beasts, under the name Eternum. So when the lockdown began I was staying in Manchester with one my closest friends here in the UK and he was a video editor for ITV for about 15 years and then began working independently. So he just happened to have a movie-grade editing suite in his front room.
We filmed two video clips for a couple of the songs from the album, Beyond what You See and In Lies we Trust.
We also made a couple of clips archiving two of the bands I was in, in the '80s and '90s. They will be released soon... so quite a productive time for me.
Any reviews, heckles or post-gig reactions stick in the mind?
I've done comedy for so long now I've had glowing five-star reviews covering me in adoration and downright slanderous and negative ones. It's the law of duality, hahahahaha...
I've had people who have told me I've woken them up to things and changed their lives for the better and others who have walked out of shows in quite the tizzy... it comes with the territory. But it's always more positive than negative.
How do you feel about where your career is at, right now?
Career? I've never looked at comedy as a career. Or music for that matter. Even though I wanted to be successful in both. But never ever at the expense of integrity and soul. Comedy and music are the only two things I can do with great proficiency.
I mean I'd love to make a tonne of cash so I could get a house in the woods, turn it into a studio and just make music and videos and never have to interact with society again. Which I believe more and more people want these days and who can blame them. It's a fucking disaster out there. Thanks for the interview. Hail and Peace...