Stella Graham
What are you up to this Valentine's Day? Struggling for staying in-spiration? Well, what could be more romantic than a virtual visit to Leicester?
Actually Stella Graham's show isn't specifically a V-Day thing, unless the V stands for virtual. The Coventrian comic is streaming live that Sunday evening as part of the Leicester Comedy Festival, which pivoted impressively to an at-home format when everything went nuts again. It works though: dinner and a show, without all the going-out aggro. So what is that show?
"Undercurrent is about what's going on under the surface," says Graham. "Cryptic huh? It's a funny examination of your behaviour and faults and seeing if you can change."
During lockdown Stella has been doing her bit too, posting regular Angry Workouts, among other things. Her advice?
"Stay in for Valentine's Day. I expect you'll be staying in anyway, unless you've booked a romantic open-air igloo. Plus, it's at 6pm. After seven you've still got plenty of time to put the moves on."
She's not wrong, and there's a sweet festival pass/NextUp subscription available, if you fancy a full-on watch-at-home binge. Right now though, let's head back to a country we're all rather envious of, for umpteen reasons.
First gig?
I lived in New Zealand for a few years: it was August 2008, at The Classic in Auckland. I did their Raw Comedy Monday night show, one of 8-10 on the bill I think.
Didn't do a comedy course, there wasn't anything like that there then. I was disgustingly nervous, told only one person I was doing it, forbade them to come along in case I died on my arse.
I remember my heart pounding as I went down the stairs to the stage, the lights were so bright I couldn't see much. I was so focussed on remembering what I was going to say, I could barely hear the applause. Like having seashells on your ears.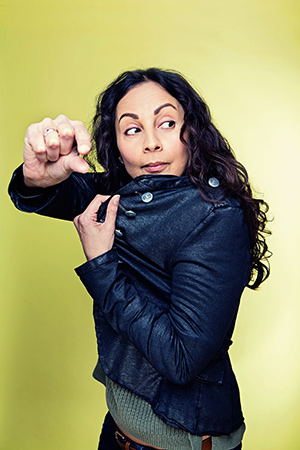 I get to the mic and the only people I can see, centre-front row are friends I know. Holy shit.
I go through my stuff, partway through I got the worst case of dry mouth I've ever had. I had to ask for water.
I came off in a daze, wasn't quite sure what happened. I remember a couple of women in the crowd patting me saying, "You were really good!" I didn't know if they were just being sweet, cos I had no idea how it went. I got an email from someone at the club saying, we'd love to have you back. That email made my day. So back I went again and again and again. Having a club like The Classic for your first gig really spoils you, it's a proper club.
Compare that to some of the rooms I've done since then, dingy basement gigs, rooms above a pub, top deck of a bus. I'm glad I got to start in such a cool room.
Favourite show, ever?
It's a tie at the top. The first big theatre gig I did was in Auckland at the Pacific Events Centre, the room held 700, we maybe had 200-250 in? They were all computer gamers. It was the New Zealand qualifier for the World Cyber Games, so we were extra entertainment.
It was such a buzz playing such a big room, with a bunch of mates and an up for it crowd. Backstage we all wondered if we were gonna tank. It was fun on and off stage. I remember cracking up so much.
More recently, did a lovely show at a beautiful theatre in Milan, called Zelig. What a stunning setup they have, crowd were fantastic, they would applaud bits that don't normally get applause. Lovely people. So fun. Got to spend the day in Milan in the sunshine, eating ice cream, then do a show. Seems such a far cry from Zoom gigs.
Worst gig?
Pffffffffffff. Where to start? The elements that make a horrendous gig. When a room is badly set up. You arrive, there's no stage/lighting, you're in a corner, in the dark, with a crappy Sing Star microphone, they haven't turned the TVs off, the sound bleed, argh. Too many of those.
There's a selection of bombs I remember, nothing too bad. No-one ever threw a bottle at me. But I do think, if I had a time machine and could Quantum Leap back to a couple of gigs where I was just a bit too new and inexperienced, go back today and right some wrongs, that'd be fun.
Isn't that bad? If I had a time machine, I'd fix a couple of gigs before I'd save any lives. I've got a couple of my own stage deaths to sort.
Which one person influenced your comedy life most significantly?
Hard to name just one comic, there's many I like, particularly American stand-ups. But I think Amanda Baker knows more about comedy in great detail than anyone I've ever spoken to.
And who's the most disagreeable person you've come across in the business?
There's one or two knobheads I've met over the years among an ocean of great people in comedy. Having said that, there's a lot of folks with mental illness in comedy, so who knows what someone's dealing with. I'm probably on someone's list of most disagreeable people. Whoops. Hope not.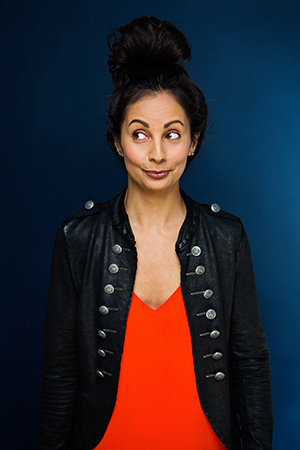 Is there one routine/gag you loved, that audiences inexplicably didn't?
I don't know about 'audiences inexplicably didn't', I expect I just did an arse end job of it. I had a bit several years ago about people doing sponsored events for charity, but I did a real rookie comic job of it. Since then, I've seen Doug Stanhope do a far, far better version in Beer Hall Putsch, so I'll leave that one now.
How have your lockdowns been, creatively and generally?
Me and my fella already worked from home, so that part was fine. It didn't feel too different. It's been fun. Our garden never looked better, I've been cooking more and exercising at home. I missed doing live gigs, it is weird that my last hour-long festival show was in Feb at the Leicester Comedy Festival 2020 and my next one is Leicester Feb 2021 but online. I love how quickly Zoom gigs popped up and we had to adapt. I spent time learning how to film stuff and edit things at home, began filming some Angry Workout videos.
Having to write stuff, be the sound and lighting person, shoot the videos, be on camera, then edit them was great, really makes you appreciate people who do all of those jobs. I've carried on working on stand-up the whole time, done writing workshops, done acting auditions, done plenty of Zoom gigs, recently started a Zoom video podcast where I interview people to learn about stuff, called Stell Me About It, that's been great fun. Really enjoying it.
Miss seeing family and friends of course, but I think we're so lucky to have technology that lets us video call so easily. I'm glad this didn't happen in the 90s.
Any reviews, heckles or post-gig reactions stick in the mind?
Post gig, an old man in Edinburgh once asked if he could impregnate me. I didn't hear him properly the first time, he said it funny. He put the emphasis on the "im" part, so it sounded odd. I went, "Sorry?" And he said it again, I heard it the second time, but still cos it sounded funny I was like, "What the fuck?" Made me laugh anyway, weird guy.
Another post-gig classic, some guy told me I had no tits. At the time I was new, I thought, "Must not be rude to the audience or you won't get booked again." Ugh. Fuck's sake. Again, if I could Quantum Leap back into that moment as the comic I am today... I love a good Roast Battle, I would have wasted that guy.
How do you feel about where your career is at, right now?
Honestly, I'd love to be further along but comedy is a long old apprenticeship. If it took many of my favourite comics years and years to become as good as they are, why on earth did I ever think I could do it any quicker... Experience takes time.
That said, I love that I am able to do something so fun and creative after years of being so bored doing IT support. I'd love to be doing more shows each week, I love a good Zoom gig now. I'd love to write on fun shows. I'm working on it!