Spencer Jones
Another year, another hugely prestigious award nomination for Spencer Jones, who must be pretty nonchalant about being nominated for things nowadays. Water off a Herbert's back.
The acclaimed actor/comedian returns to London's Soho Theatre from 11th December with The Audition, the show he took to the Fringe in August, and which won him a Edinburgh Comedy Awards nomination.
If you've seen Jones' admirably barmy onstage schtick before, this latest hour is a step forward - or perhaps a step sort of diagonally forward and off to the left, perhaps. It has a proper story, you see.
"The show is about an audition, and my family, and the stuff I buy to make shows," he tells us. "It's got music and props and visual gags and I speak a bit in it too."
It's hard to describe exactly what Jones does onstage, if you haven't seen him, but it's in the clown envelope. The absurdist ballpark. His character, The Herbert, is a true comic original. "I don't think it's stand-up," Jones admits. "Don't come if you are expecting stand-up. It's kind of a little story about what my life is like at the moment."
Which is intriguing. Away from his Herbert work, Jones has a strong TV CV too, including a Broadcast Digital Award for his Sky short Spencer Jones's Christmas, and a BAFTA nomination for the kids show he co-created, Big Babies. There's also a recurring role in Ben Elton's Shakespeare comedy Upstart Crow, and he's popped up in Still Open All Hours, Skins and Count Arthur Strong.
So what else is he up to, after these shows?
"I'm selling merch at the end, in the bar, out of a suitcase," he says. "Lovely bit of gear."
Just in time for Christmas. Now let's send him back in time, to the start of this millennium.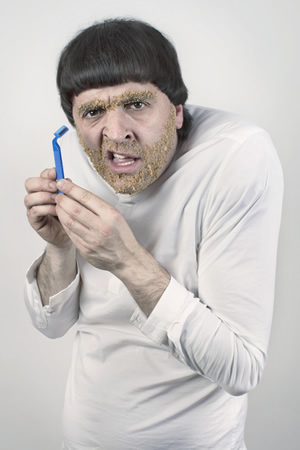 First gig?
I had done loads of types of gigs from a very early age but I reckon my first stand-up gig must have been in the year 2000 or 2001. I had met Josh Howie through a friend and he had given me some great advice about comedy. He was on [the bill], and - lovely man that he is - he got me on too. It was in the upstairs room of The Crown and Two Chairmen pub in Soho, London. I did okay, really basic stuff but okay.
To be honest I was just happy to not get booed off. I used to go to Up The Creek in the days Malcolm Hardee was running it and I saw some people get obliterated by the crowd, so looking back I reckon I was just chuffed to have not died a death. I reckon there were 12 people there. Adam Bloom was on and he came up to me after and said "Welcome to a wonderful world."
Favourite gig, ever?
I can't answer that. That's like asking me what my favourite Beatles song is. So many to choose from. Let me think... at a push I would have to say The Ballad of John and Yoko. Me and the kids having it blaring in the car on the school run. My four year-old was singing "They're gonna crucify me" over and over again chasing his mates round the playground the other day. Fucking funny.
Okay, favourite gig of my whole career would have to be Sleaford Mods at the 100 Club. Also very, very funny. They are my favourites.
Worst Gig?
I came out onstage once at a posh wanky members bar in West London. It was proper rubbish. The audience had been awful to every act on before me. I came on to my silly music, wearing white tights, being stupid, lip-syncing and this woman jumps up and grabs me by the cock and balls hard and hangs on.
Now I should explain my onstage persona is a nice guy, but in reality I am one of the worst people you could wish to meet, truly awful deep down in my soul. But at that time I didn't want to blow my cover, at the risk of ruining the show.
So I let her crack on but slowly danced backwards away from her. But she's not letting go, her arms outstretched and I am now dragging - let's call her Sophie from Chelsea - across champagne-laden tables. She's having a great time but I am not. Eventually she loses her grip and I finish my set. I would handle it differently now. I'm not saying how because I want it to be a surprise if it happens again.
The weirdest live experience?
I don't really find anything weird anymore. I'm 96 years-old next week and to be honest I've seen so much stuff, nothing shocks me. Although I was watching Blue Planet 2 on the telly the other day and that was weird. There is a fish with a transparent skull and when it looks up it can see predators attacking through its head.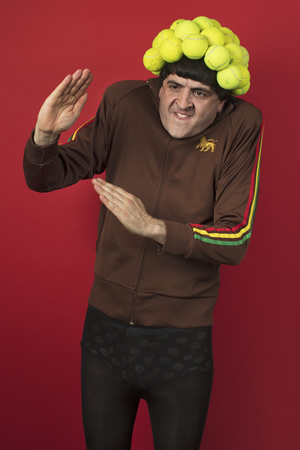 Who's the most disagreeable person you've come across in the business?
There's this one person, and they are awful. I mean really bad deep down in their soul. They will be reading this and thinking "he's talking about me" and they are right I am talking about you. I am talking about you, you terrible, horrible, nasty, piece of shitty work.
Is there one routine/gag you loved, that audiences inexplicably didn't?
No. I only love it if they do too. If they don't love it then I completely agree with them. It was a terrible gag/routine. Let us never speak of it again.
What's your best insider travel tip, for gigging comics?
Do not under any circumstances pull over at a motorway services at 2am, leave the engine running with the warm-air heaters on full blast, fall asleep for three hours, wake up with a dry mouth, migraine, nose bleed and a parking fine three weeks later. If you can avoid that the rest is easy. Also wear clean pants.
The most memorable review, heckle or post-gig reaction?
An old lady told me I was dog shit once. "Oi, you!" she said, "your dog shit" I said "don't you mean 'You're'", and she said "that's what I said" and I thought 'maybe she did?' It's difficult when it's real life and not written down.
To be fair though, she had come to the wrong gig. But she waited till after the show. Fair play, old people have a bit more respect than the younger people. She said she didn't want to spoil my flow. I don't have a flow really, more a juddery torrent type. I'm now married to her and we own a tomato farm and dog kennel.
How do you feel about where your career is at, right now?
Let me have a fag and a think. Hang on...
I'm living the dream. I get to do gigs and have a laugh. And because of the all the props I have to drive everywhere so I don't have a drink problem. Don't get me wrong, I want one. I need it, then I've got the full set.