Sooz Kempner
If anyone was going to make the best of lockdown life, it was Sooz Kempner. The joking/singing/retro-gaming sensation had already hit a homemade home-run just before last year's Edinburgh Fringe, by going Twitter-viral with a thread about pretending to be a pop star in Ayia Napa. Pow! You plug away for years then win a huge new fanbase in one evening.
Since all the gigs got squished she's had all sorts going on: live Twitch-based cabaret and a lockdown version of EastEnders occasionally featuring actual Albert Square alumni, while also achieving a big ambition by popping up on Radio 4 institution The Now Show.
Meanwhile the podcast she co-hosts, Mystery on the Rocks, is still rocking and rolling, regularly. Interesting title. What gives, Sooz? "Me, Chris Stokes, Masud Milas and a comedian guest drink excellent cocktails and solve a real-life mystery, and then I sing about it. Previous guests include Nish Kumar, Nick Helm, Mr Biffo and Jen Brister."
Super. Now let's drift back to when live shows were a thing.
First gig?
March 29th 2009. Comedy Virgins at The Cavendish Arms. The only other comedian I remember was Don Biswas who is still going strong. It felt like a proper comedy club coz it had a stage, red curtains, a black and white tiled floor, cabaret seating... the pressure felt immense for NO good reason coz it was all just open mic comics.
The crowd were extremely kind as I did VERY trite material about my time as a Christina Aguilera tribute act, which ironically has served me VERY well of late (the time as a tribute, not the material, none of which remains in my act).
Favourite show, ever?
I think I'd have to choose the second show of my 2018 Edinburgh run. It was my sixth solo hour and I'd struggled for numbers on the paid Fringe in all previous years, I'd just got used to the first few shows of an Edinburgh run feeling like wading in treacle.
The first show of 2018 was pretty nice with a half-full room and then on the second day I had to turn people away, it was so packed and the audience were so up for it that it set me up to have an absolutely awesome Fringe.
I'll never forget how it felt to go "welcome to the show" and everyone go berserk. When a Fringe is like that it's barely work. Scratch that actually, it's still work and by the final week you're an ashen-faced husk but... in a fun way! It's my penance for doing three shows a day like a tit.
Worst gig?
OK... backstory. In 2016 I had been advised to write two shows, one work-in-progress stand-up, one character. My stand-up show was a midday show in a free venue but the venue cancelled just before a deadline, I had to race to find a new venue and ended up in an expensive paid venue. So I had a load of new pressure on that casual stand-up show and then my character show, also at a paid venue, was mid-afternoon. I had to get a credit card to cover the costs coz my mum is a Poor Crone Lady.
The stand-up show was going OK but audiences averaged 12 and I could see all the money I'd owe after the Fringe. The character show was going HORRIBLY. The average audience was six and the venue was a damp, dark cave with a terrible atmosphere.
When the show went well with a small but mighty crowd it was lovely. But often it was a handful of unwilling people who would frequently leave between characters while I was changing costume, I'd see them discussing it then silently congratulate myself on spotting it when I came out in a new costume and they'd gone.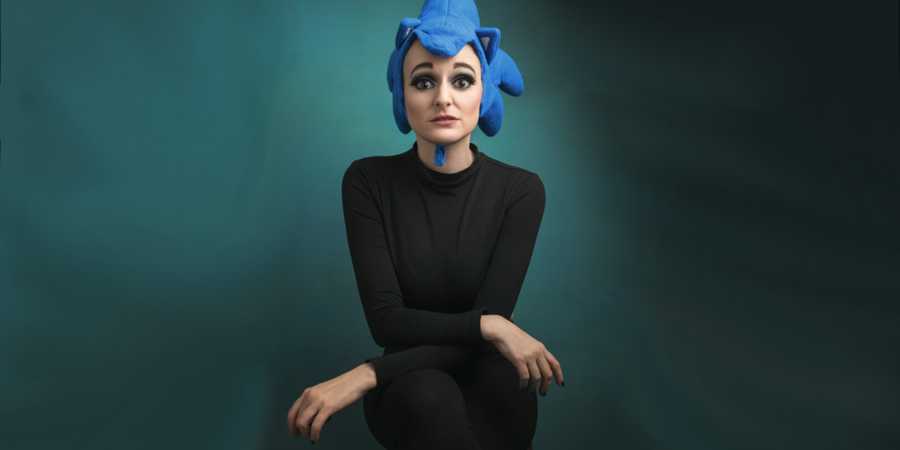 Ouch...
The worst show I've ever had in Edinburgh was in that run. The audience numbered two. They didn't know each other. They sat on opposite sides of the room. They politely murmured laughter throughout - thank you lovely women.
The show ended after six hours or 54 minutes of something. One woman stayed behind. "Hi, I'm from Tiger Aspect!". I immediately just started crying floods of tears. Not sobbing, just my eyes immediately started running like waterfalls. It was the worst I've ever felt as a performer. I considered ending my run.
I didn't end my run and from meeting me at that 2016 Fringe I've gone on to work loads with brilliant comedian Chris Stokes on TV and now on a podcast so you never know where the shittiest experiences are going to lead you. And those 2016 Fringe debts are all paid now.
Which one person influenced your comedy life most significantly?
Probably Steve Coogan! We had his stuff on cassette in the car when I was eight or nine, Paul and Pauline Calf, then On The Hour and I just loved it even when I didn't know it was funny. We had all the Alan Partridge videos and I think most of my character stuff came out of watching Steve Coogan. Him and Victoria Wood.
And who's the most disagreeable person you've come across in the business?
Simon Gross is a producer who I worked for, for one week in 2008. Google him. You're welcome.
Is there one routine/gag you loved, that audiences inexplicably didn't?
I used to write and perform songs behind a keyboard but I haven't done that as part of my act for about four years and I think the reason is I wrote a song about how the BBC show Luther is hot bullshit dressed up as high art and I thought it was going to absolutely bring the house down and it just died on its arse so hard I never did a gig with my keyboard ever again.
Are there particular reviews, heckles or post-gig reactions that stick in the mind?
There was a review of one of my Edinburgh shows that basically said I wasn't a very nice person and it's the only review that's ever really hurt coz if people don't find me funny I'm like "hrmph" but if someone actively dislikes me it's like a bullet to the chest. Which is stupid because who cares? I CARE! I DO! I CARE VERY MUCH! Like me pls.
In my 2019 show I had a running gag about the thinking-face emoji and after the show audience members would tweet "really enjoyed the show" and then put the thinking-face emoji so to anyone who hadn't seen the show it looked like they were being sarcastic, which I really enjoyed (also they weren't being sarcastic and they definitely really, really liked me as a human being).
Do you have recommendations for other acts doing interesting stuck-at-home stuff?
Laura Lexx really broke the glass isolation ceiling with her Klopp thread which was a lot of fun. Stu Goldsmith's Infinite Sofa over on Twitch is fantastic; if I was a TV company I'd be snapping up everything about it. The Weirdos have done some brilliant gigs on Zoom too.
How do you feel about where your career is at, right now?
Not too bad coz everybody is now at my level and it's the equality I always dreamed of.