Sisters
It probably bewilders punters and the occasional promoter, but Sisters are actually misters - Mr Christy White-Spunner and Mr Mark Jones - who are bringing their debut show White Noise to the Soho Theatre next week. It was made with the aid of this feature's first ever guest, Ms Lolly Adefope - more of which below - and enjoyed a sell-out run at the Edinburgh Fringe last year. Not bad for a first Sister act.
White Noise "revolves around our attempt to get as famous as possible, as quickly as possible by live-streaming the show to people around the world," the Sisters tell us. "We get a lot of the viewers up on Facetime and ask them what they think of the sketches, live in front of the audience. We're also currently developing our second hour, On Demand, that we'll be performing in the Pleasance Courtyard at the Fringe this August."
On Demand, eh? The mind boggles after that previous high-concept outing: audiences with remote controls re-watching previous sketches, maybe, or skipping them altogether if not keen. Or perhaps we're overthinking it.
Now, let's crack on with the drunks, the mayor, and Jamie Vardy.
First gig?
Who can forget Heat 1 of the Leicester Square Theatre Sketch-Off 2017? The stars were out that night: Monkey Wedding, Cheeky Kita and Chester & Patrick to name most of them. Pretty sure there's a Netflix special of it coming out soon.
Favourite show, ever?
Probably all three shows at the Soho Theatre from 19th-21st April? *winky winky face*
Worst gig?
We did a gig in a Whole Foods once. Literally performing to the shop floor as people walked by bemused. Also we got paid in coconut bites: organic salt in the wounds.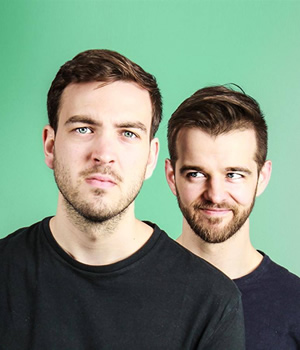 The weirdest moment?
Sadiq Khan came to see our show on the Free Fringe. He walked in about 15 minutes late and darted for the door as soon as it finished. He didn't put any money in the bucket, but we don't pay council tax so I suppose we're even.
You've worked with FGWG1: Lolly Adefope. What did she bring to the Sisters table?
We usually run a lot of our ideas by her to check that they make sense and whether they're at all funny, she's a big help to the guys. We'll also be doing a double preview of both our new Edinburgh shows together at 2Northdown on 9th July so come along to that. Oh, and there's a very healthy ongoing meme exchange. These are of course the new cornerstones of all good comedy in 2018.
Who's the most disagreeable person you've come across in the business?
A very famous author. It's no secret. In fact, we hope she reads this.
Is there one routine/gag you loved, that audiences inexplicably didn't?
After Leicester won the Premiership we ended up writing what became this twenty-minute long saga where Jamie Vardy meets this wizard in the woods who sells him magic boots in exchange for his soul. It had everyone in it: Ranieri, Roy Hodgson, Danny Drinkwater's wife who was an orange. It took about two weeks to write and one second to decide it should never have been performed.
The most memorable review, heckle or post-gig reaction to your stuff?
One night of the Fringe we had a group in the front row who had clearly had a few drinks. They were pretty vocal for the entire show and about a week later they turned up again. We asked them why they'd come back and they looked at us like we were mad. It soon became clear they had absolutely no recollection of the first time whatsoever.
How do you see your careers panning out - any thoughts on what might cause an acrimonious split?
Ok, we've argued about this question for an hour now and now we're not talking, so thanks a lot.