Shit-faced Shakespeare
Shakespeare. Always a bit off-putting wasn't it? Certainly at school, where the great Bard's works weren't always done adequate justice by the available cast, in fairness: a bunch of awkward, uninterested, embarrassed kids. Mind you, some of the pro versions haven't always been much more engaging.
You know what Shakespeare really needs, to liven things up? A proper drunk. Some of the great Shakespearean actors were hammered half the time, and now one hardy troupe are actively working that into their shows. Step forward - then stagger sideways, then stumble back, then lurch forward again - Shit-faced Shakespeare.
This ensemble of proper thesps bring us an abridged version of one of those mighty plays each night - on their current tour it's A Midsummer Night's Dream - after getting one of the cast absolutely paralytic a few hours earlier.
"The original creators of the show, Lewis Ironside and Chris Snelson, originally came up with the idea on the back of a napkin one night in a pub," explains original cast member and director Saul Marron.
"This was never thought of again until The Independent rang regarding theatre at music festivals (they ran the 24-hour theatre tent at Secret Garden Party). Chris jokingly included SFS and once it was published they thought they'd better actually put it on. Lewis asked if I wanted to direct and I thought it was madness so of course said yes."
And the rest, as they say, is Shit-faced history.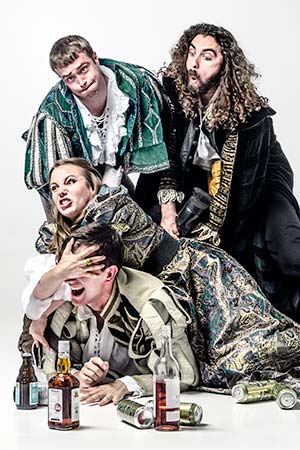 First gig?
It was in the summer of 2010 at the Secret Garden Party festival. We had a cast of five, most of whom are still with us today. Our first ever drunk actor Ruth Williams lasted roughly 10 minutes before collapsing and the paramedics having to be called. We thought that would be the end of the show but two days later the festival promoters asked us to give it another go. We had 300 over-capacity trying to get in as they had heard a woman had died doing the show.
Favourite show, ever?
Personally, mine has to be the first time we played to a sell-out crowd in the Big Purple Cow at the Edinburgh Fringe. That had always been a dream of mine, but to stand there with a packed house was amazing.
Worst gig?
There was one gig at a Butlin's 'Madness Festival' that we do.not.talk.about.
Which one person influenced your comedy life most significantly?
I think any of the actors/producers/directors of the show could name someone completely different. But personally, Matthew Holness and the show Garth Marenghi's Darkplace have by far had the biggest effect. He doesn't leave a second of screen time wasted.
And who's the most disagreeable person you've come across in the business?
It tends to be from people who have never seen our show. There's a certain preconceived idea that we're bastardising Shakespeare or not taking it seriously. We are all classically trained actors, and absolutely love what we do. We perform the Bard (and drink) responsibly... it just gets a bit muddled when there is a drunk involved.
Are there certain Shakespeare works that work better than others, SFS-wise?
Definitely. Because our shows are an abbreviated version of classic plays, there are some that simply don't do as well when cut. Though we've learnt over the past few years that the tragedies are just as much fun to perform as the comedies. We just finished Hamlet in the West End last month and it's been one of my favourites to date. Watching a drunk actor try with sincerity to get through "To be or not to be" never gets old.
Do you have any good tips for pre-show drinks?
Slow and steady is the best way. After the mistake with our first ever show, we have turned safe drinking into an art form. Our drunk actor starts four hours prior to the performance and we make sure beforehand that they are in a good place that day to drink before getting them to the right level of pissedness.
Are there particular reviews, heckles or post-gig reactions that stick in the mind?
We're currently on a UK tour of A Midsummer Night's Dream and literally last night's drunk, Richard Hughes, was given a beer on stage with a lot of head. One audience member yelled out "Do you want a Flake with that?" and without missing a beat he turned and said "I'm sorry, I didn't realise you were in the show. I think you'll find auditions are next month".
What's the dream long-term plan for SFS?
I think to get the show to as many people as possible. We're very lucky in that we are a close-knit group of actors and friends who get to see the world whilst performing together. We're currently in the UK, US and Australia and we would love to add to that list.