Shappi Khorsandi interview
You hear a lot about getting the work/life balance right these days, and clearly playing the long game is Shappi Khorsandi.
After hunkering down to write her debut novel, Nina Is Not Ok, she's now escaping the house on tour, which is entitled Oh My Country! From Morris Dancing to Morrissey. It's "a fun, honest show," Shappi explains. "I really care about it and I'm celebrating Englishness!"
Right! The Iran-born comic is also part of the excellent #refugenes project, as founded by Radio X host (and Noel Fielding's wife) Lliana Bird, which is well worth checking out. As are Shappi's gig recollections.
First gig?
It was at The Camden Head pub on 14th December 1996. I was on with Stephen Merchant who went off and wrote The Office soon after that. He must've got the idea watching my first open spot. Still waiting for my flowers.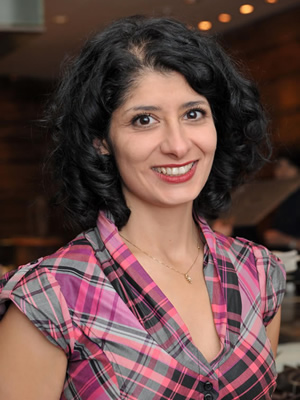 Favourite show, ever?
A gig I did at Ealing Town Hall when a lady called Mrs Gadd turned up to watch me. I had written about her in my childhood memoir. She was a wonderful teacher who gave me extra English lessons at primary school because it was my second language. I was so happy to see her I hugged her and cried.
Worst gig?
It was at a university where I think the students thought I was giving a lecture. They were all on their phones. I walked off after a few minutes. They didn't notice. I think they're still sitting there, texting. It was five years ago.
Who's the most disagreeable person you've come across in the business?
Every single person in this industry is a champion and I've never come across anyone who I wouldn't put up there with the Dalai Lama.
The weirdest gig?
I once performed in the shallow end of a swimming pool in The Hague.
Is there one routine/gag you loved, that audiences inexplicably didn't?
No, but I have gags THEY simply love and frankly, I don't get.
What's your best insider travel tip, for touring comics?
Never assume the venue will think to turn the lights on. Never assume anything!
The most memorable review, heckle or post-gig reaction?
An exuberant fan in Wales once wrote me a card and shyly gave it to me. It said "I love your comedy, you never fail to disappoint". I'm not SURE that's what he meant.
How do you feel about where your career is at, right now?
Very happy, though, dammit, still waiting for a call from EastEnders.
Shappi Khorsandi is on tour throughout autumn with her stand-up show 'Oh My Country! From Morris Dancing To Morrissey'. See shappi.co.uk for dates. Her debut novel, 'Nina Is Not OK' is out now, published by Ebury Press.