Sara Pascoe
You know something's going right when you're more than holding your own next to Samuel L Jackson, Tom Hiddleston and John Malkovich on a sofa, as Sara Pascoe did on The Graham Norton Show recently. Just another regular day at the comedy coalface.
Pascoe is in a good place generally right now, or places, as she tours a new show and promotes her first book; both are called Animals, but they're rather different beasts. "The book is about the female body, how it has evolved, how it is treated in culture," Pascoe explains. "And the show is about empathy and humanity, how do we work out what it is to be a 'good' person in this silly world. What does 'good' even mean?"
So, how did she get here? Let's start at the beginning.
First gig?
I was very nervous, drank a big white wine waiting to hear my name called. It was at a pub called The Bedford in Balham and there were 12 people in the audience who smiled at me sweetly as I told a crude story about something that once happened to a girl at my school.
Favourite show, ever?
I dunno, I tend not to think about gigs too much. You can't put them on the shelf and stare at them, have to concentrate on the day in hand. I tend to 'feel' the most recent gig until I have another one, but no further than that.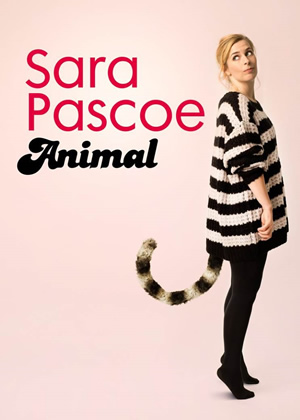 Worst gig?
I have not had really bad gigs you know, not bragging, but my trousers have always stayed on and I've never fallen off the stage. I don't know why we get asked this type of question so often actually - maybe the terrible gigs make better stories? Firemen and bus drivers never get asked about their worst days at work, probably because they involve fires and running people over. Mine just involve people not laughing very much and being sad on the train home.
Who's the most disagreeable person you've come across in the business?
The beauty of my industry is that if someone does not treat me well I do not work with them again, but then again I am in a very privileged position. The awful aspect of my industry is that it has been unpoliced for a long time, so a few disreputable and unprofessional clubs have been allowed to continue owing money to comics or treating people disrespectfully. The Guild and Equity are working together to crack down on this.
Weirdest gig?
I performed standing on a crate at Hugh Grant's birthday a couple of years ago. It was for No More Page 3, he had done a tweet about them, and then I arrived to do feminist stand-up at him and ruin his birthday.
Is there one routine/gag you loved, that audiences inexplicably didn't?
It's never inexplicable, I can usually understand why it's not funny to anyone else. Not everything is universal, jokes work best when there is communal knowledge involved.
I once tried to do a routine about how in Lewisham, where I live, I get chatted up by very young boys. Very young, 16 or 17, and they swagger over, call me princess and ask to come in my house and I thought it was very funny and that it was a common thing and discovered that no, it isn't. And people felt weird with me talking about it.
What's your best insider travel tip, for touring comics?
Packed lunches and buying your train tickets well in advance? Great books and podcasts at the ready? I don't know.
How do you feel about where your career is at, right now?
I am very, very lucky to have what I have, I have written a book and about to begin my second. I am touring to lovely venues, I get to do telly like Taskmaster and QI and Mock The Week and I get to spend lots of my time watching the best comedians in the world work the circuit in London. It's happy days for Pascals.
It's your last ever gig: give us the venue, the line-up, the pre-show rider...
Last ever gig I would be dressed as a mermaid, let's do it at the Dome in Brighton. The line-up would be my heroes, Roisin Conaty, Katherine Ryan, Kerry Godliman, Zoe Lyons and Bridget Christie and the rider would be strong black coffee and when the show finishes I will swim out to sea to painfully die alone. Lovely.
For Sara's tour details visit www.sarapascoe.com. Animals - the book - is out now via Faber. Amazon