Romina Puma
This week's correspondent is Romina Puma, the Germany-born, Italy-raised comedian, actor, writer, presenter and disability campaigner.
Now, Romina graciously agreed to be First Gig, Worst Gigged to publicise two shows - a one-off charity bash, and her own longer-running production - but the first one is now a none-off; it's had to be postponed for the time being. She was due to perform at the Manchester edition of the Joke for Scope double-header, but thankfully the London edition is still happening, on September 20th, headlined by Russell Howard, hosted by Richard Herring, and featuring Rosie Jones. Feel the alliteration.
And Romina's longer-running event is taking place as we speak: she's at the Edinburgh Fringe until late August with It's all my Mother's Fault.
"My show is about the relationship with my mother, which was not an easy one," she explains. "The love of a mother but also the lack of it. It has a very new and different angle on mental health. My take on this topic is not from a person who has mental health issues, but the struggle of living with someone who has. The show explores how my mother's state of mind has, in many ways, shaped the person that I have become today."
Is it a tough one to do?
"It hasn't been an easy show to write. So much so, that I really wanted to get it right and I wanted a director. Thankfully I have found one that understood what I wanted to say in my show, he believed in me and it was wonderful working with him. Now I have a fantastic show which is funny and also emotional. That's the kind of show I love, one that not only makes you laugh but also leaves you with something to think about."
Fine work. Now, let's jet over to Milan.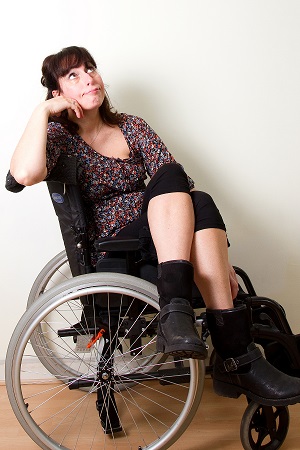 First gig?
My first gig was in January 2009 in Italy. It was an open mic in a bar in Milan. I was very nervous, it was all new for me because before then I only did theatre where you already have a script. This time I was performing something written by me and I had to make people laugh. The bar was packed and I knew some of the other performers. The gig went really well and I've never stopped since.
Favourite show, ever?
My top number one favourite gig of my career is one I did in Cambridge last year. Francesca Martinez was headlining. That night my dream came true to perform on the same bill with her - and I also smashed it!
Worst gig?
The most horrendous was in Northampton. I was the MC of a music gig and I had to open with a bit of comedy and then introduce all the other musicians. The event was a sort of Christmas party with work colleagues but it wasn't Christmas. Therefore, nobody had any intention to listen and the one who wanted to listen couldn't hear anything because all the others were chatting and getting pissed. Really tough gig!
Who's the most disagreeable person you've come across in the business?
I tent to get along with everyone but there are times where I get bad vibes about some promoters or comedians, so I just avoid them and problem solved.
Is there one routine/gag you loved, that audiences inexplicably didn't?
Oh yes, several, especially when you try new material and in my head it's hilarious and when you say it in front of an audience they look at you blank. The joke I can think of that never or very rarely worked was about people pressing the bell on the bus constantly, it just drives me nuts and it was more of a rant but I loved it very much even if nobody found it funny.
What's your best insider travel tip, for gigging comics?
My tip is don't talk about comedy all the time during your journey to and from the gig.
The most memorable review, heckle or post-gig reaction?
The most memorable review was from an audience member in Edinburgh for my first solo show. It was called Not Disabled Enough! and it was my personal story about my condition, and she wrote that I didn't have the right to talk about disability. So, I wrote a show about her the following year.
And the post-gig reaction was in Italy, I was already living in the UK and performing in English, but every now and then I was going to Italy to visit family and friends and while I was there I was taking the opportunity to perform in Milan. In Italy, as far as I'm aware, there aren't any disabled comedians and I went on stage with a set about my disability.
After the gig a guy approached me and said "you are a character, aren't you? The crutch is a prop?" After that I thought Italy is not ready for this kind of comedy.
How do you feel about where your career is at, right now?
I feel that it is improving. It takes time and I'm sure that by when I'm 95 I'll be famous!