Rhys James interview
Rhys James is performing his stand-up show Remains in London next week. He says: "It isn't sold out yet which is why I'm doing this quiz. If you don't come, the puppy gets it! (As in, the puppy understands.)"
First gig?
My first gig was in a hat factory and my 'set' was preceded by an emo band and followed by two saxophonists. The only other comedy act on the bill was called 'Ranty Jackson' and he massively struggled. Everyone in the audience was under 18 and sat cross legged on the floor. The people running it wouldn't let me put my new coat behind the bar or backstage so I rested it on a drum kit as I walked on. Really gave me a taste for it.
The show you look back on most fondly?
I did a new hour in Leicester the other day which was perfectly fine. Most before that blend into one.
Worst gig?
The first part of this sounds like a humble brag but all of it is pivotal to the story. Me and my giant dick won a comedy competition on our 4th ever gig. The format was a gong show, which is where the comedian tries to last 5 minutes but the audience can 'gong' you off at any time if they think you're not funny...
The prize for winning the night was to headline the next week with a 20 minute set. I had barely scraped my 5 and in fact made jokes about 'not expecting to get this far' at around the 3 minute mark, so to come back the next week with a brand new 17 minutes when I've only been on stage 4 times was a big ask, which I failed to answer.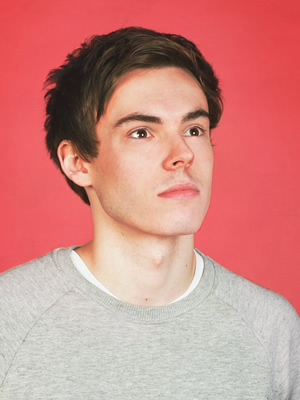 Once my material began failing (around the 0:03 mark) I tried to turn it into a Q&A which is completely pointless for a kid no one in the audience had heard of or felt any kind of warmth towards. I was wearing a fucking bracelet!
Someone asked me what I was doing on my gap year. I wasn't going on a gap year. That month I had also seen Stewart Lee for the first time so at one point I lay down on the floor mistaking 'being horizontal' for 'having an excellent joke'. It was an absolute disaster gig, at which I somehow overran.
As I walked to the back of the room to grab by stuff and make a hasty exit the promoter said to me "do you want us to send you the footage?" This was coincidentally the first night I burnt a camera. But not the last.
Who's the most disagreeable person you've come across in the business?
Ranty Jackson. Too judgemental.
The weirdest gig?
Leicester. Different one this time. Me and Old Smudge doing longer than 10 minutes for the first time. Both did 30 minutes. Inexplicably it's the most tickets either of us have ever sold in Leicester. Over 100 people there who absolutely hated us both. No microphone. Someone claiming to be my auntie. Biggest laugh was when a man heckled me with farts. Plural. Then had to do an interview afterwards about my 'method'. Why do I do this?
Is there one routine or gag you loved, that audiences inexplicably didn't?
Yes. Rhys James Remains. Soho Theatre. Feb 23rd - 27th. From £10.
Best insider travel tip for touring comics?
Get the aisle seat on a train if you have a weak bladder or one kidney. Save your tuna sandwiches for home. Put your crisps away. Put that armrest back down. And live there. Ideally just live wherever you're gigging. Much easier.
The most memorable review, heckle or post-gig reaction?
Every review or comment I've ever got has been so positive about how brave I am and how good my memory must be. People are so kind!
How do you feel about where your career is at, right now?
Here I sit, tracksuit bottomed, 4:30pm on a Friday afternoon, four days before my show, typing answers to an interview you let me do as a favour, pistachio shells in my bellybutton and Coogan on TV. It's ideal. I haven't worn a tie for 6 years.
It's your last ever gig: what's the venue, the line-up, the pre-show rider...
Leicester. Me and Ranty Jackson split an hour. No microphone. Total sell-out. Laxatives provided at the door.
As may have been hinted at above, 'Rhys James: Remains' is at the Soho Theatre from Tuesday 23rd to Saturday 27th February 2016. Info & Tickets