Pierre Novellie
One of the most buzzed-about new comics around, Pierre Novellie is back at the Edinburgh Fringe in August 2017 with a show called, er, Pierre Novellie. Which is presumably the same as that thing when a band like Blur releases an album just called Blur: this one means business.
His previous show, Pierre Novellie is Cool Peter, is currently on at the Soho Theatre. "It's my attempt to use club stand-up skills to address things like depression, nerds and popularity, intrusive thoughts and integration," he explains. "It's much funnier than it sounds!"
Indeed, and the South Africa-born, Isle of Man-bred comic is bringing his unique take on everything to TV soon: he's involved with The Mash Report, the new Nish Kumar-hosted show spun-off from satire site The Daily Mash. Which sounds promising. It certainly can't be any worse than some recent topical TV attempts, anyway.
But back to live stuff: here are the highlights and lowlights of Novellie's rapid ascent.
First gig?
It was November 2012 and it was an open mic set up for Freshers. I was heavily fortified by white wine and it was where I first met Phil Wang. He thought I was a PhD student at first, thanks to facial hair.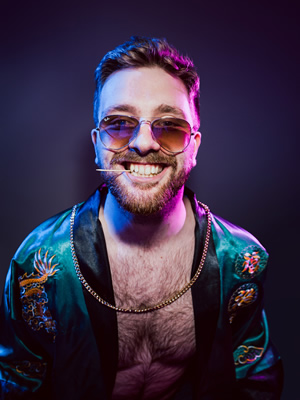 Favourite show, ever?
Gigging in front of 3,000 people at the recording of Edinburgh Comedy Fest Live - it was like performing for the sea! I also got to meet Kevin Bridges and he was kind.
Worst gig?
Any gig I've ever done in Hull.
The weirdest gig?
I performed stand up at the Large Hadron Collider facility, run by CERN, in Switzerland. It was a very strange setting to be gigging in, and great fun to perform to such an educated and multinational crowd.
Who's the most disagreeable person you've come across in the business?
The worst ones are the small-time guys who'll scam you out of a couple of hundred quid - if you're going to be a crook have some pride and think bigger!
Is there one routine/gag you loved, that audiences inexplicably didn't?
I tried to do a routine about how mad English place-names are, and it never worked. I think it's just funny to us immigrants.
What's your best insider travel tip, for touring comics?
Weird little guest houses are often cheaper than chain hotels and are a rich source of mad anecdotes.
The most memorable review, heckle or post-gig reaction?
Last year I did a routine about how I didn't want Brexit to make airports more difficult. One middle-aged woman, a Brexiteer who had come on her own and been abusive to staff on the way in, caused such a disruption that she had to be removed. She refused to leave, even after a majority of the audience had voted for her to leave, and failed to see the irony.
How do you feel about where your career is at, right now?
Not bad! Things are moving in a vaguely upwards direction, but I'm a nasty little perfectionist so I'm always dissatisfied.