Paul Currie
Christmas is the time for Currie. Paul Currie, that is, the Santa-bearded maestro who's built a career on crafting spectacular material from unlikely things: Cornflakes. Panda puppets. Telephones. And now lockdowns. The Belfast-based comic was supposed to be doing a couple of big gigs at the city's tremendous Metropolitan Arts Centre this week, but 2020 is still in full effect, so he's improvised.
"I will now be performing alone in an empty 300-capacity auditorium in the MAC," says Currie, whose shows happen tonight - the 18th - and the 23rd, "performing on my phone, transmitting on the MAC theatre's Instagram page".
Sounds ambitious, but Instagram shows were just one of Currie's creative outlets during lockdown: a series of his paintings is also on display at the MAC right now, as part of their lockdown-art exhibition In a Rainbow of Coalitions. So how does he look back at this weird year?
"This year has been not so much weird; more completely life changing," muses Paul. "I feel to call it weird is devaluing the many positives that have come from this lockdown, it's allowed me to see everything such as certain people and the natural world in a different way. It's actually helped my mental health in many ways."
He's even made the best of 2020. But now, back to the early noughties.
First gig?
For first 'gig' - as a single person on a stage with a microphone - I basically purposely chose to bomb. It was 2003 at a ramshackle cabaret in a pub where I got up dressed as a character I'd invented called Harry Logan, a bad north-of-England old school stand-up comedian, who told cringeworthy recognisable jokes but messed them up even more. A real grotesque character.
I was also wearing a half rubber mask I had made, and a big woollen suit with fake fat belly under it. All I remember was sweat, I was so nervous my heart was racing. I was sweating so much I couldn't see the audience, and I remember people in shock, more gasps and intakes of air than outwardly projected laughter.
Favourite show, ever?
Dresden, Germany 2017, playing at an inner-city arts festival. I played two gigs a night for three nights to over 100 Germans in each gig, all crammed into a canvas tent. I was also specifically told not to perform in English, so used as much silent physical material as I had at my disposal, and only spoke in occasional rambling garbled noises and what little frenetic German I'd written in a notebook I had at the side of the stage.
I knew nothing really about the festival or even German culture, having only visited Berlin once before that, so apart from clichés and stereotypes I'd picked up through UK TV I had zero clue how me - a kid from Newtownabbey Village in Ireland - could entertain this alien culture.
That festival literally changed my view on the world. I killed every night, and I realised then, comedy and clown really does smash all borders. It felt so primal. I connected with all those strangers every night without needing to speak their language and it was beyond magical. It was alchemy by mirth.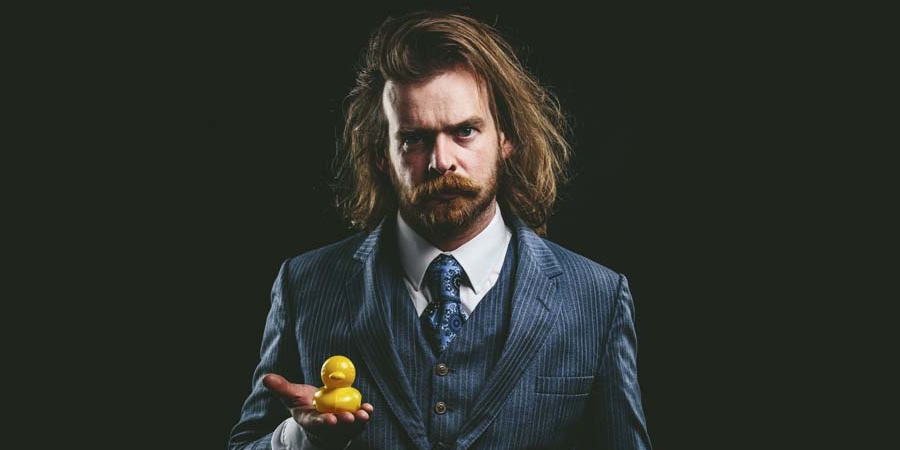 Worst gig?
Oh Lordy. There have been so many. You need the horrendous ones. And they don't go away, they get less, but they always rear their ugly heads ones in a while. Usually when you get too cocky in yourself they'll pop up to squash your ego.
One gig in Glasgow I bombed with half the audience, the other half were loving it (proper dividing the room) but as it's Glasgow the people shouting at me to get off were then met with boos from the people enjoying my set.
It erupted into half the audience booing me, the other half booing them, and me on stage singing about having pandas for hands. It was fine as I'd performed at many kids' birthday parties and street shows so I just carried on like a consummate clown and played it like I was having a wonderful gig, and let the 350-strong audience fight it out amongst themselves.
Kinda felt like watching a sinking ship but I was on the only life raft, the stage. It made for fascinating watching from my point of view, like being at a zoo and I was observing the animals. Stand-up can be like that, the comedy stage is like an anthropological peephole into human society, as is street performing.
Which one person influenced your comedy life most significantly?
Vic Reeves and Python sparked my surreal buttons. But it was 100% watching Steve Martin's 1979 live Hollywood Bowl VHS that pushed me onto the stage to be a stand-up. I was struggling from 1991-2004 with how to translate my surreal Vic Reeves and Python-inspired ideas and material onto a stage without having to organise a cabaret team of performers to join me.
Steve Martin was the guiding light for me. A proper lightbulb moment: you can be your own one-person cabaret on stage, and props are fine. He was a fusion of trad stand-up, alternative stand-up, theatre, cabaret, music, whimsy, grotesque, silly, philosophical, all wrapped up and spewed out from one single brain through one single human on a stage.
And who's the most disagreeable person you've come across in the business?
Producers. I'll not name names, but these jumped-up inflated egotistical 'influencers' who swan into your gig, watch you, tell you after how great your work is and 'let's meet for coffee'. Then when you do you're so excited at the prospect of getting a foot up a ladder that will inevitably lead to you becoming a hack celebrity and compromising any artistic integrity that got you to the circuit you're on, and connecting with actual live audiences.
I've burnt so many bridges towards a commercial career with so many promoters and TV producers. I mean come on, Edinburgh Fringe is one big steaming pot of producer ego stew. Every August Edinburgh's cobbled streets glisten and gleam from the sanctimonious slime from these slugs and leeches who head there like vultures with a scent of fresh blood.
I no longer believe in TV comedy, not since lockdown. Lockdown has exposed even more the toxic side of commercial and media-led comedy. I truly believe in the power of live performing and speaking the truth. But even the live comedy world needs shaking up to air out the patriarchal parasites that still linger deep in its skin.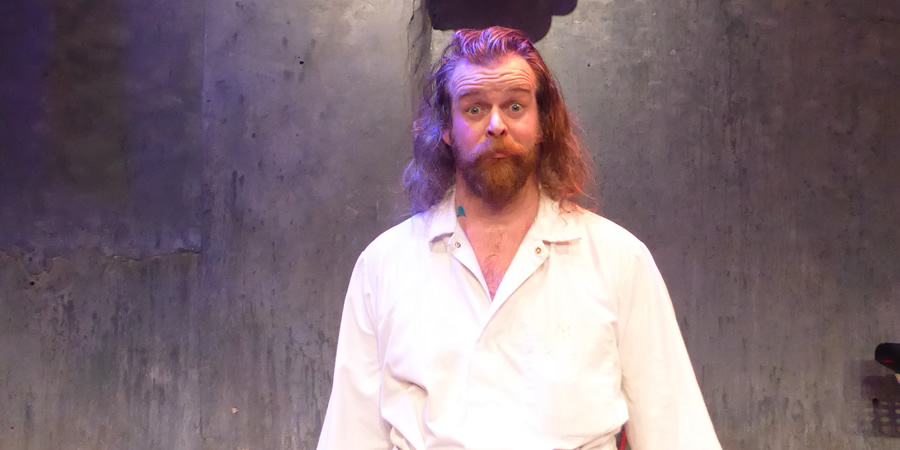 Which routine is your favourite - or most popular - over the years?
Panda Hands
And is there one bit you loved, that audiences inexplicably didn't?
Panda Hands
Do particular reviews, heckles or post-gig reactions stick in the mind?
Yes, in Glasgow in the middle of a bit, a 70 year-old woman stood up and said "you're shit". She immediately got booed but I brought her on stage and we hugged and she gave me a kiss. She was so very, very drunk.
Also, in Newcastle, I still laugh at this one, a guy sat at the front of a Saturday night audience on his own just scowled at me. I was the closing act and the room was full (500 people) and I stopped and said to him, are you not having fun? And he said "I've seen you before, you were great, but tonight, you're utter DOG SHIT" at which point he also starts getting booed.
I just fell about laughing, he was deadly serious, and so he upped and walked out as I'm laughing with tears in my eyes and the audience are booing him. Great times! Lol
How do you feel about where your career is at, right now?
My career is floating. Comedy is my art, I'm not trying to be pretentious but comedy is my art and I strongly feel that comedy needs to be recognised as art, and given the respect it deserves in the UK and Ireland and US and Australia, as it's just seen as whimsy.
Comedy, i.e. 'standing up to comment on social issues and the human condition via humour' or 'stand-up' as we now call it, has existed for as long as humans have created societies and villages. Call it clowning, call it stand-up, it's all the same. It's standing on the periphery of society and observing the chaos, and then diluting the chaos through revealing the absurdity of how serious we take ourselves, and that we are inevitably insignificant and not as self-important as we think.
Comedy and clowning should do one thing, smash the ego and keep reminding everyone that humans are assholes with a potential for good, but we keep falling short. After all, we're ALL the same, born from a goopy womb and crumbled into soil. And what happens in between, well, that's what we're still laughing at, about and with.