Oliver Coleman
Remember Tomorrow's World, the Beeb's classic, clunky science show? Obviously the whole 'tomorrow' concept is quite confusing right now, so the excellent Edinburgh-based comedy hub Monkey Barrel have come up with a nifty alternative: Today's World, where "comedians help you get through the current crisis with public information videos on how to do everything from making spam and eggs (without eggs) to the art of mindfulness," says Monkey Barrel's Iain Campbell.
It's a cleverly put-together affair, pleasingly reminiscent of late-'80s Channel 4, and one of our favourite segments involves the Aussie comic Oliver Coleman getting freaky with his footwear.
So how did that link-up come about?
"I committed myself to doing comedy when I lived in Glasgow from 2016-2018," he explains. "One of my favourite gigs was the Project-X alternative comedy nights at Monkey Barrel in Edinburgh where a whole bunch of fantastic comedians would jump up to try out their weird ideas. It was a really fun supportive and creatively fulfilling space to work stuff out in."
He continued in comedy after moving back to Oz in 2018, but obviously it's gone a bit weird in recent weeks. Still, where a real door closes, a virtual one opens.
"It was really nice that the folks at Monkey Barrel asked me to make a sketch for their Today's World show as I miss doing shows there," he says. "They asked me to make a thing about socks which sounds boring but I've been thinking a lot lately about witchcraft, JFK conspiracy theories and ways to use up the last ingredients in my pantry, so I was able to find inspiration all over the place."
Back to the 'Barrell, and after the venue closed in March they've made a good fist of creating alternative stages, online. "The focus has been on producing new shows to support its staff and the countless acts left destitute by the COVID-19 pandemic," says Iain Campbell. "At the time of writing Monkey Barrel Comedy is producing four new and original shows a week, all of which pass on the lion's share of donations to acts. There are more shows in the works..."
Good news, and donations are very welcome here. Now, let's delve down-under.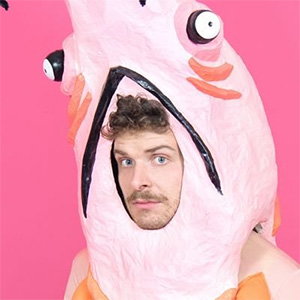 First gig?
My first gig was in 2015 as part of the Raw Comedy competition that the Melbourne Comedy Festival runs each year. It's similar to the So You Think You're Funny? competition in Edinburgh. My material was fine but the super-nice and supportive 200-strong crowd in the room made it seem much better than it was.
The act before me made everyone feel very awkward by doing some terrible racist impersonations. I remember getting my first laugh straight away by making some quip about the soured atmosphere and after that I continued to get some pretty good laughs and got through to the next round of the competition.
My third gig was an open-mic in front of eight people. The obvious lack of enthusiasm from the audience made me forget my material thus providing me with my first ever bomb. I didn't do comedy again for six months after that.
Favourite show, ever?
It's tough to think of my single favourite gig. I remember the third performance of the run of my show Poolside at last year's Melbourne Comedy Festival. The first two shows were okay but not great and I was struggling to figure out how to really make it sing.
So, on the third show I completely changed the start and it re-energised the whole thing. I don't think it was my best ever gig but it just put me in a headspace where I was loose, playful and spontaneous. I remember feeling very free and joyful onstage and that's the feeling that I chase now.
Worst gig?
There have been a lot. I think one of my most disappointing ones was my first paid gig where I had to travel and was given accommodation; I felt like I was starting to make it as a comedian.
The gig was in the restaurant of a hotel in a small town in Scotland. I was doing a bit where I get the audience to help me solve a chess problem - this audience wasn't on board and just started to slowly boo me and shout insults as I went along.
I had to do the same gig the next night and the owner of the hotel came up to me after my set and said, 'I hope you won't be doing that tomorrow.' So, I spent the whole next day dreading a repeat of the previous night. But I did the same material and it went fine.
Which one person influenced your comedy life most significantly?
My friend Sarah randomly took me to a Doctor Brown show at the Adelaide Fringe way back in 2011. That show was the most sublimely funny thing I'd ever seen. I didn't start doing comedy until about four or five years later but seeing that show definitely planted the seed that this was something that I wanted to do. If it wasn't for Sarah taking me to that show I probably wouldn't be doing comedy.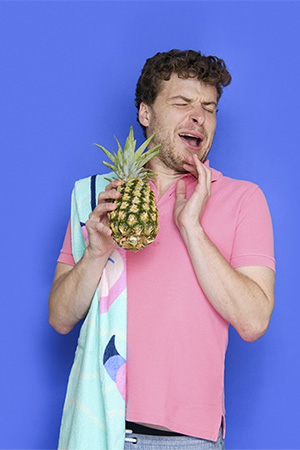 Is there one routine/gag you loved, that audiences inexplicably didn't?
I used to do a routine where I'd pretend to be a really mean Olivia Colman. For some reason I would dry wretch for about a minute or two in the middle of it. No audience ever found my dry wretching funny. But I thought it was beautiful.
How are you finding the lockdown? Any unlikely positives from it, personally?
It's difficult. Of course performing in front of a live audience is the most satisfying thing for a comedian so it's been impossible to replace that with something else. But with all this time up my sleeve it has given me the opportunity to finally learn how to film things and properly use editing software.
I've just started filtering my creativity into different mediums. I spent a whole day last week performing a piece of theatre via Instagram Stories about a disgruntled jazz musician. I suppose the most unexpected positive is that I'm connecting with friends in ways that I wouldn't normally. I am consciously taking the time to call and talk to people in a way that I don't when I'm busy with normal life. So, hopefully I can carry that sense of community into the future when all the distancing lifts.
Are there particular reviews, heckles or post-gig reactions that stick in the mind?
I got a one-and-a-half star review for a show at the Adelaide Fringe. The final line of the review was: "I was 15 minutes late to the show and luckily he finished 10 minutes early." Of course I was crushed by the star rating, but I was also concerned that this reporter had no shame admitting to the fact that they missed a quarter of the show they were meant to be reviewing.
How do you feel about where your career is at, right now?
Pretty good. I've only really been doing it seriously for three or four years now. Making a living from comedy in Australia is very hard and it feels like I'm a long way away from that. But I have slowly been building an audience and every now and again I have started to make things that I am really proud of.
At the moment I'm happy enough to keep plugging away at it. But I'd love some more acting work and I'd like to write for film and TV, and figure out how to work across both Australia and the UK. I'd also like to figure out some sort of work outside of comedy that I find more meaningful than tedious admin jobs...