Norris & Parker
Norris & Parker: yes, it may sound like a firm of radio-advertised ambulance chasers, and, hey, maybe they do double up with a bit of no-win, no-fee admin action during the day; who are we to judge? But by night Norris & Parker are definitely a no-holds-barred double-act, grabbing comedy by the undercarriage, dragging it into a darkened room and giving it a night to remember.
Katie Norris and Sinead Parker will be doing just that in Soho later this month - all-singing, all-dancing... but can they be more specific?
"Our show is called Burn the Witch; it's set in fictional town Phallus Ridge where the cliffs are shaped like penises and there is an ominous threat of sexwitches. and vulnerable men are going missing. Expect goats, mullets, hysteria, vulnerable men and Huge Davies on the keyboard. It's debauched late night sketch comedy for lovers of the strange, the musical and the dark."
And it's very good indeed - or it was in Edinburgh, anyway. And probably still is: sexwitches don't date. So what else are they up to?
"We're developing a couple of TV treatments, recording series two of our podcast Norris & Parker's Sketch Therapy and continuing with our main passion which is waitressing. We're also hoping to go on separate holidays so we can have a break from looking at each other."
Solid admin. Now let's hand over to Norris - with input from Parker - and hurtle back nine short years, to the post-industrial North West.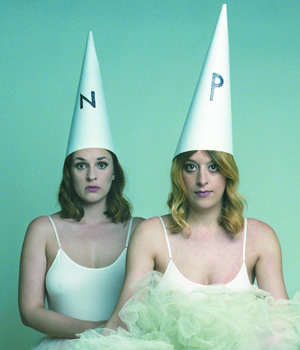 First gig?
Our first gig was at The Lass O'Gowrie pub in Manchester on July 27 2010 (date remembered because it's my mum's birthday). All of our family, friends and teachers from drama school came along as well as one member from the public who thought it was our birthday party.
The sketches were really great; we did an exorcism sketch where Sinead pulled her pants down for no reason, another where we played two New York women shouting at each other for a taxi because we just wanted to do New York accents and we got our mate Andrew involved to play a paedophile which we thought was totally fine - truly some of our best work.
Favourite show, ever?
We performed at Kilkenny Comedy Festival in Ireland last year. Our plane was delayed so we had to go on as soon as we got there and they gave us ham sandwiches which we ate throughout the show. Sinead sang a Mary Black song and the audience knew it word for word which made her cry and afterwards we went on a pub crawl.
We did also did a gig recently where audience members were shouting our lines at us and now we hope to be a cult hit like Tommy Wiseau in The Room but hopefully not for the same reasons.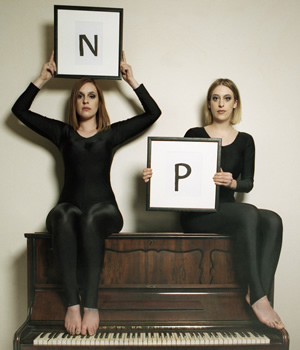 Worst gig?
We performed on a boat at an industry showcase organised by our agents. The pressure was on and we'd written some new material that day. When it was our time we were like lambs to the slaughter, Sinead blanked and pathetically muttered the words "I've forgotten what happens next."
Silence filled the room for what felt like three days. I couldn't help her. We died together. She then cried at our agent afterwards "Are we blacklisted from the industry?" We went home on separate tubes and considered giving up for good.
The weirdest live experience?
Actually back on that same boat for another gig. We shared the bill with Bobby Davro who thought our pianist Chris was the comedian and that we were just his fangirls in lycra catsuits.
We went through a phase of being booked to write corporate comedy in Hull and had to do 8am gigs to 300 business people explaining why Hull is great through the medium of showtunes.
Who's the most disagreeable person you've come across in the business?
This would have to my comedy partner Sinead. She regularly argues with most people but doesn't seem to realise that the common denominator in these situations is her.
She recently got a one-star Trip Advisor review for her waitressing, "shocking contempt and appalling service". In this instance, I have to agree with the customer. Sinead's boyfriend and I regularly share a glance at each other when we both know she's being a difficult prick.
Is there one routine/gag you loved, that audiences inexplicably didn't?
We cut a routine after the first night in Edinburgh in which Sinead was drowned by semen that was spouting from 'Cumcano'. She mimed drowning under the spunk to the sounds of flowing water produced by Huge Davies on his keyboard but the audience had filth fatigue by this point and it was met to silence, so unfortunately it had to go.
How important is Huge Davies to your show, or has he flounced off to pursue his solo dreams now?
Huge Davies is a crucial element to the show as we sing songs and all our sketches are underscored by his keyboard. However, he often fucks up his cues so we have to restart certain sketches until he gets the sound right which has been known to add another five minutes on to the show. This happened when a broadsheet reviewer was in and we've never forgiven him. But Huge is great and we love him.
The most memorable review or heckle - has anyone stormed off due to particular filth?
Sinead's Dad takes great pride in heckling Sinead during her shows. His most memorable was during our last show See You at the Gallows. Sinead pretended she was dying and I said "but you've achieved nothing" and her dad then heckled "I know, she really hasn't." A great man who I would consider sleeping with if he didn't have Sinead's eyes.
How do you feel about where your career is at, right now?
The waitressing is going really well, thanks.